Living & Dying
(2007)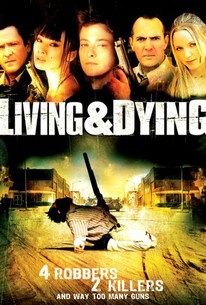 AUDIENCE SCORE
Critic Consensus: No consensus yet.
Movie Info
Four desperate bank robbers are forced to abandon their lucrative heist plans and become the reluctant heroes when two of their hostages turn out to be psychotic killers who won't stop until everyone in the bank has been ruthlessly slaughtered. As the police surround the building and the killers begin methodically executing the hostages, the robbers enter into a deadly game of cat and mouse with their murderous criminal counterparts. Edward Furlong, Michael Madsen, Arnold Vosloo, and Bai Ling star in a thriller from Suburban Nightmare director Jon Keeyes.
Critic Reviews for Living & Dying
There are no critic reviews yet for Living & Dying. Keep checking Rotten Tomatoes for updates!
Audience Reviews for Living & Dying
Four people hold up a bank, but the cops have been tipped off and arrive in seconds. A shoot out insues and the surviving robbers are forced into a local cafe, where they take hostages. Two of their hostages turn out to be armed gang bangers, who turn the tables on the bank robbers, making them hostages as well. It was a pretty good opening, but from there it descends into your typical, slow moving, hostage drama, with paranoid cops, scared hostages, and unreasonable demands. Edward Furlong stars in this HBO thriller, and continues to be one of my favorite actors. He is so unappreciated and disrespected in Hollywood, because he was a child actor and will forever be known as that cute kid in Terminator 2. His Co-star is Michael Madsen is by far the worst actor I have ever seen. The guy thinks he's John Wayne, but the second he tries to show any emotion, people start laughing, because he is really that unbelievable. Madsen brings down the credibility of everything he is in, which makes me wonder how this guy continues to get work. Living & Dying has a great opening and an interesting ending, but unfortunately the middle is just about as boring and predictable as a movie can get.
Todd Smith
Super Reviewer
Bai Ling acting = No buys. There's not a lot I can really say about this film, it was mindless, it was stupid, it was low budget and it was bad, but in some weird and sadistic way I enjoyed this film in all its crappiness, not that I'd recommend it cause it still is pretty bad.
Jesse Ortega
Super Reviewer
Yinalí Ríos
Super Reviewer
Living & Dying Quotes
There are no approved quotes yet for this movie.