The Living End
(1992)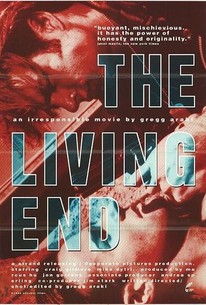 Movie Info
It my be easy to describe The Living End as a gay Thelma and Louise, but that seems to be what director Gregg Araki was aiming for. Luke (Mike Dyti) is a hustler and Jon (Craig Gilmore) is a movie critic. They meet on the highway, or, as Araki puts it in the script, "the desolate, quasi-surrealistic American Wasteland." Both have recently learned that they are HIV-positive, so they do the only reasonable thing and go on a violent cross-country spree. Guided by the inspirational slogan "F*ck the world," our heroes kill gay bashers, insult lesbians, and do a lot of drinking, swearing, and urinating.
Critic Reviews for The Living End
All Critics (6) | Top Critics (1) | Fresh (4) | Rotten (2)
It is visually vibrant (in a wonderful on-the- cheap kind of way). But its insightful fury is undercut by thrashes of immaturity. It's engaged with culture and angry at it.

Self described by its director as "my most desperate movie," this road movie about two HIV-positive runaways and imposible love in th face of death, put Gregg Araki at the forefront of indie directors.

Audience Reviews for The Living End
½
I remember really liking this movie back in the 90's. Was excited to see it on DVD for rental. Well, I have to say I had forgotten most of the story apart from it being a road trip movie about two men living with AIDS, so I was interested to see if it was as good as I remembered. Though it's obviously dated now, I still found it quite compelling viewing with a unique style. Craig Gilmore in particular is great as Jon. Very sympathetic character. Won't be for all, is pretty bleak and confronting, but I found it worth the rewatch.
Nicki Marie
Super Reviewer
½
This provocative film teeters between shockingly disturbing scenes and happy-go-lucky humor. The emotion and uncertainty created around the main character learning his HIV-positive status carried my interest through the entire movie. Having said that, the positive relationship that develops between the main characters and the film's ability to find humor in the face of death give it an added boost. While many of Akira's other movies are known for being over-the-top, the acting and dialogue in this film all seemed genuine and appropriate for the setting. The film's finale fails to deliver closure to the story, however, it manages to provide enough direction to the story to satisfy this viewer. The Living End is at least commendable for confronting social issues that many would prefer left alone.
Daniel Campbell
½
Araki brings great ideas to the table, but his execution leaves a lot to be desired. The two lead actors are consistently unconvincing, so their love story has no emotional resonance. Since the film relies heavily on a connection with the doomed lovers, the low performance quality hurts it badly. Nevertheless, it's very much a product of its time, and that works in its favour somehow. This is a cult classic with lots of bright possibilities, but most of them are unfulfilled.
The Living End Quotes
There are no approved quotes yet for this movie.
Discussion Forum
Discuss The Living End on our Movie forum!