Living Proof
(2008)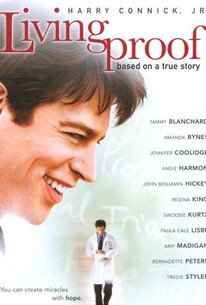 AUDIENCE SCORE
Critic Consensus: No consensus yet.
Movie Info
Director Dan Ireland adapts writer Robert Bazell's autobiographical novel Her-2 to the screen with this made-for-Lifetime drama concerning UCLA oncologist and researcher Dr. Dennis Slamon, creator of the promising breast cancer drug Herceptin. Convinced that his revolutionary drug could effectively switch off cancer cells for women with tumors of the Her-2+ (Human Epidermal growth factor Receptor 2-positive) without radiation treatment, Dr. Slamon raised funds for his research with the help of Ron Perelman, Lilly Tartikoff, and the extended Revlon family. Later, as Dr. Slamon attempted to cut through the bureaucratic red tape and get his drug approved, a number of brave patients who had volunteered for the clinical tests of Herceptin sadly succumbed to their cancer. But all hope wasn't lost, because in 1998 the FDA finally approved the use of Herceptin to treat breast cancer, giving hope to millions of women and their families across the country.
Rating:
NR
Genre:
Directed By:
Written By:
In Theaters:
On DVD:
Runtime:
Studio:
Sony Pictures Entertainment
Critic Reviews for Living Proof
There are no critic reviews yet for Living Proof. Keep checking Rotten Tomatoes for updates!
Audience Reviews for Living Proof
Oh Living Proof. How horrendously terrible you are, although, I still enjoyed watching you immensely. This is one of the best unintentional comedies I think I've ever seen. I mean it's up there with The Room and Troll 2. Now, I am going to rate this movie objectively. I'm not giving it a 6/10 simply because it made me laugh, oh no. I'll tell you right now, this movie is getting a 1/10, no question about it. Just keep that in mind. Okay, where to start with the problems in this movie? It's actually extremely difficult since literally everything is wrong with this movie. Hmmm... lets start with acting, why not? To say it is not good would be an understatement. Our man guy Dr. Slamon (not salmon thank you very much) is played by someone who has probably never acted in anything before ever. Judging from this performance anyway. The only character traits he seems to have is getting hilariously pissed off at people and running in slow motion (seriously, I'm not kidding. I think there is a total of like 5 minutes of running. It's worse than a Tom Cruise movie.) Now to be perfectly honest, I don't remember a single side character's name. All I do remember is, they all sucked at acting and Amanada Bynes played one of the characters (who also really can't act). Moving on to writing! The writing is both the best thing about this movie and the worst. Best, because it's really funny, but worst, because from a filmmaking perspective, it is some of the most clunkiest, most awkward writing I've ever heard. None of it sounds slightly realistic. It sounds like something that belongs on Days of Our Lives or something of the sort. I can properly describe it, you really need to hear it yourself. The pacing is all over the place as well. Maybe like 4 or 5 times, the movie will jump forward to a year later. Now, I realize this is about hopefully getting a cancer drug approved, which takes many years, but that doesn't excuse lazy pacing. Simply jumping forward in time just doesn't work. If you haven't realized by this point, these filmmakers had no clue what they were doing, even if they had good intentions. Those things are like the main problems, but trust me, there are countless miscellaneous problems that didn't really fit any of these main categories. For example, whenever they cut to another scene, they'll use a blank, white screen to transition, and it looks so cheap. Stuff like that. Now, you may say "oh, this is obviously a joke." "They knew exactly what they were doing when they made this." And to that I call bullshit. They were serious about this movie. You can tell. There are several, serious toned emotional scenes where you are actually supposed to care about the situations unfolding on screen. They even have a "this film is dedicated to Dr. Slamon" (the real life guy) at the end. They clearly thought it was good enough for them to dedicate it to this guy. I sincerely hope he hasn't seen, or heard of it. It would be a shame for his legacy to have been told is this garbage pile of a movie. That about covers this movie really. Now, this movie is awful. 1/10, like I said. But, I still highly recommend you watch this movie. It's just too damn enjoyable to miss. It is not quality filmmaking, but you don't watch it for that. You watch it for the same reasons you watch The Room, or Troll 2, or Birdemic, or any other "so bad it's good" movie. Too laugh your ass off, beginning to end. Have fun! (Also take a shot every time his drug might not make it to the next stage or whatever. You'll be dead in like 30 minutes.)
Ben Davis
This is a brilliant movie. The cast was great with and handled this huge topic beautifully. I would expect anyone watching this to have an emotional reaction to the characters.
Heather Metzger
Great Film. Extremely touching. The story of Dr. Dennis Slamon and his fight to cure create a drug that may help cure breast cancer. An exceptional performance by Harry Connick Jr in the role. All around, great film. Very interesting.
Mandy ...
Living Proof Quotes
There are no approved quotes yet for this movie.
Discussion Forum
Discuss Living Proof on our Movie forum!