Liza (Love to Eternity)
(1972)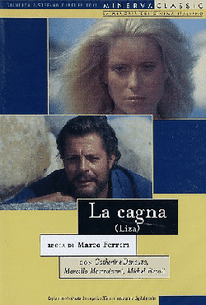 AUDIENCE SCORE
Critic Consensus: No consensus yet.
Movie Info
This Italian drama makes a pathetic attempt at outrageousness and profundity as it chronicles the bizarre relationship between Marcello Mastroianni and the obsessive Catherine Deneuve. The two meet on the Mediterranean island where Mastroianni stays with his dog. Soon after they meet, he and Deneuve become lovers. She proves a jealous lover. Feeling he loves the dog more than he loves her, she kills the beast, dons its collar and begins bringing Mastroianni sticks. Later she follows him off the island to the home of his suicidal wife. Upon their return they avoid French Legionnaires and decorate a Nazi aircraft.
Critic Reviews for Liza (Love to Eternity)
There are no critic reviews yet for Liza (Love to Eternity). Keep checking Rotten Tomatoes for updates!
Audience Reviews for Liza (Love to Eternity)
In "Liza," Giorgio(Marcello Mastroianni) is an artist, living on an island in the Mediterranean with his dog in a disused bunker. He is minding his business when Liza(Catherine Deneuve) swims ashore after an argument on a nearby boat. She stays and her friends leave her clothes ashore but not her shoes. At first, Giorgio is content to stay out of it but after she gets a splinter in her foot, he galiantly removes it and makes her a comfortable pair of sandals. Later, she demonstrates the correct way to remove a satin nightgown. The next day, he takes her back to the mainland. While lacking much of a story and not as disturbing as its reputation warrants, "Liza" is still a provocative movie. In reality, it is really not that concerned with sex, which is a mistake one of the characters makes.(Submissiveness, which at the best of times is a shaky concept, should only be practiced by someone who is truly free to do so.) Rather, the movie is about the idea of independence, as Giorgio, who sees himself as truly liberated from the concerns of modern society, puts it. Granted a simple life is not for all, especially in situations that verge on the primitive, but for some it is the perfect way to escape the rat race with the only necessity being a companion, be it human or canine. This is in a movie that is even respectful of Hare Krishnas.
Liza (Love to Eternity) Quotes
There are no approved quotes yet for this movie.