A Lobster Tale
(2006)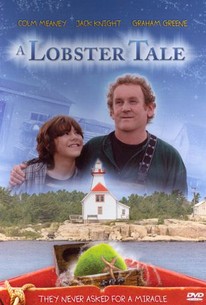 AUDIENCE SCORE
Critic Consensus: No consensus yet.
Movie Info
For its quiet, low-key story, A Lobster Tale travels into a sphere of domestic life rarely glimpsed in contemporary cinema - that of small-town Americana. Colm Meaney stars as Cody Brewer, a Maine lobsterman who sinks into an economic mire when faced with a terrible catch day after day, week after week. His waitress wife also struggles to stay afloat, and his son must fend off against a bully on a regular basis. Then, into this cradle of banal American beauty, an incredible event occurs: a strange, otherworldly moss turns up in one of Cody's nets - a moss with the ability to perform miracles. Though initially its presence causes problems and strain for the Brewer clan, it ultimately demonstrates its ability to not only improve their lives, but the lives of nearly everyone in the hamlet. Alberta Watson (Irish Eyes) and Graham Greene (Northern Exposure) co-star.
Rating:
PG (for some sexual material, including brief nudity)
Genre:
Directed By:
Written By:
On DVD:
Runtime:
Studio:
Critic Reviews for A Lobster Tale
There are no critic reviews yet for A Lobster Tale. Keep checking Rotten Tomatoes for updates!
Audience Reviews for A Lobster Tale
½
Decent family flick with a very good ending.It shows that if you have something people want, Everybody wants to be your friend
Brody Manson
Super Reviewer
Weak but Charming I like Colm Meaney. I do. I've been amused for years at the idea that every movie set at least in part in Ireland is required to have him in it. (He had about the only convincing Irish accent in [i]Far and Away[/i]!) I would not, alas, have cast him here. He just doesn't fit. Now, a lot of the problem is the terrible, terrible accent. I almost turned it off just because of that. It's not that I can't think of him as a sort of . . . you know, you can't call him a man of the soil, on account of it's a little on the wet side for that, but that sort of thing. Sod farmer. Lobster fisherman. There isn't a huge distinction, really. At least not when it comes to popular image. Maybe it's something to do with bringing food to market. At any rate, it's more that he never seems comfortable as this particular lobster fisherman, not so much lobster fishermen in general. Meaney plays Cody Brewer, a hard-up man with a wife, Martha (Alberta Watson), who must hold a job at the local fish and chip shop to help pay the bills; and a son, Jake (Jack Knight), who is ashamed of the life they lead compared to the store-owner's son, Timmy Brock (Erik Knudsen). Then one day, while checking his lobster pots, Cody finds a bright green wad of moss in one of them. He takes it out and puts it in an old tin can, because it moves the story along. The next day, the motor on his boat cuts out again, and while he's fiddling with it, he accidentally cuts off his finger. He manages to retrieve it, and when he goes to put it in the can so it can be sewn back on, hopefully, when he gets to land, there is a bright light, and the moss saves him the hospital bill. Once the rest of the town finds out that little trick, he is hounded without rest. About the only person who doesn't much seem to care about the moss one way or another is the local sheriff, another in the long line of delightful performances of Graham Greene. For all he appears to be hopelessly addicted to iced cappuccino, he's an extremely mellow guy. He doesn't have a bunion or a third nipple he wants treated or a wild idea for a moss-themed amusement park. He's trying to learn French, but that's about it. When the moss gets stolen, he's perfectly trustworthy to investigate the crime, because he has no interest in it himself. Perhaps it's that he doesn't want the troubles which afflict Cody. He also seems to be about the only person who realizes how hard things are for Cody, and one feels that any of the other characters might lay their troubles before him and get a sympathetic ear, though his sympathy is not the same for everyone. A dead husband over a third nipple, you might say. Honestly, the person who might want listening to the most is Martha Brewer. On those rare occasions when I give relationship advice--I don't like doing it and few of my friends need it anyway--the first piece of advice I give is "use your words." Martha's problem is that she can't use hers to tell Cody how much she wants him to use his. She loves him very much, but she's afraid he's started taking her for granted. Her first appearance has her wearing perfume, which he doesn't notice. She gets a new haircut, and he asks her--when Jake points the change out to him--what was wrong with her hair before. She goes to change out of her flannel pajamas and into a sexy little red nightdress, and he's asleep before she gets back. It's killing her a little inside every time something new happens. And the only sympathetic ear she has is her coworker, Eddie Johnson (Mark Lutz), whose interest in her is, shall we say, not exactly brotherly. Nice, friendly Graham Greene would be quite an improvement. More complicated to me is Jake himself. On the one hand, I understand his embarrassment; in one scene, Timmy is pestering him in class, and you can see the holes in the elbow of his shirt. His pants don't reach his ankles and are falling apart anyway; his idea of luxury, when he thinks they're going to get rich, is to buy ten pairs of pants. (Half a million dollars doesn't go as far as all that anyway; a smart family would save a lot of that for Jake's college fund.) On the other, he really doesn't seem to understand that they're poor. He knows they are, but he seems to feel it's more a burden on him than something which is hard for his parents as well. I'm not saying it isn't a bit silly when Cody yells at him for wanting relish for his hot dog, too, but there are several places where he does want obvious luxury even though he knows they're in danger of having the phone cut off. And, no, he shouldn't have to like Timmy anyway. Even if someone is very sick, that doesn't make them a better person.
Edith Nelson
½
Strange movie that doesn't really fit the usual family film, as the people don't really learn anything.
Sarah Helwig
A Lobster Tale Quotes
There are no approved quotes yet for this movie.
Discussion Forum
Discuss A Lobster Tale on our Movie forum!