LOL
(2006)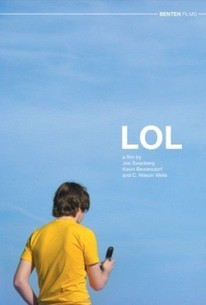 LOL Videos
LOL Photos
Movie Info
The constant need to be plugged in and connected threatens to crash the real-life operating system of three technologically obsessed twentysomethings in director Joe Swanberg's humorous meditation on the relationship between man and machine in modern society. Tim does computer work for a living, but he also lives for his computer. Unfortunately his inability to snap the lid closed on his laptop is rapidly alienating his girlfriend Ada, who recognizes Tim's apparent inability to communicate with other people without the buffer of technology. Meanwhile, as struggling musician Alex obsesses over a girl he met on an adult website, a flesh-and-blood girl named Walter does her best to make her attraction to Alex known. Lastly, Chris has transferred from New York to Chicago due to the demands of his job, making a long-distance relationship with his East-coast girlfriend Greta increasingly difficult to maintain. Though the pair talks constantly on their cell phones while also sending cell-phone pictures to one another, neither Chris nor Greta can deny that their reliance on technology in sustaining their relationship is no substitute for the living, breathing warmth of human companionship.
Rating:
PG-13
Genre:
, ,
Directed By:
Written By:
In Theaters:
On DVD:
Runtime:
Studio:
Cast
Critic Reviews for LOL
Audience Reviews for LOL
½
Joe Swanberg -- who directed, edited, lensed, co-wrote and played one of the lovelorn characters -- has done wonders with a nothing budget and a personable cast of nonprofessional actors.
Lee Mayo
gets some points for those inventive 'musical' interludes that brought me back to the theme song for Nickelodeon's 'Doug', however that doth not a movie make! Swanberg is hit or miss with me, and this is mostly a miss, with a few interesting beats and a few phone calls that ring of real life in a good way.
Jack Gattanella
There is a thin line between genius and lunacy. LOL cross that line. LOL has an interesting concept. It's a message movie about how cellphones and computers and technology are ruining our lives. However, LOL goes about telling this message in a truly awful way. I get that LOL is a stylized film. I admire that it was shot for a $3,000 Budget in Standard Definition. Its a creative film. But creativity and resourceful filmmaking isn't all that's needed to make a good film. LOL's problems come in its terminally slow pace, and unlikable characters. LOL follows the lives of a group of people whose lives are intertwined in a number of ways. One by one, technology comes between them. Or so you would think. The truth is, in order to show that technology ruins lives, you have to make good people go bad. Not annoying jerks go worse. None of the leads are likable. They are nasty to each other, and all of their issues in relationships could simple be solved if they just stopped being jerks. Sure, computers and phones come between them, but the personalities of the characters are so self-centered that they all would have ended up in the same bad place anyway. I spent the entirety of LOL groaning internally at the stupidity of the characters. I couldn't connect to any of the male characters, because of the previously mentioned personality issues, and the female characters were so unexplored and fleshed out. There are three females in the movie, and they are all so one dimensional. They are there so the males have someone to have relationship issues with. One woman never even appears in person. She is only heard through phone conversations and seen in pictures. While I realize that this was a creative choice meant to represent the disconnect created by technology, it created a disconnect with me, and I felt extremely detached. LOL has some good parts. Some of the dialogue is funny, and the transitions (which I won't go into detail about, in case you do decide to watch the film) are creative, even if they get repetitive. Overall, LOL is a dis interesting trip through the lives of a bunch of obnoxious, self-centered people who I hated. Maybe you'll like it. I certainly didn't.
Ryan Fitzmartin
Discussion Forum
Discuss LOL on our Movie forum!
News & Features