Lola Montès
(1955)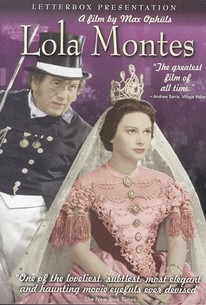 Movie Info
Max Ophüls' final film (and his only movie in color) is a cinematic tour-de-force masquerading as a biography, in this case a dazzling fictionalized life of the notorious 19th century dancer, actress, and courtesan. A still beautiful, but weary and disillusioned (and, as we later discover, ailing) Lola Montes (Martine Carol) is first seen as the featured attraction at a seedy American circus, appearing at the center of a series of various tableaux depicting the scandalous events for which she is known. With a strangely sincere yet sinister and manipulative ringmaster (Peter Ustinov) providing color commentary, some of it very ironic on two or more levels, the movie flows between these staged recreations in the circus and the events as recalled by the subject. In a series of dissolves, the film takes us through her girlhood with her mother, interrupted when her mother's lover (Ivan Desni) becomes attached to the daughter; her unhappy marriage and its aftermath; romances with composer Franz Liszt (Will Quadflieg), abduction by a Russian general (in the arms of Cossacks, no less); her affairs across the landscape of Europe with men great and notable; her thwarted aspirations as a dancer; and her romance with King Ludwig I (Anton Walbrook) of Bavaria, which led to her being made Countess of Landsfeld, and, later, to his abdication. The gracefulness of Ophüls' cyclical narrative, and the transitions between the recalled elegance of the locales, and the people with whom her romances and affairs took place, and the seediness of the circus -- where she is also compelled, in the course of performing, to perform as an aerialist -- were lost on viewers in 1955. And for many years the movie only existed in a version re-cut without the director's approval, in which the story was presented in linear fashion. It was only in the 1960's, long after Ophüls' death, that efforts were made to restore the original structure, and in 2008 the movie's original Technicolor luster was restored to its full depth and richness. ~ Bruce Eder, Rovi
News & Interviews for Lola Montès
Critic Reviews for Lola Montès
Audience Reviews for Lola Montès
The recently restored version as originally intended by Ophüls is a sumptuous chef-d'oeuvre. The production design, costumes, the fluid camerawork, the wonderful script, everything is remarkable from the first shot to the last, a great pleasure for the eyes and the heart.
Carlos Magalhães
Super Reviewer
Too much old-fashioned romance for my tastes, but the sets and use of color are gorgeous. The film's most interesting aspect is not its unremarkable tale of a seductive, Evita Peron-like character who became a notorious scandal in Europe, but the plot's added framework: the presentation of Lola's exploits as an impossibly ornate circus show, with Peter Ustinov as the grandiloquent ringmaster. Watching Lola negotiate her way through the various shifting tableaux is what's truly dazzling. Otherwise, "Lola Montes" concentrates on frame composition and lavish sets almost to a fault. There are very few tight shots of the characters, and thus an emotional intimacy is missing. We don't connect with the players. It doesn't help that Martine Carol isn't much of an actress.
Eric Broome
Super Reviewer
Little thought is usually given to a movie's framing device, as it is normally just a jumping off place to tell the story.("The Curious Case of Benjamin Button" being a particular exception to this rule.) What the mesmerizing "Lola Montes" does is reverse that by staging most of its action in its lavishly decorated present while skipping around in the past. This is still not as unusual as Peter Ustinov speaking French. Trapped in the present as the main attraction in a circus, Lola Montes(Martine Carol) spends each night reliving the events of her scandalous life, starting with her mother(Lise Delamare) abandoning her after the death of her father, a British colonial officer. Lola ends up making her way from one end of Europe to the other, as an actress and dancer. In the meantime, she romances some of the most renowned men of her time including Franz Liszt(Will Quadflieg). I thought at first the circus might be in hell but it turns out only in a figurative, not a literal sense, as she answers questions from the paying customers while trying to maintain her dignity. While questioning who is the real freak, the movie says quite a lot about those of us sitting in the peanut gallery who live our lives vicariously through somebody like Lola who lived life to the fullest and had lots of fun. That's not to mention that the sex was probably pretty good, too. While in the present, Lola might not be on top anymore, at least the film's director Max Ophuls went out on top with "Lola Montes," his exemplary final film.
Lola Montès Quotes
There are no approved quotes yet for this movie.