London Kills Me
(1991)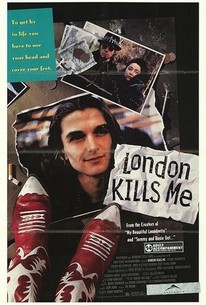 AUDIENCE SCORE
Critic Consensus: No consensus yet.
Movie Info
Acclaimed screenwriter Hanif Kureishi made his directorial debut with London Kills Me, a black comedy about the life of a group of squatters in Thatcher's England. Justin Chadwick stars as Clint, a former drug dealer attempting to go straight; he seeks a job as a busboy in an area restaurant, and is hired by the manager (Brad Dourif) on the condition that he find suitable footwear for the position. After taking up residence in a squatter's flat, he goes on a desperate search for shoes with his drug-dealer pal Muffdiver (Steven Mackintosh) and his girlfriend Sylvie (Emer McCourt) in tow.
Critic Reviews for London Kills Me
All Critics (4) | Fresh (2) | Rotten (2)

Ozus' World Movie Reviews
Proves that what was most special about the Frears-Kureishi collaborations was Kureishi.

Mountain Xpress (Asheville, NC)
Audience Reviews for London Kills Me
This movie is akin to the many films out of Britain and Ireland in the 80s and early 90s -- [i]Trainspotting[/i], [i]That Sinking Feeling[/i], etc. -- following a group of misfits for a few days of their lives with no real specific central plot. Personally, I've always enjoyed this type of film which tells the story through character development rather than a domineering story or special effects. The lead character, Clint, survives (barely) a childhood filled with physical, emontional and sexual abuse. At 20 he's fallen in with a crowd of similar outcasts who deal street drugs for the money and to support their own habits. Clint's best friend, "Muffdiver," leads the group through strength of personality, even though Muffdiver is just as lost as the rest of them. Muff Diver wants to be a big time dealer, seeing that as the only way to get he and his friends off the streets. Clint, on the other hand, dreams of getting a job and leading a "normal" life. One thing I really liked about this movie, which I didn't even realize until it was over, is that there are [b]no flashbacks[/b]. We don't need to see images of Clint being abused, we don't need to see what happened to Muffdiver, Sylvie, or any of the others earlier in their lives. What's relevant is who they are now, today, what the events of the past have caused them to become. I had originally bought this movie because it was one of Naveen Andrews' first films. He plays a member of Muffdiver's group, an odd character named "Bike" who seldom speaks, dresses in early '70s Mod, and is never separated from his bicycle. Each of the members of Muffdiver's group is an interesting character, in their own way, each having a story that we don't necessarily need to know in order to guess at. The great Roshan Seth has an odd supporting role as a 'New Age' guru who is, perhaps, the first person in Clint's life to show him compassion without expecting anything in return. Except for the characters' accents and that they're constantly drinking tea, this film could just have easily been set in the urban U.S., or urban anywhere I suppose. The characters and their stories are just as relevant today as they were in 1990. These are people that you either know, or drive by on your way somewhere.
Dean Sliger
London Kills Me Quotes
There are no approved quotes yet for this movie.
Discussion Forum
Discuss London Kills Me on our Movie forum!