Lonelyhearts
(1958)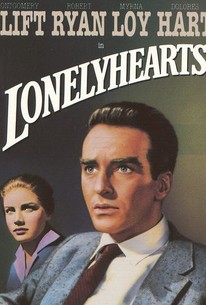 AUDIENCE SCORE
Critic Consensus: No consensus yet.
Movie Info
For his film directorial debut, producer Dore Schary selected a longtime pet property: Miss Lonelyhearts, Nathaniel West's trenchant 1933 novel. Montgomery Clift delivers a haunting performance as journalist Adam White, assigned by his cynical editor Adam Shrike (Robert Ryan) to take over a newspaper advice column. Signing himself Miss Lonelyhearts, White is appalled by the human misery pouring out of the letters sent to him (one of his correspndents was born without a nose), but Shrike insists that anyone who'd write to such a column is fake. To find out for himself, White looks up one of the correspondents, unhappily married Fay Doyle (Oscar-nominated Maureen Stapleton). His pity for the seriously disturbed Fay nearly leads to tragedy (in the novel, there's no "nearly"). Meanwhile, Shrike tries to contend with his own tottering marriage to his wife Florence (Myrna Loy). In additional to shortening the title to Lonelyhearts, Dore Schary made a number of radical changes in the original, adding an overabundance of "meaningful" dialogue and softening the character of Florence Shrike. Purists were enraged by Schary's liberties, while critics carped at his perfunctory direction; audiences, however, seemed to like the film.
Rating:
NR
Genre:
,
Directed By:
Written By:
In Theaters:
Runtime:
Studio:
United Artists
Critic Reviews for Lonelyhearts
All Critics (3) | Top Critics (2) | Fresh (3) | Rotten (0)
Consistently fine performances by an exceptionally well-balanced cast give further cause for regarding this endeavor with appreciation and respect.

New York Times
Top Critic
Here (West's) powerful novella about the lovelorn is brilliantly enacted, tautly directed, and scripted as faithfully as producer Schary's compassion for the public would allow.
Audience Reviews for Lonelyhearts
½
"Here (West's) powerful novella about the lovelorn is brilliantly enacted, tautly directed, and scripted as faithfully as producer Schary's compassion for the public would allow."
Greg Wood
A serious dramatic film. How many can we call that? Montgomery Cliff delivers a movie we should see. It's so good and heartfelt. I entered this film just feeling Clift was a good reason to do so. I was not betrayed. SEE the entire film here: http://www.youtube.com/watch?v=8p7-SZOeh10 [img]http://upload.wikimedia.org/wikipedia/commons/9/99/Montgomery_Clift_in_I_Confess_trailer.jpg[/img] Lonelyhearts (also known as Miss Lonelyheart ) is a 1958 drama film directed by Vincent J. Donehue. It is based on the play by Howard Teichmann and the 1933 novel Miss Lonelyhearts by Nathanael West. Struggling writer gets job on big newspaper only to find he is forced to write 6 days a week to a lonely hearts column. Any real, feeling person would cringe at the assignment and so does our aspiring writer. NOTES: 1 Maureen Stapleton ("All in the Family" tv wife or 'Archy Bunker' Carrol O'Connor)in her first film role. Stapleton was nominated for an Academy Award for Best Supporting Actress as well as for a Golden Globe. In her most known role as Edith Bunker, her TV role as "dingbat" wife of bigot husband Archy Bunker proved to be the perfect set up comedy partner. 2 Dolores Hart, Clift's love interest is now Mother Superior of a contemplative convent ... Abbey of Regina Laudis .. a cloistered convent that grows food. Her first movie was with Elvis .. Loving You . .she left to become a nun in 1963. [img]http://www.elvisinfonet.com/image-files/doloreshart2.jpg[/img] REVIEWS from not the pro's: 100% Excellent. Montgomery Clift is great as always. Robert Ryan is exquisitely unlikable and creates a lot of tension. Great job. This film was a real surprise and well worth the time. It's a must watch. [img]http://monstergirl.files.wordpress.com/2013/03/capturfiles_23.jpg?w=490&h=378[/img] Robert Ryan plays his usual ass role 100% a very good Montgomery Clift movie 60% it certainly lives up to its name. 10% Really awful. Worse than corny. Pompously corny. Directed by Vincent J. Donehue Produced by Dore Schary Written by Dore Schary Howard Teichmann Nathanael West Starring Montgomery Clift Robert Ryan Myrna Loy Dolores Hart (please see NOTE #2 above for follow up story) Maureen Stapleton (TV's Edith Bunker from All in the Family) Music by Conrad Salinger Cinematography John Alton Editing by John Faure Aaron Steele Distributed by United Artists Release date(s) 1958 Running time 100 minutes [img]http://pics.imcdb.org/0ge20/207074-Lonelyhearts2.jpg[/img]
monsieur rick
½
Great cast but a sad film, worth viewing though.
Lonelyhearts Quotes
There are no approved quotes yet for this movie.
Discussion Forum
Discuss Lonelyhearts on our Movie forum!