The Long Gray Line
(1955)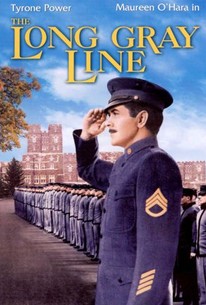 The Long Gray Line Photos
Movie Info
The life story of West Point athletic director Marty Maher was the inspiration for John Ford's The Long Gray Line. Told in flashback, the film recalls the first days at the Point for Irish immigrant Maher (Tyrone Power), a pugnacious boy who can't seem to fit in with the institution's regimen of unquestioning discipline. Athletic director Ward Bond takes a liking to Maher and arranges for the young man to become his assistant; Bond also plays Cupid between Maher and Irish maidservant Mary O'Donnell (Maureen O'Hara). When Mary's baby is stillborn, the Mahers begin to regard the West Point cadets as their surrogate children: this eventually leads to the film's most touching scene, in which Mary bids farewell to her son-substitute as he marches off to World War II. Following Mary's death, Marty stays on at the Point, until the place seems somehow incomplete without his presence. On the occasion of his forced retirement, Maher gently pleads with one of his former students--President Dwight D. Eisenhower--to permit him to remain at his post (Ike is played by Harry Carey Jr. in his early scenes, and by the voice of Paul Frees in the wraparound White House scenes). Based on Marty Maher's autobiography, The Long Gray Line seems at first glance too leisurely for its own good, but this appealing film gradually grows on its audience--just like Marty Maher himself.
Rating:
NR
Genre:
,
Directed By:
Written By:
In Theaters:
On DVD:
Runtime:
Studio:
Sony Pictures Entertainment
Critic Reviews for The Long Gray Line
Audience Reviews for The Long Gray Line
A very well done film with a unique story. Not the best of Ford's work, but a truly fascinating narrative with believable and compelling characters. Kudos to Tyrone Power for taking a character 50 years from the beginning to the end of the film with great precision.
Isaac McPheeters
½
John Ford's patriotic film, THE LONG GRAY LINE is based on the autobiography of one Martin Maher - who served 55 years as an instructor at the US Military Academy at West Point. Immigrating from Ireland, the film follows Maher (Tyrone Power) as he rises from a lowly worker as a food server at West Point's massive dining hall to a much beloved instructor in physical training - mostly as a swimming instructor. Ford plays Maher's early career at the Academy mostly as comedy - Tyrone even does a few pratfalls and soon broken dishes (and how he is to supposed to pay for them on his meager salary) become a running joke. Maher is involved in a fight with a Corporal (a very young Peter Graves) which lands him in the brig but fortunately catches the eye of Capt. Kohler (Ward Bond) who is impressed with Maher's boxing style and offers him a job as a coach. Maher soon meets and falls in love with Capt. Kohler's cook, Mary O'Donnell (Maureen O'Hara). The early part of their relationship is treated too mostly as comedy and if you enjoyed Ford's distinctly irish THE QUIET MAN - then you will have no problem with the first part of THE LONG GRAY LINE - especially when Maher's father, Martin Sr. (Donald Crisp) and brother Dinny (Sean McClory) arrive on the scene. The film though takes a decidedly serious turn half way through when the United States becomes involved in the first World War... and Maher soon is morally conflicted about staying at an academy where he helps instructs young men in the art of war...only to hear about them dying later in combat. THE LONG GRAY LINE refers to the formation of cadets who come to West Point year after year. Maher is particularly proud of some of his students - the like of Omar Bradley, George Patton and Dwight Eisenhower - who were pivotal figures during WWII. The film was shot in color in widescreen Cinemascope which really brings out the beauty of the West Point countryside. The film also serves as a companion piece to Ford's other similarly themed patriotic film THE WINGS OF EAGLE. 7.5 / 10
bernard anselmo
Earnest but somewhat schmaltzy drama of career West Point teacher, good cast even if the accents are laid on a little thick.
The Long Gray Line Quotes
There are no approved quotes yet for this movie.