Long nga (Legendary Assassin)
(2008)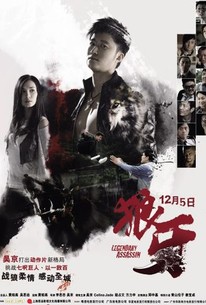 AUDIENCE SCORE
Critic Consensus: No consensus yet.
Movie Info
The uneasy alliance between a skilled assassin (Wu Jing) and a devoted policewoman (Celina Jade) hits some serious turbulence when the body of a once-powerful drug lord is discovered on a small island, and the streets erupt into violence as his henchmen search for the killer.
Critic Reviews for Long nga (Legendary Assassin)
There are no critic reviews yet for Long nga (Legendary Assassin). Keep checking Rotten Tomatoes for updates!
Audience Reviews for Long nga (Legendary Assassin)
½
After enduring two drama this week I decided to treat myself to a martial art movie. It was better than The Forger and Butterfly, but not by much. Legendary Assassins is about a mysterious assassin who friends a cop. The plot is very thin and filled with cliche. It lacks any real interesting characters and is more focus on the violence. The martial art sequences are pretty good, though a little too much wire works take it out of reality and reminds you that you're watching a movie. I did enjoy the climax in which Jacky WU Wing fights off against a large numbers of henchmen, unfortunately it's in the rain like so many other fights. The ending leaves something to be desired as it doesn't really resolve all the plot-lines. The plot is simply a mess where the only good is the action, which is not enough for most viewers. Jacky Wu makes an excellent leading man and showcases some impressive fighting skills. Though he should never get behind the camera as he clearly lacks experience and knowledge on how to do it well. The supporting cast are downright forgettable, unless of there punching someone for no good reason. The supporting cast are is not good, but they're not annoying to be fair. In the end, violence without plot is the only positive. Legendary Assassins is not so legendary lacking in plot and good cast. With violence in the movie being the only positive, you're better off checking out some other movie.
Caesar Mendez
Super Reviewer
½
There is no doubting that but Jacky Wu, as a director, is too simple in scenes that should be more complicated and far too exaggerated in what should be more straight forward film-making. Having a bad story is alone a poor beginning, but that's not to say that Legendary Assassin is plain bad news. Having a bad story is alone a poor beginning, but that's not to say that Legendary Assassin is plain bad news. There are plenty of fight scenes that are alone worthy of the starving action fans' attention, including the restaurant fight which included a cameo by Ronald Cheng. A decent movie at best, average acting, some quality fight scenes, but in the end, Legendary Assassin disappoints as it just never seems to take off. The problem is the story, and then it comes down to some originally directing and the fact that this is an action movie, where adrenalin is meant to be rushing. However, this is not the case and the result is leaving the audience with disappointment and perhaps something better from Hong Kong's lone action cinema new generation hope with Jacky Wu. As mention before, there was one brutal fight scene that is of interest, in the restaurant fight during the heavy wind and rain, but apart from that those good moments are far and few in occurrence. Going on to the acting, there is no question that Jacky Wu is yet to experience what it is like to actually act. Here he is as stoic as ever or perhaps as wooden would provide a better description. While he graces the screen whenever he attempts to fight, his character is rather boring to follow. Turning to newcomer Celina Jade, she is actually likable and decently natural for a first timer. There was plenty of rawness in her acting, but somehow she manages to pull through to become one of the few good things about the movie. On another note, she looks great in uniform too. However, supporting players like Lik-Sun Fong and Ronald Cheng, either overacts or leaning towards annoying than likability. All in all, Legendary Assassin is really a disappointment and even a step back from Jacky Wu previous starring vehicles like Fatal Move or even Fatal Contact. Maybe Jacky Wu needs more time and work with more different kinds of director before donning the hat of a director. Whatever the case is, Legendary Assassin is by no means good enough for both a Jacky Wu's movie standard and the potential he can certainly reach. While it may seem rather critical, but sometimes, when some needs to be said, it owe to be spoken, and the reality is that Legendary Assassin is disappointingly below average and a clear step in the wrong direction of a promising career.
Steven Vincent Gee
Super Reviewer
Jacky Wu can fight; if he was half the actor he is the fighter, his films would be classics. Alas, no such luck. Again we have a pretty ordinary story, with a decent but not spectacular surrounding cast, and a vehicle for Jacky to show off his 'skills'. That showcase does not appear till the very end, and it is almost to the point of absurdity, considering the amount of people he has to beat down. This move is nothing special, but an ok watch for all Jacky Wu fans.
Long nga (Legendary Assassin) Quotes
There are no approved quotes yet for this movie.