The Longest Yard
(2005)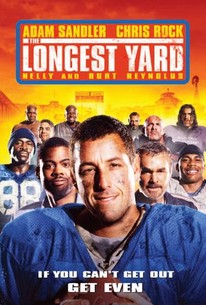 Movie Info
One of the toughest and best-remembered sports movies of the 1970s gets a humorous makeover in this comedy. Paul "Wrecking" Crewe (Adam Sandler) was once a famous professional football player, but after several years out of the limelight and an alcohol problem have taken their toll, Crewe is arrested for a serious traffic accident aggravated by the fact he was drunk. Crewe is sentenced to Allenville Penitentiary, where Warden Hazen (James Cromwell) is something of a football fan. Hazen had organized his guards into an impressive football team, and clears a healthy profit by taking bets on their games. Looking to make the competition more interesting, Hazen suggests that Crewe put together a team from the inmate population to play his guards. With the help of fellow prisoner Caretaker (Chris Rock), Crewe recruits the heaviest hitters from the cell block for the team, but the guys don't play like a unit until Crewe and Caretaker get some help from Nate Scarborough (Burt Reynolds), a former college and NFL coach doing hard time. Adapted from Robert Aldrich's 1974 box-office smash of the same name, The Longest Yard also features rap star Nelly and Nicholas Turturro; the film has previously been loosely remade in 2001 as Mean Machine, with the action moved to England and the game changed to soccer. ~ Mark Deming, Rovi
News & Interviews for The Longest Yard
Critic Reviews for The Longest Yard
Audience Reviews for The Longest Yard
Here is a so-called populist piece that begins with some pretty loose assumptions that bear some pretty loose scrutiny: 1) Most people believe that prisons are corrupt, but especially foul are the unnecessarily sadistic guards, 2) Most people believe that most convicts are basically cool, though misunderstood just plain folks, 3) Revenge against the sadistic guards is justified. Wooo-weee, but that's a lot of assumptions Past those curiosities of specious thought this film leans on many generic racist stereotypes and clichés (which are bad when the guards use them but good when the cons use them?) in an effort to elicit har-de-har-har laughter. It fails. Rob a 7-11 and get sent up sometime, so then to enjoy completely the grade school hilarity to which this dreck plays homage.
Kevin M. Williams
Super Reviewer
People who lined up to bash this film had better get used to seeing more like it. Hollywood these days is stuck in a rut where three types of films account for nearly every film they release. Those are: remakes, sequels, and films based on comic book characters. The Longest Yard would of course fit into the first category. It is a slightly updated, but fairly faithful remake of the 1974 film of the same name. This time, we have Adam Sandler who plays the incarcerated quarterback that Burt Reynolds played in the original. Reynolds is on hand to play a minor role which the original film also contained. The plot is still the same. Prisoners vs guards in a game of football. Pretty simple. Did the film make me laugh? Sure it did. There are more than a few chuckles, but not much in the way of side-splitting material. Sandler is actually not that memorable in this film. Some of the best performances actually come from people you might not expect. I was truly impressed with Nelly and Michael Irvin. Both men had their characters down, and really proved they could actually act. Chris Rock is about as good as you'd expect. Your own personal opinion of him will determine how you rate his performance. James Cromwell plays the corrupt warden about as well as you might expect. He's pretty much got the market cornered on evil white guy roles, since J.T. Walsh's untimely death. The rest of the cast becomes a game of "see if you can spot the NFL player, WWE combatant, or famous sports journalist". And what on earth was Cloris Leachman doing in the Bernadette Peters role from the original? Did she lose some kind of bet with Sandler on the set of Spanglish or something? The original sucked but was worth more then a 1/2 star.
Bruce Bruce
Super Reviewer
½
Sandler's take on this famed remake goes for it on 4th down! Some may say that the comedic direction steered the film out of place, but it was the gritty point-of-view on the gridiron that caught my eye. Funny, dirty and obscene at times, but nonetheless good. 4.5/5
Eugene Bernabe
Super Reviewer
The Longest Yard Quotes
| | |
| --- | --- |
| Switowski: | I'm sorry. I broke-eted your toy. |
| | |
| --- | --- |
| Switowski: | Paul, he brokered my nose! |
| | |
| --- | --- |
| Paul "Wrecking" Crewe: | one more please |
| Paul "Wrecking" Crewe: | One more please. |
| | |
| --- | --- |
| Caretaker: | In six months he's going to look like Beyonce. |
Discussion Forum
Discuss The Longest Yard on our Movie forum!