The Longshot
(1986)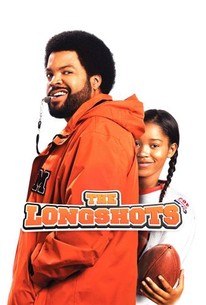 AUDIENCE SCORE
Critic Consensus: No consensus yet.
Movie Info
Comic veterans Harvey Korman, Anne Meara, Jack Weston and Tim Conway (who also wrote the script), co-star in this tale of four luckless gamblers who in desperation borrow a large sum for a local loanshark so they can bet on a particular horse. Unfortunately, they bet on the wrong nag and suddenly the foursome must scramble around for quick cash before the loanshark's thugs show up for some bruising payback. Mike Nichols executive produced.
Critic Reviews for The Longshot
There are no critic reviews yet for The Longshot. Keep checking Rotten Tomatoes for updates!
Audience Reviews for The Longshot
"Hey, you got a nipple."-Lou (Harvey Korman) In utter words: a sucker. From witty to goofy, this comedy is strong, like stag. Huge fan of Pual Bartel. "What would you rather have, two good beers or four cheap ones and spend the whole night taking a leak?"-Dooley (Tim Conway)
FilmGrinder Stone
½
[center][color=yellow][img]http://www.cinetecamilano.it/2001/p_mar_apr01/posto.jpg[/img][/color][/center] [color=yellow]3/23 Il Posto (1961, Ermanno Olmi) ****[/color] [color=yellow][color=white]Excellent neorealist work. Will be searching out all available Olmi films on DVD.[/color] 3/24 Band of Outsiders (1964, Jean-Luc Godard) *** [color=#ffffff]Infamous dance scene (the "Madison" according to Karina interview on the disc) was actually quite absurd. A shaky first film for my viewing of the Godard oeuvre. [/color] 3/25 Pulp Fiction (1994, Quentin Tarantino) ***½ [color=#ffffff]The Godard influence was so blatant I had to give it a rewatch. I liked it much better than previous viewings, maybe because I was not so impressed by Godard, and Tarantino seemed to take his ideas much further. [/color] 3/26 Battle of Britain (1969, Guy Hamilton) **½ [color=white]Mindless war film, potentially exciting aerial sequences spoiled by poor effects (flame outs in particular).[/color] 3/27 The Longshot (1985, Paul Bartel) *½ [color=white]Tim Conway and Harvey Korman vehicle falters with too many toilet jokes. [/color] [center][img]http://www.stomptokyo.com/otf/Ganja-Hess/Ganja-Title.JPG[/img][/center] 3/27 Ganja & Hess (1973, Bill Gunn) *** [color=white]Highly anticipated film somewhat of a disappointment. Dreamlike imagery interspersed with long gaps of poorly shot, documentary-like interludes with wooden acting. More of the former and less of the latter would have resulted in a 4 star film. [/color] 3/28 They Went That-A-Way & That-A-Way (1978, Edward Montagne and Stuart E. McGowan) *½ [color=white]Should have learned my lesson with the previous Conway film.[/color] 3/28 Prophecy (1979, John Frankenheimer) *** [color=white]Sentimental favorite first seen theatrically. Although the mutant bear effects border on the ridiculous, film still manages a scare. Studio set pieces remind me of Hammer productions. [/color] 3/29 Breathless (1960, Jean-Luc Godard) **½ [color=white]Very disappointing film that supposedly is a classic. Film revolves around unlikable characters who try way, way too hard to be "cool". It seems the director makes the same mistake.[/color] 3/30 Underneath (1995, Steven Soderbergh) *** [/color][color=white]Finally a surprisingly good film. Soderbergh's low key style may not be for all tastes, but fits in with mine perfectly. I liked the use of colored glass to filter many of the shots. [/color] [center][img]http://www.kamera.co.uk/images/underneath.jpg[/img][/center]
Jerry Killingsworth
The Longshot Quotes
There are no approved quotes yet for this movie.
Discussion Forum
Discuss The Longshot on our Movie forum!