Looker
(1981)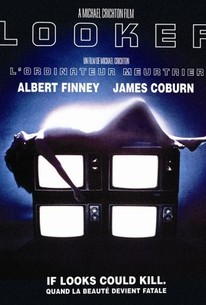 Movie Info
Writer-director Michael Crichton's suspense tale stars Albert Finney as a plastic surgeon whose clients keep turning up dead.
News & Interviews for Looker
Critic Reviews for Looker
Audience Reviews for Looker
Hollywood should have learned its lesson - actors & writers are not directors. If Crichton stayed in the writer's chair, a real director could have made a nice little thriller here. "Looker" had an interesting premise and style but immediately plunged into a meaningless waste of 2 hours. Susan Dey, matured from Laurie Partridge into a beautiful actress, served no purpose but to look nice. James Coburn was completely unnecessary, except for box office sales. And the "cat & mouse" detective Dorian Harewood vs. person of interest Albert Finney loses credibility after they reveal the killer early on. This was 1980, the year we entered the age of computers, video games & TV editing consoles. Crichton used these themes only to steer this movie into an outdated digital-video mess.
Michael Fabiano
½
Stylish, but too complicated for its own good, Looker aims to make some political statements but gets lost in a sea of unintelligible, inconsistent garbage.
Alex Suszko
I loved this flick and the required stretch of the imagination, wasn't that far fetched for me. Consider this film in light of current and improving CGI technology. If/when the technology is good enough, flesh and blood actors could become obsolete. Think of it: being able to bring back to life some of the really, really great actors. Wow! And the current and not so recent past crop of so called "good actors", Are, well honestly and with very few exceptions, simply pitiful. I personally can't wait. â¢--⢠Russell Johnson.
Russell Johnson
Looker Quotes
There are no approved quotes yet for this movie.
Discussion Forum
Discuss Looker on our Movie forum!