Looney Tunes: Back in Action
(2003)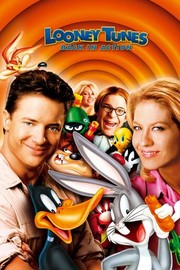 TOMATOMETER
AUDIENCE SCORE
Critic Consensus: The plot is a nonsensical, hyperactive jumble and the gags are relatively uninspired compared to the classic Looney Tunes cartoons.
Looney Tunes: Back in Action Trailers & Photos
Movie Info
In a land where cartoon characters and flesh-and-blood people work side by side, one little black duck lands in a big pot of trouble in this comedy, which brings the beloved Looney Tunes characters into the real world. Daffy Duck (voice of Joe Alaskey) has grown tired of his status as Warner Bros.' leading avian second fiddle and demands that if he can't be given equal billing with his rival Bugs Bunny (also voiced by Alaskey), he wants to be released from his contract. Kate Houghton (Jenna Elfman), Warners' vice president in charge of comedy, is way ahead of Daffy and orders studio stuntman D.J. Drake (Brendan Fraser) to kick the duck off the studio lot. D.J. soon discovers getting rid of Daffy is no easy task, and the duck is in tow when Drake makes a startling discovery -- his father Damien Drake (Timothy Dalton), a movie star best know for playing ultra-suave secret agents, really is a secret agent, and he's been kidnapped by Mr. Chairman (Steve Martin), the evil leader of the monolithic Acme Corporation. Damien knows the secret hiding place of the priceless Blue Monkey Diamond and Mr. Chairman will stop at nothing to get it, so D.J. and Daffy set out to rescue Damien and save the diamond, one step behind Acme's musclemen and one step ahead of Kate and Bugs, who now realize how important Daffy is to the Looney Tunes franchise. Looney Tunes: Back in Action also stars Heather Locklear as a lounge singer working for Yosemite Sam (voice of Steve Babiar), Joan Cusack, John Cleese, Stan Freberg, and Roger Corman. ~ Mark Deming, Rovi
more
Cast
News & Interviews for Looney Tunes: Back in Action
Critic Reviews for Looney Tunes: Back in Action
Audience Reviews for Looney Tunes: Back in Action
½
A very entertaining tribute to classic Looney Tunes cartoons and a very diffeent take on them too of which they are all just animated actors. The effects are well done and although the toons steal the show it's still a really fun ride and will bring a smile to everyone's faces big and small.
Directors Cat
Super Reviewer
The bad plot and the excited, but terrible screenplay, don't made this movie a good thing to the filmography of Looney Tunes. With the nonsense gags based in old cartoons, Larry Doyle and Joe Dante does another damm motion picture that gonna make the audience think twice, before watch the next Looney Tunes's film. And question himself if the next movie of Bugs Bunny and your gang, be better that the last. Other hand, the better is the Tunes never more back in action... in cinema. Rotten.
Looney Tunes: Back in Action Quotes
Dusty Tails: If you wanna be a good boy, get yourself a bad girl.
Acme VP Nitpicking: What about the duck?
Mr. Chairman: Extra crispy. [bum bum bum]
Daffy Duck: HA! you never catch the rabbit being this heroic!
Bugs Bunny: [pops up on a seat next to Daffy] Eh Whats up Doc?
Daffy Duck: [sighs] You're Dethspicable.
Mr. Chairman: [talking to DJ Drake] Now!,..This my friend, is the ACME train of death, which is not good news for your father!
Damien Drake: [on TV screen] Don't worry about me son, I've gotten out of worse scrapes than this one!
Mr. Chairman: You see, if the train of death doesn't kill him, then those crates of TNT will, not to mention the two ton anvil hanging over his head, and oh!,..Look, there's the pendulum of doom! What's the pendulum of doom doing there?! I did not order the pendulum of doom!? It's overkill! Get rid of it! [Wile E. Coyote quickly draws up the pendulum from above Damien Drake]
Discussion Forum
Discuss Looney Tunes: Back in Action on our Movie forum!
News & Features