Loose Shoes
(1980)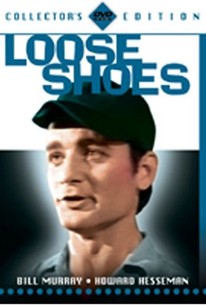 AUDIENCE SCORE
Critic Consensus: No consensus yet.
Movie Info
Movie trailers are the target of this satiric series of vignettes originally titled Coming Attractions.
Critic Reviews for Loose Shoes
There are no critic reviews yet for Loose Shoes. Keep checking Rotten Tomatoes for updates!
Audience Reviews for Loose Shoes
½
Not perfect, but some genuine "Kentucky Fried Movie" inspired zaniness. Notable for featuring Bill Murray and Howard Hesseman. Funny at times and at other times slow, but this is a fun little flick not to be overlooked.
Tim Salmons
Super Reviewer
Starring: Bill Murray, Lewis Arquette, Sid Haig, Betty Thomas, and Buddy Hackett. Directed by Ira Miller. Written by Royce D. Applegate, Ira Miller, Dan Praiser, and Charley Smith. Rated [b]R[/b] (for language, violence, some sexuality and drug content). Running time approximately 1 hour 24 minutes. [i]Loose Shoes[/i] is one of those random dollar-bin purchases that's intriguing only because someone who's usually a good presence in the movies has taken part in what may very well have been a travesty, but just might be a hidden gem. Sadly, this one's the former and not at all the latter. The film is a series of faux trailers, attempts at satire which fail at their attempts at comedy more often than not. One of the trailers tries to poke fun at Woody Allen films, and I just wasn't having it. Murray's trailer makes no sense and bores. The one bright spot is a trailer satirizing Chaplin films, but it becomes rather offensive by its end. The entire film is extremely offensive, actually, with horrid racial undertones in almost every vignette. The only reason it's not a zero is the fact that I did laugh a few times. Other than that, this one's a dead cell - an offensive one. [b]1/2* (out of ****) D-[/b]
Christopher Lozier
"Saturday Night Live" has taken a lot of hits over the years, but you can't deny that it was a powerful cultural phenomenon. After all, if it weren't for SNL, we wouldn't have had the trend of R-rated, rapid-fire sketch comedy films, reaching peaks of [i]Kentucky Fried Movie[/i] and [i]Amazon Women on the Moon[/i], and lows of The Boob Tube Strikes Back. The lewd sketch comedy film is essentially dead these days, now that cable can serve as a place for the likes of comedic subversion as "Mr. Show," but hey, some of these flicks have managed to stand the test of time. Thanks to the new trend of dollar DVDs, you can now pick up [i]Loose Shoes[/i] with spare change, and it's certainly worth it. [i]Loose Shoes[/i] is presented entirely as fake movie trailers, and while some of these are pretty inane, enough of them are outright hilarious to make this easily one of the best buck DVDs on the market. It's a mixed bag, of course, and many of the trailers parody films that aren't exactly common knowledge to most moviegoers today. That doesn't, however, make "Billy Jerk Goes to Oz" with Tom Baker (of the drive-in flicks, not the former Doctor Who) any less funny as a mocking of the idiotic, self-righteous Billy Jack films, or a parody of Charlie Chaplin's silents ("The picture that leaves everyone reading!") less entertaining as it turns into en extended riff on Chaplin's communist sympathies. Sure, there are a few clunkers in the bunch. A segment satirizing the Ma and Pa Kettle films, in which Ma and Pa take Francis, the talking pig to New York, seems to go on for days. But most of these hit the right notes, and when they don't, they're quick enough to not get too irritated. Other highlights include the just-plain-wrong "The Bad News Bears in Getting Laid," a sex-reversed parody of T&A flicks called "Return of the Pom-Pom Boys" (with leering shots of male butt as he undresses for the shower) and Sid Haig (!) as a nameless cowboy in "A Fistful of Something" who encounters a group of Hindu people who consider cowboys sacred. The best moment, however, comes from "Dark Town After Dark," a play on 30's era black cast musicals, which includes a Cab Calloway-esque number called "Tight Pussy, New Shoes and a Warm Place to Shit." There's also Howard Hesseman in a war movie, Avery Schreiber in a tutu, Susan Tyrell as "Boobies" in "Welcome to Bacon County" (in which an interracial couple gets stranded in a small southern town, and is horrified to learn how nice everyone is), Lewis Arquette, Betty Thomas as a biker chick, Kinky Friedman (!) as a prisoner, Bill Murray on death row, Billy Curtis as a munchkin, Ed Lauter as a pot-smoking sheriff, Jaye P. Morgan yelling at children and Buddy Hackett as himself. The DVD runs 72 minutes, though the IMDb lists the running time at 84, but I can't tell what was cut from the descriptions online. Some of [i]Loose Shoes[/i] is, admittedly, lame, and there's a lot of drug and Jewish jokes that get old a little quickly. But, c'mon, you can find this for a dollar, and it's at least worth that. The "Dark Town After Dark" bit alone is worth a dollar, and the rest is gravy. It's no [i]Kentucky Fried Movie[/i]--the pacing is off in a lot of the bits, for one--but it's certainly worth a look.
Paul Freitag
Loose Shoes Quotes
There are no approved quotes yet for this movie.
Discussion Forum
Discuss Loose Shoes on our Movie forum!