Lorna's Silence
(2008)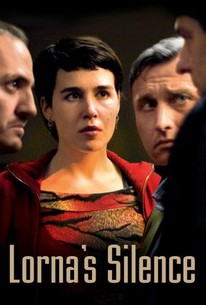 TOMATOMETER
AUDIENCE SCORE
Critic Consensus: Subtle and emotionally bleak, this gripping thriller features the Dardenne brothers' recognizable penchant for realism and very strong performances.
Movie Info
An Albanian woman living in Belgium finds her dreams of opening a snack bar with her boyfriend leading to tragedy after she agrees to marry a Russian Mafioso in order to gain citizenship. All Lorna wanted was to start a small business with her loving boyfriend, but in order to make that happen she would first have to gain citizenship. Local mobster Fabio claims that he can make that happen if Lorna agrees to a sham marriage with a man named Claudy. After gaining Belgian citizenship, Lorna discovers that a high-profile Russian Mafioso is also seeking legal entry into Belgium, and soon. He's willing to pay a hearty sum in order to marry Lorna, but in order for that second marriage to be possible Fabio will have to have Claudy killed. Will Lorna be able to remain silent as Fabio's deadly plot unfolds, and what will become of her if Fabio finds out that she has warned Claudy of the impending danger he faces? ~ Jason Buchanan, Rovi
News & Interviews for Lorna's Silence
Critic Reviews for Lorna's Silence
Audience Reviews for Lorna's Silence
A cold, bleak Belgian film that gives equal importance both to what is not seen and heard and what is. "Lorna's Silence" is a rigid character study by the Dardenne brothers that will be challenging to many. The goal here was seemingly to reflect on the power of absence and silence, and while this focus makes it feel weightless and even pointless at times, these are intentional design choices that offer up food for thought with varying degrees of success.
Sam Barnett
Super Reviewer
I haven't seen a movie quite like Lorna's Silence for a long time. I really do love these films that are just so pretentious, exadurated, and melodramatic, yet strangly plausible. For the most part the audience has to figure out what is going on for themselves. This really works well, especially since the plot is relatively simple. At the same time it is thoroughly engrossing to watch. I have no idea if the whole citizenship underground/espionage actually exists, but it is fasinating on-screen. Lorna's Silence does absolutely everything you would expect from a film of its prestige and style; and to top it off, its really rather good.
½
"Lorna's Silence," the new film from Belgium's Dardenne brothers, effectively creates a frightening vision of a world filled with people almost completely lacking empathy. But the story drags in the second half, and the film has an almost polemical edge that weakens its power. The characters start to seem like artificial fabrications meant to drive home the Dardennes' socio-political critiques. The protagonists are Albanians who have built an elaborate scam to benefit Russians and other Easterners trying to get citizenship in the European Union. Deeply disturbing is the cold, matter-of-fact way they put value on the lives of others. Lorna, the main character, is the only woman in the group. I don't want to reveal all the details, so let's just say that Lorna sees this lack of empathy for others most vividly. Her central dilemma is whether to continue in this life or make some changes. Her struggle is profound, and the lives of several others hang in the balance. My problem is that the Albanians' complete amorality starts to seem phony. European filmmakers frequently try to fit life into their theories, rather than trying to build theories that match life. Here I felt the Dardennes were driven to convey a message about contemporary society, and they developed arch caricatures of people to drive that message home. But I wouldn't push this criticism too far. "Lorna's Silence" is still an important and very good film and should be seen by anyone who appreciates serious cinema. Just don't watch it when you're feeling fragile. The film does have the power to be deeply disturbing despite the fact that there's not one iota of on-screen violence. Its power to disturb is far more subtle.
William Dunmyer
Super Reviewer
Lorna's Silence Quotes
There are no approved quotes yet for this movie.