Los Ritos sexuales del diablo (Black Candles) (Hot Fantasies) (Naked Dreams)
(1982)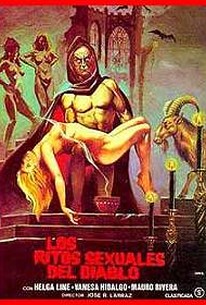 AUDIENCE SCORE
Critic Consensus: No consensus yet.
Movie Info
A young woman travels with her partner to England on the unexpected death of her brother.
Rating:
NR
Genre:
, ,
Directed By:
In Theaters:
Runtime:
Studio:
Starz
Critic Reviews for Los Ritos sexuales del diablo (Black Candles) (Hot Fantasies) (Naked Dreams)
There are no critic reviews yet for Los Ritos sexuales del diablo (Black Candles) (Hot Fantasies) (Naked Dreams). Keep checking Rotten Tomatoes for updates!
Audience Reviews for Los Ritos sexuales del diablo (Black Candles) (Hot Fantasies) (Naked Dreams)
soft core porn with some 'satanic' rituals and mumbo jumbo thrown in as an excuse for more soft core porn. I'm surprised this was released actually (there's even a goat on girl scene). Musical score is weird, acting is terrible, plot is absurd, and although I am tempted to say that some of that sex was really happening, it's still not worth seeing.
John Wagner
I'll be quick and simple with my review of Los Ritos sexuales del diablo (aka Naked Dreams in some circles of the US). The film centers around the story of a young woman who travels with her boyfriend to England after receiving word of the unexpected death of her brother. They stay with her sister-in-law in a strange manor where even stranger things are going on involving none other than a satanic cult looking to recruit more members (and probably doing some sacrificing). Honestly, you get more from the synopsis than you do from the actual movie, which is a non-stop orgy of...well...orgies. Sex scene after sex scene after sex scene of non-stop titty-sucking, pussy eating, doggystyle fucking, lesbian licking, etc etc etc. It goes on so much throughout the movie that it's very frustrating after awhile thanks to either being totally lost on the story and being subjected to lots of non-hardcore pornography. It's a wonder this film was done years later by iconic director Jose Ramon Larraz, whose similarly erotic horror film, Vampyres, packed a ton of sex and nudity, but at least it wasn't non-stop and there was still an engaging story behind it. Very surprising. I guess its cool watching all the sex and naked chicks getting graphic, but on a regular movie level, why bother? I'd much more out of real porn. Check out the much better Larraz film Vampyres instead of this goofy erotic horror film.
Jason Duron
½
Well what can I say, this is a love/hate film if there ever was one and more softcore porn than horror. After the death of her brother, a woman named Carol ventures to England to pay her respects to her lost brother. Her partner Robert has also come on this excursion, so at least she isn't alone in this tragic situation. The death of her brother came as quite a shock, since it was sudden and totally unexpected. In fact, there is still some mystery around the exact cause of his passing, though Carol doubts foul play was involved. The two stay with Carol's sister-in-law, who owns a large mansion in an isolated stretch of English countryside. The house is an old and eerie one, made all the creepier by the presence of numerous occult artifacts. A lot of these items she can recognize, but some are so bizarre and strange, she has no idea what they could be used for, even in some kind of sick ritual or what not. The locals are not the kind, wholesome countryfolk she expected either, which leaves her in a state of paranoia and nervousness. Her companion Robert is intrigued by all the cult presence however, unaware of just how deep it all runs. Of course, all this strange atmosphere makes Carol want to know more about her brother's death. As she does some detective work, she stumbles across the truth and she is mortified at the result. Can she escape what seems to be a sadistic Satanic cult of total chaos? Also known as Hot Fantasies, this movie has all the right elements for a cult picture and I mean cult as in cult. Jose Ramon Larraz (The Coming of Sin, Vampyres) has directed a wild one in Black Candles, a film which covers all the branches of deviant sexual practices. You'll see tons of naked flesh, both male and female, and softcore sex scenes, but the real spin comes when the sex gets a little taboo. Black Candles deals with forced drug use before sex, anal sex, incestual mating, massive orgies, and yes, even goat love. I know these elements are certain to offend most folks, but come on, how many movies out there go to these lengths? This is a movie about a cult of sex fiends, so you have to see a lot of sex, including some bizarre sequences that I will say you won't forget. Black Candles is also bathed in darkness and has Satanic elements around every turn. Larraz has created some great visuals here, cloaked in shadow and teeming with atmosphere. I didn't find Black Candles to be a great film, but for fans of obscure grindhouse sleaze, it is well worth a look.
David Ladd
Super Reviewer
Los Ritos sexuales del diablo (Black Candles) (Hot Fantasies) (Naked Dreams) Quotes
There are no approved quotes yet for this movie.