Los Bastardos
(2008)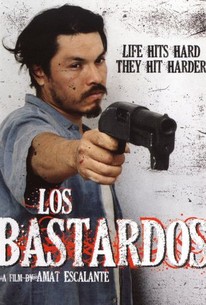 AUDIENCE SCORE
Critic Consensus: No consensus yet.
Movie Info
Two undocumented Mexican day laborers on an endless quest to make a little cash go about their regular routine of waiting for work outside the local home improvement store, and get in deep over their heads after accepting an unusually high-paying job. Most of the jobs that Jesus and Fausto perform involve power tools or a hammer and nails, but today things are different. Jesus is carrying a shotgun in his backpack, and chances are good that he'll use it before the day is done. ~ Jason Buchanan, Rovi
Rating:
NR
Genre:
, ,
Directed By:
Written By:
In Theaters:
On DVD:
Runtime:
Studio:
Critic Reviews for Los Bastardos
All Critics (2) | Fresh (2) | Rotten (0)
Los Bastardos manages to discard some of its stoic formalism for a final shot that is genuinely affecting.

the sort of low-budget mix of social realism, crime and horror that makes Hollywood productions look downright condescending

Audience Reviews for Los Bastardos
½
Intuitiva, cruda y violenta, tan real como el mismo infierno. "Los Bastardos", cuenta un día poco común en la vida de dos inmigrantes mexicanos que trabajan en el Sur de California. El principio, muy a la Sergio Leone y manera de Western, como dos determinados forajidos (Jesús y Fausto), caminan desde muy lejos hacia la cámara, de fondo se escucha una música estridente similar a "El bueno, el malo y el feo". Ya en el camión, se mezclan como si nada en una comunidad diversa. Llegan a las afueras de un centro comercial, donde se concentran con otros compañeros a esperar a que los contraten de lo que sea, principalmente en trabajos de construcción y hacen bromas sobre sus experiencias con los americanos. Pasan las horas, hasta que por fin llega un contratista que quiere pagarles el mínimo por su labor, ellos no se dejan. Una vez cerrado el trato con el único que medio masca el "inglés", se van a hacer los cimientos en una construcción en las afueras de la ciudad, casi en medio del desierto. Ellos le ponen duro al trabajo con el sudor de la frente, Jesús no suelta la mochila. Al terminar, el contratista quiere dejarlos ahí tirados, la fricción se siente. Después, en el parque, Jesús y Fausto pasan por donde están otros "güeros", escuchan un insulto racista. Bajo la sombra de un árbol, Fausto no puede más y se suelta a llorar. Jesús saca de su mochila un pistolón que cambiará el curso de la historia. Abruptamente, vemos a Karen esmerándose en preparar una cena rica y nutritiva para su hijo Trevor, quien esta mezclando música en su cuarto, lo llama a comer. Tratando de llevar la fiesta en paz, Karen haciendo a un lado la brecha generacional, halaga la horrenda música del vástago. Trevor medio come, se para y se va diciendo que tiene algo que hacer fuera. Karen, frustrada, saca su cajita de droga, se la fuma y se queda dormida en el sofá. Jesús y Fausto llegan a la casa de Karen, tienen dudas, Fausto trata sin éxito de persuadir a su amigo, pero ya están ahí, se brincan por la ventana. Descubren a la gringa durmiendo, apagan la tele, la despiertan y la amenazan con la pistola. Ella se asusta y los cuestiona, pensando que su ex esposo los mando para matarla. Ellos contestan que "si", pero ni ella habla español, ni ellos inglés. Poco a poco se irá dando una extraña y a la vez maravillosa interacción entre los personajes. De reojo, descubren sus diferencias, el color de la piel, el pelo, el arreglo personal. Ella los mira,estudiándolos, marcando su distancia. Jesús descubre la droga y se la pasan. Se van a la alberca, hacen que Karen se desnude y los tres se dan un chapuzón. Regresan dentro de la casa, luego Jesús le practica a Karen el sexo oral, mientras Fausto mira, ella completamente frígida, siente sin sentir y se va al baño. Jesús con pistola en mano la vigila. De ahí para adelante los acontecimientos sucederán de manera sorprendentes, hasta llegar a la grotesca e impactante escena del estilo de "Pulp Fiction", "Jackie Brown" y "Funny Games" que hacen que el espectador reaccione con horror, puesto que hay momentos que no pasa nada y cuando la acción sucede, hace que todo se agrande se manera impactante. A diferencia de los sentimientos carnales que se manejan en "Sangre de mi sangre" situada en Nueva York, "Los Bastardos" es más profunda y abierta a cualquier interpretación que el espectador le quiera dar, dejando muchas cosas sin resolver. No es una tesis sobre la inmigración, ni un manifiesto político entre la relación de los habitantes de ambos países. "Los Bastardos" remarca y abusa de los estereotipos con los que tilda tanto a mexicanos como a americanos por igual; los primeros, sucios, grasientos, ignorantes, ilegales y vulgares. Los segundos: fríos, racistas, abusivos, neuróticos y compulsivos. Este poderoso drama perteneciente a la recientemente bautizada "generación next", del director mexicano Amat Escalante ("Sangre"), quien mete al espectador en un ritmo súper lento y súper tenso, con patrones estéticos similares a los de la poco comprendida "Batalla en el cielo", donde en medio de tanta fealdad se encuentra... la belleza. Tiene buena manufactura, excelente fotografía y sólidos encuadres. Ganadora del Festival de Morelia, participó en el Festival de Cannes y tuvo su premiere en Los Angeles Film Festival. Según el director, la película está basada en un pensamiento del Premio Novel mexicano, Octavio Paz, "El Laberinto de la Soledad", que dice: las culturas americana y mexicana flotan en el aire juntas, sin tocarse. No por racismo, sino por desconfianza, más bien es miedo a conocerse y a compartir un espacio donde todos podrían interactuar haciendo a un lado las diferencias que los separan. La película te quedará zumbando en la mente por la inexplicable manera en que la serie de eventos infortunados se van desenvolviendo. Entre la violencia de Quentin Tarantino y los patrones estéticos de Carlos Reygadas (quien también participa como productor), Amat Escalante logra crear una extraordinaria e impactante historia difícil de olvidar que no te puedes perder, dedicada a todos "Los Bastardos" que sí ven cine mexicano. Jose Alberto Hermosillo www.alborde.com
Jose Alberto Hermosillo
Los Bastardos Quotes
There are no approved quotes yet for this movie.
Discussion Forum
Discuss Los Bastardos on our Movie forum!