Lost Boys: The Tribe
(2008)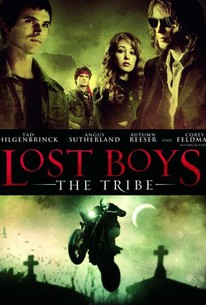 Lost Boys: The Tribe Photos
Movie Info
From Dusk Till Dawn 3 director P.J. Pesce takes the helm once again for this straight to video sequel concerning Nicole (Autumn Reeser), a young girl who falls in with a pack of vampire surfers after moving to the town of Trinidad, California with her brother Chris (Tad Hilgenbrink). Seduced by the charismatic leader of the fanged wave riders, the young innocent gradually discovers that there are forces in nature that could destroy everything she has ever cared for. ~ Jason Buchanan, Rovi
News & Interviews for Lost Boys: The Tribe
Critic Reviews for Lost Boys: The Tribe
Audience Reviews for Lost Boys: The Tribe
Back in the eighties, films could be bad because they were fun to watch. If there was a bad film, you can expect it to be campy, enjoyable, and filled with actors that would later grow up to be use sensations. Plus, some films that were okay would later become staples in Pop Culture. As such with Joel Schumacher's The Lost Boys. The film was good by itself, help spark the vampire revolution, and to this day has only aged like wine in terms of being good. However, like with most films of the past decade, there had to be a Hollywood sequel to cash in on the love of the original. Some of these sequels have been good. Some have been bad. Lost Boys: The Tribe is a film that fails on all levels except for one. First off, I do not really see the point in continuing this story. It ended at the end of The Lost Boys, there was nothing left to tell, so why was the point? Besides the money that they hope they would make (enough to finance a sequel). But in reality, it was to cash in on the Vampire Rennassance that was sparked in the mid 2000's. So, seeing this film as a modern vampire film, it does get some point of returning to the vampires that were grotesque, evil, cold, and just plain mean spirited. These vampires are as I described them, but they also resemble the vampires of today. The types that look like they are waiting to be in some teen magazine you would find in a drug store. If this film is creditable for anything, it would be that it showcases this generation's views of vampires and how the true vampire fans are expecting the return of real vampires. However, that would be one of only two good things about this film. The other good thing is Corey Feldman as Edgar Frog. Being the original vampire hunter from the first film, it was a huge breath of cold air to see him in this film thirty minutes in. In fact, next to the vampire designs and the soundtrack, he is the only real reason why this film is barely watchable. He does not take this film seriously, he knows it will not be as iconic as the original, but yet he has fun with it. He tries to make the film enjoyable somewhat, and while his attempts are honorable, it just fails. And this is when the film goes down hill. Okay, first off: this film is cheap as crap. I mean, it feels like a made for television film you would catch late on Syfy when they are about to start showing nfomercials of weight-loss pills. Nothing about this film is pleasant to look at, nothing screams that this film was treated with love and care, and watching it, nothing about it keeps you interested. Plus, with the direction, the film goes no where and what we are left with is a dull, lifeless (no pun intended) film that you can pop in at any moment and know exactly who is who and what is going on. Also, the script of this film is so diluted with plot holes that it starts to become embarrassing. We are never told how the vampires even came about in this film, what was up with Tom Slavini's cameo at the start of the film, and how this film is even connected to the first film besides Frog. Then you have how this film goes against it's own logic in terms of the mythology of the first film. And do not get me started on how bad the script is. Half of the dialogue that is said is copied from the first film, the other half reads like someone trying to make the film hip and cool by adding in numerous profanity and scenes of nude women with hopes that it can cover it up. Film lesson: nudity, gore, and profanity do not make a good film. The acting in this film is why we have the razzies. Nothing, at all, is acted out, nothing is notable, even the main actors are a bore. And this is sad considering Angus Sutherland (half brother of Kiefer Sutherland from the first film) is in this film blaming the same role as his half brother. I mean, my word! How much more bland can one get with this film? With the others, they are not even worth my time trying to figure out their names. They were all picked for sex appeal and that is that. Looking at the director of this film, it comes to no shock that the director of the third 'From Dusk Till Dawn' film made this movie. Okay, listen to me: you can not direct vampire films. You can direct their action scenes, but not entire films. The Lost Boys was a film that was distinctively Stomacher, and here it is destroyed. However, while I despise this film, I can not completely hate it. The reason why is because this film is a staple in vampire history as showing what has happened to the vampire genre in the new millennium. This film looks and feels like a cheap porno, is cardboard, and is easily forgettable with the only redeeming quality being Corey Feldman's role.
Zach Brehany
Super Reviewer
Being a diehard fan of the first Lost Boys, I had high hopes about this sequel. Boy, was I wrong, this film is terrible. Where to begin? The film takes the exact same plot as the first, recycles it, and changes a few things to make this recycled plot interesting. If you've seen the first Lost Boys, you've seen this one. Of all the horror sequels that I've seen, Lost Boys 2: The Tribe is one of the worst sequels there can be. The plot is predictable, the acting is awful, and the film is just a cash grab that milks the original's reputation. I felt that The Lost Boys was a stand alone film; the film didn't need a sequel. I can't believe that the studio went ahead and made this, as this is tone of the most uninspired films in the horror genre. Lost Boys 2 doesn't do anything interesting, and it travels the same exact road as the first film. There's nothing that will appeal to fans of the first, and watching this will make you realize that you wasted your time. The only good thing about the film was Aiden's cover of Cry Little Sister. I felt betrayed when they butchered this film. There's nothing that I hate more when a studio gets greedy and decides to make a crappy sequel to an excellent film. In the case of The Lost Boys, you get one of the worst possible sequels that you can get. Not even the Frog Brothers could save this one. If you've loved the first film, skip this one; you're not missing out, as this films takes the same story and switches the roles of the characters. Skip it, and forget that this one exists.
OMFG the worst sequel in the history of sequels, not often are sequels good however this is absolutely terrible! The acting is terrible the story is terrible and just a terrible movie all in all i loved the first one and was a little optimistic at first anyway but i wish i had never watched this because it really is terrible not worth a watch at all!!
Film Crazy
Super Reviewer
Lost Boys: The Tribe Quotes
| | |
| --- | --- |
| Edgar Frog: | A lot of valuable information can be gained by reading comic books. |
| | |
| --- | --- |
| Edgar Frog: | Build a man a fire he'll be warm for a day, Light a man on fire he'll be warm for the rest of his life |
| Edgar Frog: | Build a man a fire he'll be warm for a day. Light a man on fire he'll be warm for the rest of his life. |