Lost Command
(1966)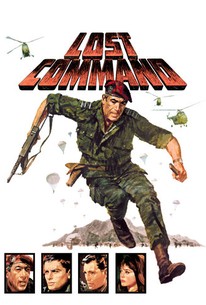 AUDIENCE SCORE
Critic Consensus: No consensus yet.
Movie Info
Based on Jean Larteguy's The Centurions, Mark Robson's drama is an account of French-Algerian guerrilla fighting in World War II-era North Africa.
Critic Reviews for Lost Command
There are no critic reviews yet for Lost Command. Keep checking Rotten Tomatoes for updates!
Audience Reviews for Lost Command
This story is based on real people and events, from the first Vietnam/Indochina war to the Algerian quagmire, the multicultural French Colonial Paratrooper "Maroon Beret" units & Foreign Legionnaires (many of them ex-WW2 German SS Nazi "anti-Partisan" fighters unable to go home for fear of war crimes trials. Entire units enlisted en mass in the Legion...) fought and died bravely "Mort De La France". Although a "Hollywood version" of events, this film is unique, and has been used in military training classes to show examples of combat tactics, the accuracy is that good, with actual army troops as extras adding to the excellently directed action. The story stays close to the book ("The Centurions" By Jean Larteguy) and is about the all too real pride & prejudice lurking in the backstabbing politics of the French military. Dashing Colonel Raspeguy (Quinn) is not a "real" Frenchmen, but a looked-down-upon minority Basque of peasant stock, who has only advanced to such a high rank by being a hardened (as his lover calls him), "Beautiful Beast of War". His men love him because they know he is looking out for them at all times and that he is "of" them, no pretentious political officer type A-hole. Raspeguy loses his command in the wake of the withdrawal from Indochina/Vietnam (Burt Kwouk, known as "Kato" from the "Pink Panther" series, turns up as an arrogant but hapless Viet Officer here), but with behind the scenes politics, get a last chance for glory (and a General's star) by being given command of the newly formed group of hard cases, criminals, & miscreants of the "10th Parachute Regiment"(known as "The Lizards" due to their special camouflage pattern uniforms and billed caps), being sent in to the "dirty war" breaking out in French colonial Algeria. The film details both the heroic and shameful actions that ensue. Raspeguy recruits many of his former Vietnam comrades to stiffen up his new unit, all bored with the calm life in metro France & still looking for adventure. Captain Esclavier (Delon) is the soulful but naive intellectual & conscience of the group, while Cpt. Boisfeuras (Ronet) is his evil avatar, a sadistic vietnam raised french war-lover with psychopathic killer tendencies and a love of the knife. Unusual for the day, there is featured a strong & silent Black Officer as the unit Doctor. Lt. Mahidi (Segal in dark makeup) is their comrade gone wrong who snaps and joins the terrorists after returning home from Nam' and sees what has become of his family. Actress Claudia Cardinale stands out as the college girl sister of Mahidi who dons high-heels and tight skirts as a faux-hooker to help the terrorists by manipulating the gullible Esclavier. Cardinale makes the most of her role as the innocent but sexy "It" girl here, while Michele Morgan as Countess De Clairefons, is the war-widow who beds and helps Rapseguy get his new command. Her ice-queen aristocratic beauty and style intrigue here. Despite these diversions of sex & politics, this is at heart an action film, and succeeds on that level. The film has an excellent and stirring soundtrack arranged by Franz Waxman. There is an "evil twin" of this film, Pontecorvo's "Battle of Algiers", that unlike "Command", blatantly takes the side of the terrorists, showing them as the heroes of the piece, and significantly was used as a "training film" for 1960's Red radicals such as the Black Panthers, Puerto Rican separatists & murderous Weather Underground radicals, all who killed people in real life terror attacks in the USA. (The serious filmhead should see both of these and decide for themselves). All this is particularly interesting considering current events in the Middle East (and the descendants of these 1950's Algerians transplanted to France that are now fighting the Police and rioting in the streets of Paris as criminals & Terrorist sympathizers). The now independent Algerians are still fighting and dying in the continuing war against their own anti-government fanatical fundamentalist Muslim terrorists even today. Things did not turn out as expected from the hopes for "peace" after the French, who lost so many brave warriors in the fight, de-colonized and left Algeria...With this in mind, One can only reiterate the french canard "Ce'st La Vie, Ce'st La Guerre"...Grab the buttered popcorn and check it out!...
Black Snake
Lost Command Quotes
There are no approved quotes yet for this movie.
Discussion Forum
Discuss Lost Command on our Movie forum!