Lost Embrace
(2005)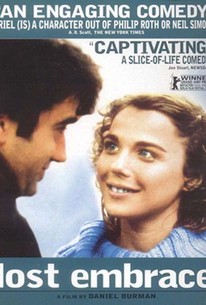 Movie Info
This is Ariel's world: the small, slightly seedy shopping center in downtown Buenos Aires, where the Italian shopkeepers scream all day, the Koreans sell feng-shui and old Osvaldo sells nothing. Where Ariel's mother runs a lingerie shop and his brother deals in import-export. It's a comfortable little world, in spite of an undercurrent of malaise and uncertainty. Many young people are searching for their immigrant roots to obtain a coveted foreign passport, the key to a world full of promise. Ariel, however, wants more than a passport from Poland, where his grandparents fled to escape the Holocaust. He wants to understand. Why his father left his family shortly after his birth to fight a war in Israel. Why he never returned. And why this seems to leave his mother and brother indifferent...But the truth changes. And when Ariel's father returns, he brings with him new truths, a new story and, ultimately, a long-overdue embrace--one that had been lost for so long.
Rating:
NR
Genre:
, ,
Directed By:
Written By:
In Theaters:
On DVD:
Runtime:
Studio:
Critic Reviews for Lost Embrace
Audience Reviews for Lost Embrace
Nice visuals and good emotions drawn by the actors. Sophisticated for a comedy.
John Ballantine
Super Reviewer
It's been just over a year since I began my new career as a pretend movie critic. Despite the fact that the pay sucks and I'm under constant pressure to satisfy the demands of my small but loyal fan base, here I am, 75 reviews later, still churning them out. So last night I rented a movie: "Donnie Darko - Director's Cut". I think this was the first "new release" movie I've rented since I started writing reviews. Since I see almost everything that I have any interest in seeing in the theatre, my rare rentals are usually old favorites which I rent mainly for the purpose of trying to inflict my taste on others. So after watching "Donnie Darko", I had a decision to make: should I only review movies that I see in the theatre or should I review rentals too? And my decision is this: rentals don't count. So no review. And for consistency's sake, I've also deleted the mini-review of "Two Brothers", which I saw on a plane. Planes don't count either. Only theatres count. So let's see how much I can write without talking about the movie I'm supposed to be reviewing. I guess that ought to do it. I've been scraping the bottom of the barrel lately trying to find a movie which seems like it might be worth leaving my couch for. I didn't feel all that enthusiastic about "Lost Embrace", but at least it's playing nearby. It's about this guy named Ariel who works in his mother's lingerie store in a mall in Buenos Aires. The mall is filled with family-run businesses of all ethnic persuasions: the Italian-run electronics store, the Asian feng-shui store, the Jewish fabric store. Ariel doesn't seem to do any real work; he mostly just assists the hot owner of the adjacent Internet cafe with trying on her potential purchases. Ariel wants desperately to move to Europe, so he runs around gathering documents from his grandmother to try to get a Polish passport. Ariel's father lives in Israel, where he moved to fight in the Yom Kippur War of 1973 shortly after Ariel was born, never to return. Ariel hates his father for abandoning the family but Ariel's mother wants him to visit his father on a kibbutz in Israel. So this is all about as exciting as it sounds. Around this point, I finished off my bag of extra-buttery popcorn and soon drifted off into a sound sleep, as if my popcorn were laced with a generous dose of Nyquil. I actually had a real dose of Nyquil before going to bed last night and it didn't knock me out nearly as effectively as this somnolent movie did. But, as best as I could tell, nothing much happened after I stopped watching anyway. I'd open my eyes every few minutes, read a few subtitles, think about how much I needed a Coke, and then drift back off to sleep. Once I dreamt that I was still watching the movie, but then I woke up and realized that my eyes had been closed the entire time. Another time, I woke up to find that there were two rows of subtitles, and it took me a while to realize that the row I was reading was not in English. But I might have dreamt that too. The next thing I knew, Ariel's father was in town and his grandmother started singing him an old song and things were wrapping up. And none too soon for me. OK, granted I slept through maybe 40% of this film, but even before that, things were mind-numbingly boring anyway. None of the characters were the least bit interesting, with the exception of the grandmother. If I was supposed to be swept up by some sort of quirky slice-of-life charm, it was completely lost on me. If you're thinking of seeing this movie, I'd recommend that you stay home and rent "Donnie Darko" instead. And then maybe you can explain it to me.
v h
½
[i]Fierce Creatures[/i] Mostly not my thing. The characters are not drawn as sharply; they just seem to be going through the motions to advance the plot. In terms of the actual operation of the zoo, you're never certain exactly what anyone does. It seems that Kevin Kline was attempting to reprise his Otto character, but the result was far too over-the-top. The dual role as the father was also the brunt of really sohpomoric fart jokes. The physical humor felt far too stagy in most places, and what a train wreck of a denouement. A huge disappointment after [i]Wanda[/i]. [i]Adaptation.[/i] I haven't seen a movie quite like it. It's a movie about a writer writing about writing. I enjoyed the acting from the cast very much. Meryl Streep, Chris Cooper, and particularly Nicolas Cage brought fervor to the roles. As much as the movie seems to be about finding meaning and purpose, the actors gave the roles depth that defy the writing. I thought that the third act didn't mesh the storylines together well. The thriller twist, the gleeful ending, and especially the drug angle. Yes, they made Susan Orlean happy (or at least disconnected), but what was going on in her mind? The orchid analogy also doesn't come to fruition. The movie defies some of its own logic in the first segment of the film in using mechanisms that Charlie Kaufman (in the film) condemns. Despite its flaws, it was very enjoyable to watch a great cast work.
Mister Chrisnu
Lost Embrace Quotes
There are no approved quotes yet for this movie.