The Lost Tomb of Jesus
(2007)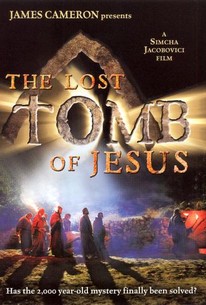 AUDIENCE SCORE
Critic Consensus: No consensus yet.
Movie Info
Director/producer/screenwriter Simcha Jacobovichi teams with executive producer James Cameron to explore the possibility that a first-century tomb unearthed in Jerusalem in 1980 may have once held the remains of Jesus Christ. In the Talpiot neighborhood of Jerusalem, a bulldozer inadvertently unearthed a tomb containing ten ossuaries - six of which bore inscriptions of extraordinary magnitude to biblical scholars. Six names were inscribed on the stone coffins: Jesus, son of Joseph; Mariamene (the common name of Mary Magdalene; Maria; Matthew; Joseph; and Judah, Son of Jesus. Though the stone coffins were initially dismissed as coincidence by archeologists, they were cataloged by the Israel Antiquities Association before being sent to a warehouse and forgotten for over two decades. Compelled by the remarkable collection of New Testament names inscribed on the tombs, filmmaker Jacobovichi, with the aid of Cameron, determined to solve the mystery behind what could be one of the most significant archeological discoveries in the history of man.
Critic Reviews for The Lost Tomb of Jesus
There are no critic reviews yet for The Lost Tomb of Jesus. Keep checking Rotten Tomatoes for updates!
Audience Reviews for The Lost Tomb of Jesus
Executive producer James Cameron, archaeologists Dr James Tabor and Simcha Jacobovici went to great lengths to bring this documentary to the public, yet a worldwide system of religions refuses to give recognition to this simple fact: Jesus was A MAN (not the son of 'god') who had a family his wife Mary Magdalene. The Israeli government even displays their intent to cover up the archaeologists' findings in support of the existing myth with which the entire world is accustomed to. As the 'Tomb of the 10 Ossuaries' was originally excavated in 1980 by an Israeli construction crew, historians and scholars were not informed that the Ossuaries belong to the decaying bodies of Jesus Christ and his family. Recently, it has been statistically and scientifically proven that the 'Talpiot Tomb' was the actual resting place of Jesus, his immediate family and closest disciples. Whether you are religious or not, you owe it to yourself to see this History Channel documentary, which draws intense skepticism to the 'resurrection' of Jesus of Nazareth.
The Lost Tomb of Jesus Quotes
There are no approved quotes yet for this movie.