LoudQUIETloud: A Film About the Pixies
(2006)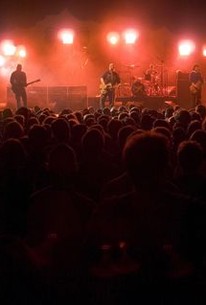 LoudQUIETloud: A Film About the Pixies Photos
Movie Info
The band that inspired some of the most innovative rock acts of the new millennium reunites to conquer the globe 12 years after calling it quits, and filmmaker Steven Cantor is there to capture all the low-lights and highlights of their tentative reunion in a probing documentary exploring the re-birth of Gen-X alternative giants the Pixies. Plagued by personal problems from the beginning but driven to create such classic albums as Surfer Rosa and Doolittle, Frank Black, Kim Deal, Joey Santiago, and David Lovering smashed convention to deliver a wailing wall of chaotic but catchy riffs that, when combined with Black's disjointed lyrics and volatile vocals, gave birth to an entirely new sound. Initially self-destructing in 1993 and fragmenting into a variety of compelling offshoots, the Pixies weathered out the remainder of the decade and the first years of the new millennial crossover on their own before a series of jam sessions between the former bandmates led to a wildly successful 2004 North American tour.
Rating:
NR
Genre:
,
Directed By:
In Theaters:
On DVD:
Runtime:
Studio:
News & Interviews for LoudQUIETloud: A Film About the Pixies
Critic Reviews for LoudQUIETloud: A Film About the Pixies
Audience Reviews for LoudQUIETloud: A Film About the Pixies
A weird little film that doesn't follow the usual approaches and probably suffers for it. Very little background and while tensions that led to the original break-up might have been interesting, after ten years feelings seem to have faded into apathy. The band rarely talks and are hardly the wild rockers of their youth so there's little climactic action. I guess you could call it an usual look into the banality of touring and the real humanity of past rock gods. The leader singer is overweight, the guitarist is a family man, the bassist loves crafts and cares for her mother, while the drummer's new passion is being a magician. Meanwhile, fans act as if no time has passed and being that the Pixies are touted as such an influential band, it might have been nice for the documentary to focus on stories from fans and other musicians who credit the band for being a major part of their lives. At many times, the bandmates appear so oblivious to their own musical importance and it seems that the songs have long outgrown the band and taken on their on entity. The directors took a risk with their laid-back approach, which is refreshing and humbling, but I feel disappointed that such amazing music couldn't have inspired a more creative or satisfying direction.
Shanna Utterback
½
All this time I wanted to see this, and it was on Flixster the whole time! If your a fan of the Pixies, this is a perfect movie for you, showing their biggest comback since Trompe Le Monde, and thats bringing the band back together to tour North America and Europe (Hoping that they'll make a new album soon). After meeting up with each other, it reminds them of why they broke up. I didn't know that it was going to be this good, because the problems between the band makes this somewhat intense. Listening to The Pixies play is awesome, and its nice to watch them on the big screen as well.
Black Richie
½
A documentary about the legendary alternative rock band?s 2004 reunion tour. There are some really good musical performances here, but the real focus is on what?s going on backstage as the band tries to get their act together and get through this tour. Reunion situations don?t always get covered, which makes this fairly unique. I did get the feeling that some of the drama was manufactured in the editing room, but this is still pretty interesting. The production is not the best, but it?s never bad, although it makes sence that this went straight to video. It?s no Metallica: Some Kind of Monster, and there?s not too much to appeal to non-fans, but it is still an interesting look at the band circa 2004.
LoudQUIETloud: A Film About the Pixies Quotes
There are no approved quotes yet for this movie.
Discussion Forum
Discuss LoudQUIETloud: A Film About the Pixies on our Movie forum!