Louis
(2010)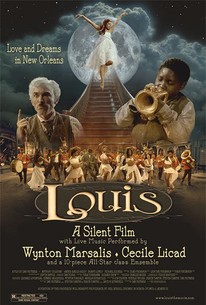 Movie Info
About, a silent film directed by Dan Pritzker, starring Jackie Earle Haley, Shanti Lowry and Anthony Coleman, will premiere in US cities in late August with live musical accompaniment by Wynton Marsalis, renowned pianist Cecile Licad and a 10-piece all-star jazz ensemble. Marsalis will play a score comprised primarily of his own compositions. Licad will play the music of 19th century American composer L.M. Gottschalk. The group will perform live with the film in a series of special performances in New York City, Chicago, Washington DC, Detroit and Philadelphia. Shot by Academy Award-winning cinematographer Vilmos Zsigmond as a modern re-imagining of early silent film, LOUIS is an homage to Louis Armstrong, Charlie Chaplin, beautiful women and the birth of American music. The grand Storyville bordellos, alleys and cemeteries of 1907 New Orleans provide a backdrop of lust, blood and magic for 6 year old Louis (Anthony Coleman) as he navigates the colorful intricacies of life in the city. Young Louis's dreams of playing the trumpet are interrupted by a chance meeting with a beautiful and vulnerable girl named Grace (Lowry) and her baby, Jasmine. Haley, in a performance reminiscent of the great comic stars of the silent screen, plays the evil Judge Perry who is determined not to let Jasmine's true heritage derail his candidacy for governor. "The idea of accompanying a silent film telling a mythical tale of a young Louis Armstrong was appealing to me," says Marsalis. "Of course, calling it a silent film is a misnomer -- there will be plenty of music, and jazz is like a conversation between the players so there'll be no shortage of dialogue." --© Official Site
Audience Reviews for Louis
½
This is a film like no other. Not because of its plot or anything like that, but the experience its self. (At least when I watched it) it was in a theater (a real theater, not a movie theater), with the jazz ensemble and everything. I'm going to be honest here, the film its self is terrible, but the experience is like nothing you've ever done before.
David Unterbereger
Louis Quotes
There are no approved quotes yet for this movie.
Discussion Forum
Discuss Louis on our Movie forum!