Love 911
(2013)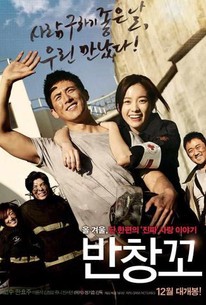 AUDIENCE SCORE
Critic Consensus: No consensus yet.
Movie Info
Mi-Soo (Han Hyo-Joo) is a doctor with a fiery spirit. Unfortunately, her fiery spirit gets the best of her one day at work. Mi-Soo fails to properly diagnosis an ill woman, after she sees the ill woman's husband, whom she assumes to be an abusive thug. Because of Mi-Soo's failure to diagnose the woman's illness, the woman is now hospitalized and near death. Her husband sues the hospital and Mi-Soo is advised to find a character witness. Kang-Il (Ko Soo) is a dedicated firefighter, who doesn't blink when it comes to saving someone else's life. Emotionally, Kang-Il still carries heavy grief over the death of his own wife. Outside of work, Kang-Il rarely socializes with others. Firefighter Kang-Il was also at the hospital when the wife, who was misdiagnosed by Mi-Soo, became gravely ill. His boss ordered Kang-Il to follow the husband and to make sure he doesn't do anything rash. The husband eventually confronts Kang-Il and assaults him. Later, Mi-Soo learns of the incident between firefighter Kang-Il and the husband. She concocts a plan to cozy up to the firefighter, in hopes of enlisting him in her legal defense. Little does she know, she isn't dealing with an ordinary fellow and she just may have found her true love. (c) CJ
Critic Reviews for Love 911
There are no critic reviews yet for Love 911. Keep checking Rotten Tomatoes for updates!
Audience Reviews for Love 911
South Korean rom-coms never fail to disappoint in supplying us with the melodramatics. Though, to be fair, I will admit that the nature of the characters' jobs in the film, doctor and firefighter, it should've been expected that the film would contain some dramatic elements. What I wouldn't have expected was one half of the film to be the silly comedy, that all these movies start off as, and the second half would be the melodrama. And i do literally mean that, this movie is nearing two hours long and nearly half of that is spent with the dramatic elements of the film. It's not nearly as annoying as I would've anticipated, but it was still really annoying. I'm sure this film had a tear quota, but I'm sure they went over the quota like 5 times over. It's not like they're hysterics through most of it, though there are a couple of scenes when they are, but it's getting to the point where I just wanted it all to be over. Like just move on and get to the comedy, because I'm just not caring about anything that's happening. And that's a shame, because I do think there's something there with the leads. In that the male is a widower who's struggling to get over his wife and the female, at first, is using the widower for her own personal gain, in order to avoid having her medical license suspended for 3 years after a misdiagnosis of the patient leads to this patient becoming brain dead. It's nothing great, but at least it's something and they just sort of waste that in the second half of the film. And it's not like this is a movie where the leads don't have any chemistry or their characters are so vanilla that it's difficult to picture them together as a couple. There's actual chemistry between the leads and there's parts of the film that do a good job at showing their journey from hating each other, cliche I know, to being in love. Again, it's nothing that you haven't seen before, but there were glimpses of something intriguing here that they just couldn't maintain due to giving in to what the South Korean audience demands and that is, sadly, melodrama. There's so much crying in the film that, at the very least, several waaaambulances should've been sent out to help these poor folk. I just don't find it satisfying as a viewer to be treated as if I'm an idiot. And I'm not saying that the film spoke down to me or anything like that, but thinking that such dramatic tactics would actually work on me. I'm not suggesting that those who enjoyed this film and bought into its dramatic elements are idiots, but that's how it felt like to me and me only. I've said this before, but this isn't how most couples' relationships work out. You're presenting unrealistic scenarios. And that's fine, 99.9% of films are unrealistic, but even in an unrealistic scenario, you can still tell a story that actually reflects what real-life couples go through. I think that's so much more interesting than what they do here. And, really, this is just a symptom of a bigger problem and not necessarily something that's inherently wrong with this movie, but it needs to be said. South Korean rom-coms, realistically speaking, are all really very similar to each other. Just swap out different characters and put them in different situations, but the tone of the films are always the same. And I think it's time someone did something to turn that expectation upside down. I know I always complain a lot but, at least, as far as tone goes, for the most part, South Korean rom-coms are far more watchable when they're concentrating on the sillier aspects. None of them might be truly hilarious, but at least the tone is light and fluffy. It's a shame they fuck all that up with the dramatic elements, which are completely heavy-handed. What's funny is that, I know I said the movie does a good job at showing the transition from dislike to 'in love'. But these two have a start a relationship that starts at the 55 (as an example) minute mark of the film and ends at the 1 hour mark. So their romance, literally, lasts all of 5 minutes of screen-time. And I do know that everything prior to the leads getting together is establishing their characters and their growing 'appreciation' of each other, but it was just funny to be told that these characters are meant to be together forever when they were with each other for all of 5 minutes before breaking up. I realize I'm nitpicking and that doesn't really affect my rating of the film, just something I noticed. The acting is solid, though I will admit that there's some serious overacting during the more serious parts. So I wouldn't call the acting consistent. I don't mind if there's a bit of down period where your leads are apart, but when you make that the second half of your two hour film, then that's when I have problems. The drama really drags the movie down, to me. Originally was gonna give it a 2.5 rating, but it was brought down by the drama. It's just not effective, to me. It's not as bad as in Lifting King Kong, where there were 30 straight minutes of characters crying loudly, in an insufferable third act, but it is ineffective as a storytelling method. First half of the film is somewhat enjoyable, everything after that is a massive step down. Can't really recommend this at all.
Jesse Ortega
Super Reviewer
Love 911 Quotes
There are no approved quotes yet for this movie.
Discussion Forum
Discuss Love 911 on our Movie forum!