Love and Anarchy
(1973)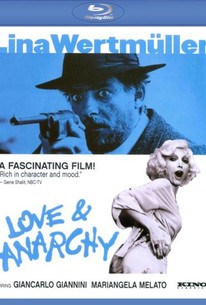 AUDIENCE SCORE
Critic Consensus: No consensus yet.
Movie Info
Originally released in Italy as Film d'Amore e d'Anarchia, Lina Wertmuller's Love and Anarchy is set in the fascist-dominated Italy of the 1930s. Giancarlo Giannini plays an idealistic farmer swept up in an anti-fascist underground movement. His first task as a member is to assassinate Mussolini (talk about your initiation stunts!) While preparing to carry out his assignment, Giannini takes up residence in a whorehouse run by Mariangela Melato, another anti-Mussolinite. Giannini's resolve to carry out the assassination is weakened by his love for one of Melato's prostitutes, as well as his own essentially gentle nature. Love and Anarchy was the first of Wertmuller's films to gain a U.S. release.
Critic Reviews for Love and Anarchy
There are no critic reviews yet for Love and Anarchy. Keep checking Rotten Tomatoes for updates!
Audience Reviews for Love and Anarchy
½
A few subjective notes on Love and Anarchy: When I was a kid, I lived about a mile from the only movie theater on the West Side of Cleveland that you could remotely call an "art house." It was the only theater on the West Side that showed foreign movies and arty independents. I saw Being There and Chariots of Fire and Monty Python and the Holy Grail - not exactly the most arcane art movies in the world, but as close as I could get until I was old enough to drive to the East Side, where the real art houses and rep cinemas were. In the '70s, this theater hosted long runs of Swept Away and Seven Beauties. I was 13, not at all ready for movies like that, and so I never experienced Lina Wertmuller in the full flower of her greatest acclaim. I'm ready now. And so I finally saw Love and Anarchy on TCM. My father was born in Sicily, but was very Americanized by the time I was born. He had none of the characteristic explosions of emotion that typify - or stereotypify - Italian behavior. Indeed, he was pretty quiet and dyed-in-the-wool - it's my non-Italian mother that had the temper. Anyway, I've watched Italian movies with combinations of affection and repulsion for "my people". The histrionic emotions, the grotesque and cartoonish visages, the crass scatological humor in Fellini's more extreme movies make me wince, but then movies like The Night of the Shooting Stars or The Tree of Wooden Clogs warm me to another side of the Italian Spirit. Love and Anarchy is set in a Mussolini-era brothel. So you know which side of Italy you're going to get here. Wertmuller takes an innocent farmboy sent to Rome in a plot to assassinate Mussolini, and she drops him into a brothel that's like a Fellini nightmare. God help the innocent boy for whom this is his first exposure to sex. We watch it through the innocent, petrified eyes of Tunin, played by Giancarlo Giannini, and it's not hard to see why he was Wertmuller's muse. He is compassionate, vulnerable, frightened, wholesome, speaking very little, taking everything in, trying to survive the constant assaults to his senses, under the pallor of his almost certain doom. He and one of the younger prostitutes, far less ravaged by the years than the others, fall immediately in love. This is a beautiful and necessary complication to the plot, but it does lead me to the hackneyed trope of the Whore with a Heart of Gold. Plenty has been written about this cliché, and I agree that it is almost entirely the product of the wish-fulfillment of frustrated male screenwriters and the producers who green-light their projects. The woman who is an expert orgasm-inducer, but still has one tiny corner of her tin-plated soul into which our valiant hero can find True Love, and who looks like Julia Roberts too. It would actually be refreshing to see a movie where the prostitute is a treacherous money-thieving bitch. Anyway, if you buy into the WwaHoG cliché, it's a highly moving subplot. Tunin negotiates a two-day vacation for her, and she enjoys a few fleeting moments where she can just be a girl, respectable and deserving of love, where she can be her best self. When they run into one of her old customers, she is heartbreakingly brought back down to earth. But Tunin takes her away and valiantly reconstructs the illusion of respectability for her, through the simple act of treating her with respect. As much as I hate the WWwaHoG, this part of the story was beautifully executed. I don't have much else to say that you won't find elsewhere. See the movie, if you get a chance. Long live Italy.
Powerful and Brutal!!! There is no place for love in a fascist regime. Love exists on the fringes of society ~ the countryside or the microcosm of a brothel. Oppression leads to retaliation, but even the final act of murder is rendered meaningless. A damning and emotional tragicomedy.
Stefanie C
Super Reviewer
½
Excellent film from Lina Wertmuller. It took a little time to get going, but Giancarlo Giannini's performance as Tonino carried it along. It's the story of an Italian farmer who's committed to killing Mussolini after the death of his anarchist friend. He joins up with an anarchist group and goes to meet his contact in Rome, a prostitute named Salome played brilliantly by Mariangela Melato. She lets him stay at her bordello a couple days until Mussolini is to pass through, but Tonino quickly falls in love with another prostitute, Tripolina. Like I said, the best part of this film is Giannini and his chemistry with Melato. Tonino is a soft spoken character, almost like a child, but there's a craziness to him; as though he could breakdown or explode at any minute. Even he knows he's on a suicide mission, though it's more for revenge than any ideology. As his affair develops with Tripolina, it calls into question whether he will actually go through with the assassination. Meanwhile Salome is loud, even shrill. She holds nothing in and is fully committed to her anarchist cause. It's this dynamic that keeps the film really interesting. That's not to say that there wasn't some beautiful cinematography here as well, because there certainly was. This is my first Lina Wertmuller film, and I must say that I'm interested in seeing more. Also that seen with Tonino and the kitten was pretty great as well.
Aaron Wittwer
Love and Anarchy Quotes
There are no approved quotes yet for this movie.
Discussion Forum
Discuss Love and Anarchy on our Movie forum!