Love and Death
(1975)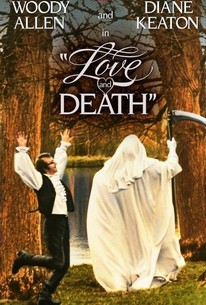 Movie Info
Woody Allen's Love and Death is purportedly a satire of all things Russian, from Leo Tolstoy and Fyodor Dostoyevsky novels to Sergei Eisenstein films, but it plays more like a spin on Bob Hope's Monsieur Beaucaire. Allen plays Boris, a 19th century Russian who falls in love with his distant (and married) cousin Sonja (Diane Keaton). Pressed into service with the Russian army during the war against Napoleon, Boris accidentally becomes a hero, then goes on to win a duel against a cuckolded husband (Harold Gould). He returns to Sonja, hoping to settle down on the Steppes somewhere, but Sonja has become fired up with patriotic fervor, insisting that Boris join a plot to kill Napoleon. Intellectual in-jokes abound in Love and Death, and other gags are basic Allen one-liners; for instance, after being congratulated for his lovemaking skills, Boris replies nonchalantly, "I practice a lot when I'm alone." The pseudo-Russian ambience of Love and Death is comically enhanced by the Sergey Prokofiev compositions on the musical track. ~ Hal Erickson, Rovi
People Who Like this movie also like
News & Interviews for Love and Death
Critic Reviews for Love and Death
Audience Reviews for Love and Death
Let's start here: I have only a passing familiarity with the great Russian novelists, and I've never read War and Peace. However, in much the same way as Monty Python and the Holy Grail, you can enjoy the sheer silliness of the period spoof without being a medieval scholar - and if you have the specialized knowledge, you'll find it even funnier... a possibility that blows my mind, because I'm not exactly sure how this film _could_ be any funnier. Every line of dialogue is a punchline, and by cross-pollinating his stand-up and a satirical historical film, Allen has written the most hilarious script of his career. Throw in a classic performance from Diane Keaton - her chemistry with Allen is magnificent, again - and I knew before I even reached the end: this is my favourite piece by this director. Vintage Woody, and timeless; a must-see.
Daniel Perry
Super Reviewer
Possibly my new favorite Allen film. Filled with his signature blend of philoso-comedy, Allen pays tribute to Bergman and Dostoevsky in only the way he can. Full of amazing screwball dialog to boot.
Ken Stachnik
Super Reviewer
½
In this early Allen effort his love for the Marx Bros. (particularly Groucho) is worn on his sleeve and the picture is very reminiscent of Mel Brooks' own Twelve Chairs. Throw in a couple of 70's style psuedo-intellectual "conversations" ("I'm overwhelming you with my superiorocity!") and you have a fun, silly, younger Allen, not so impressed with himself yet, easier to relate to. He never finds anyone as good as he to play himself, we know, and his infatuation w/Keaton allows her Dumont-like status beside him.
Kevin M. Williams
Super Reviewer
Love and Death Quotes
| | |
| --- | --- |
| Boris: | If God exists, I hope he has a good excuse. |
| | |
| --- | --- |
| Countess Alexandrovna: | You're the greatest lover I've ever had. |
| Boris: | I practice a lot when I'm alone. |
| | |
| --- | --- |
| Boris: | There are worse things in life than death. If you've ever spent an evening with an insurance salesman you know what I mean. |
| | |
| --- | --- |
| Boris: | The key here, I think, is not to think of death as an end. But to think of it more as a very effective way of cutting down on your expenses. |