Love and Death on Long Island
(1998)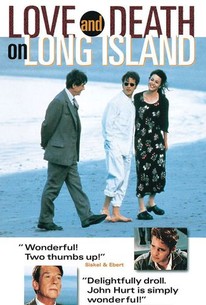 Love and Death on Long Island Videos
Love and Death on Long Island Photos
Movie Info
John Hurt gives a career performance in this wry, offbeat comedy about a stodgy British novelist whose sudden infatuation with an American pop star (Jason Priestley) gives his life a dangerous and exhilarating twist.
Critic Reviews for Love and Death on Long Island
Audience Reviews for Love and Death on Long Island
Fascinating and moving low-budget film with a very well judged performance from John Hurt as a novelist and widower out of touch with the 'modern world' (such as it was in the 1990s), who finds himself attracted to a Hollywood star of terrible films (Jason Priestly on good form). The film charts Gerald De'ath's initial attraction to borderline obsession as he flies to Long Island in the hopes of meeting with the object of his affection, with by turns funny, warm and sad results. Love and Death on Long Island has an admittedly televisual feel and a small scope but remains an impressive film and has a fascinatingly enigmatic ending.
Daniel Parsons
Super Reviewer
(from The Watermark 04/26/98) Love and Death on Long Island stars John Hurt as an aging English author, who has a maid to take care of his personal life, and a publisher to manage him professionally. For the most part, he is uninterested by and quite detached from the outside world at large. (For the subtlety impaired, his character's last name is De'Ath.) But his life is suddenly changed when he accidentally stumbles into a wrong movie theater and is captivated by a young actor in the film (Jason Priestley). Slowly this old codger awakes, buying teen magazines to learn about Priestley, collecting every photo he can find of him, and purchasing a television set and VCR to rent Priestley's other films. His interest eventually becomes obsession, until he actually goes to Long Island, intent on finding Priestley. The film intentionally keeps the nature of Hurt's obsession vague. Is it sexual? Is widower Hurt discovering he's gay? Strangely enough, that is what keeps it interesting. When Hurt finally proclaims his love to heterosexual Priestley, it is apparent that the film is not about this relationship as much as it is about a soul finding he has the capability to love another person. Seasoned pro Hurt turns in an affecting performance and excels at finding both the humor and the transformation in his character. Priestley was a smart move in stunt-casting: He is basically playing himself, while also poking fun at some of his own less-than-stellar movies. The only negative to be found is the ending. A spurned Hurt writes a lengthy letter to Priestley and arrogantly tells him that he would, in fact, someday regret denying Hurt his love. For a character to open up and broaden his horizons as much as this, one would think he would come to some realization about himself that he could articulate and reflect upon - after all, isn't he a writer?
David Almeida
Love and Death on Long Island Quotes
There are no approved quotes yet for this movie.
Discussion Forum
Discuss Love and Death on Long Island on our Movie forum!