Love at Stake
(1987)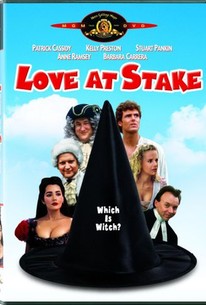 AUDIENCE SCORE
Critic Consensus: No consensus yet.
Movie Info
In this offbeat comedy, Mayor Upton (Dave Thomas) of Salem and his cohort Judge Samuel John (Stuart Pankin) set out to burn landowners at the stake as witches to gain their land. Miles (Patrick Cassidy) and Sarah Lee (Kelly Preston) are the young lovers caught up in the hysteria of the trials. Faith (Barbara Carrera) is the real witch who accuses Sarah Lee of being one in order to keep Miles for herself. Parson Babcock (Bud Cort) is the pompous preacher who is stricken blind by the wrangling witch. After a Thanksgiving feast with local Indians, the peace pipe is passed to the strains of The Kingmen's frat-rock anthem Louie, Louie. Dr. Joyce Brothers adds comedy relief with a cameo appearance.
Rating:
R (adult situations/language, nudity)
Genre:
,
Directed By:
Written By:
In Theaters:
On DVD:
Runtime:
Studio:
Hemdale Film Corporation
Audience Reviews for Love at Stake
Humor highly reminicient of the style in Airplane!, except this time were are transported to 1692 Salem, Massachusetts in a Puritan village of witch burners. The title Love at Stake, like burn at the stake, is full of one liners, sight gags and great references to the history of the time. From the minds behind "Saturday Night Live" and "MadTV!" comes a tale of Sorcery in Salem! Young baker Sara Lee (yes, none other than the bakery company) is overjoyed that her childhood sweetheart Miles (Cassidy) has returned to be the new assistant at Salem's church. But all is not well in fair Salem; the mayor (Dave Thomas) and the judge (Stuart Pankin) have come up with an outrageous scheme to dupe the townsfolk out of their land, by accusing innocent people of witchcraft. One highlight of the film is the Thanksgiving Day dinner with all invited ("even indians" says their sign). The indians and puritans all have name tags like some sort of convention. Also, a real witch goes around creating hilarious mischief throuout the film. The village sheriff sounds and tries to act like the great deputy Barney Fife (Don Knotts) of television's sixties sitcom Mayberry. Numerous trials to find witches with a defense lawyer who can't win a case. A must see for American history buffs or anyone in the least familiar with the strict religious sect called the puritans, New England was turning over in its grave when this got released. I can risk recommending this, but the reviews of fellow RTers vastly varies. Funny bordering at times on hilarious. Ends with credits and the Elvis hit Burning Love (Hunka Hunk of Burnin' Love). Cast Patrick Cassidy (childhood sweetheart of Sara Lee) Kelly Preston (as Sara Lee, real life wife of John Travolta) Bud Cort (the made blind minister by a witch in this one, Cort got fame with the now cult film: Harold and Maude) Barbara Carrera David Graf Anne Ramsey Stuart Pankin Dave Thomas Crew Executive Producer: John Daly Composer: Charles Fox Executive Producer: Derek Gibson Editor: Danford B. Greene Producer: Michael Gruskoff Cinematographer: Mark Irwin Screenplay: Lanier Laney Director: John Moffitt Screenplay: Terry Sweeney Production Designer: Roy Forge Smith Co-Producer : Armand Speca
monsieur rick
½
Borderline moronic comedy with many sight gags and puns that fall flat.
I love, love, love this freaking weird movie.. Strange, but unbelievably funny movie.. this is it.. and the whole Sara lee's erotic bakery idea is hilarious.... and now I'm a bit sad because I see by the pic that it is available on DVD.. so now I have to spend more money.. Oh well.. definately worth it.
Anne Still
Love at Stake Quotes
There are no approved quotes yet for this movie.