Love Comes to the Executioner
(2006)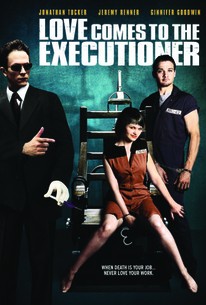 AUDIENCE SCORE
Critic Consensus: No consensus yet.
Movie Info
Offbeat black comedy about a recent college graduate (Jonathan Tucker) who takes a job as an executioner at the prison where both his brother and his brother's ex-girlfriend are on death row. Jeremy Renner, Ginnifer Goodwin, Christine Ebersole. Written and directed by Kyle Bergersen.
Critic Reviews for Love Comes to the Executioner
There are no critic reviews yet for Love Comes to the Executioner. Keep checking Rotten Tomatoes for updates!
Audience Reviews for Love Comes to the Executioner
1105: Not sure what to say. The preview made this film look quite funny but I didn't find it so. It had its moments but overall I was not that impressed. Quirky story and characters.
John Redshaw
What? I'm not sure how well I really like it. It's very quirky, but funny in a not so funny way. Does that make sense?Just see it.
Hannah Davis
This was a weird one. No, no, wait, that's an understatement! I don't know what to make of it. Its comedy is great, but its emotions and its drama makes it hard to describe if the film is good. Considering it's a black comedy, it succeeds, but if one were to label it as a comedy-drama, I would laugh in their face. Its premise is that Heck, a young high school graduate played by Johnathan Tucker, has to give up his hopes and dreams when his alcoholic mom gets liver disease. So, he needs to get a job to afford a nurse that costs $100 a day to take care of his mother, and after much looking for a job, he finds one at the state prison. And it's all downhill from there. He wants to teach Latin to the prisoners, and he does, but he also gets a second job as a "closer", an executioner of people on death row. There, he finds his psychotic brother on death row. He knows exactly why his brother's on death row: Heck's brother murdered his Latin club after Heck borrowed his car. I'm am dead serious. Anyway, he also falls in love with a woman on death row, who is his brother's ex! She not only knows Heck's brother, but knows exactly what Heck is all about, including his belief in capital punishment, which she uses to her advantage. You see, she wants to make Heck's brother jealous. However, this is a complete problem, since his brother already hates him, and he has to eventually kill them both. Heck tries to find a solution to get his new love, and finds one: a drug that simulates death for 48 hours. However, she turns on him when his brother also offers the same solution to her, which she accepts. After seeing the dead bodies of both his brother and his lover, and tries to commit suicide, but his brother surprises him by coming into the house and asking, "What are you doin' with dad's old gun?" Heck tries to stop his brother from escaping by shooting up his getaway car engine, and the car explodes, and Heck immediately regrets the decision, when his brother dies in his arms. His lover then turns herself in, and they get married while she's in death row, with their baby, and Heck's mom at the ceremony in the cell. THE END. The characters are weird. I mean seriously. Heck is hemophobic, and yet still takes up a job where he gives lethal injections. He also hates his brother, and is unflinching at the fact that he is going to see his older brother die. His brother is a psychopath who still hates his brother for calling the cops on him, as though killing 20 people in one night over permission to borrow a car is completely excusable. Heck's mom still complains that she can't drink after being diagnosed with liver disease, and is even proud of Heck's brother because he's on death row like Heck's dad was. His lover uses Heck, but she still loves him, and still loves Heck's brother even after dumping him. Heck also contradicts himself. For example, at a family-own slaughterhouse, he goes to the interview in a tuxedo, knowing it's a slaughterhouse in the middle of nowhere. He is also surprised to hear from the warden that many people just like Heck are most likely to commit suicide, but then attempts to later on in the film. If that wasn't enough, he also wants to have a professional relationship with his brother's ex, but then accepts that it is nothing beyond a sexual one. The acting seems pretty natural. I mean, these characters really don't have to show much emotion until the last act. The most accomplished actor from the film would be Jeremy Renner as Heck's older brother. He does do a good job of being a complete asshole, but that's what his roles basically are. Look at any of his films: The Hurt Locker, S.W.A.T., and even this one; they all showcase his natural talent to be an asshole. Heck's lover is Ginnifer Goodwin, who was in He's Just Not That Into You, Ramona and Beezus, Mona Lisa Smile, and, in probably her most famous role, Walk the Line as Johnny's wife. She pretty much has to act like a manipulative slut, which doesn't make her charming, but in the last part of the movie, she does shine with some emotion that can either make you hate the character even more, or make you sympathize with her. Heck is played by Johnathan Tucker, whose only films that I've seen were Hostage and Pulse. He is a deadpan in this, as he doesn't show any real emotion until his brother dies at the end. And what do you expect? This character was supposed to be dull and uninteresting. The main focus is on the unfortunate (and rare fortunate) events in his life. The director wrote and directed this, who makes the movie seem like a coming-of-age that unfortunately came too late in this young man's life. He does do a good job of directing. The camera angles are really close in some tense moments, and it works. But the weird thing is that his directing talent only shines during a sex scene. This sex scene takes place in the room where they kill the people, and on the same bed where they kill people. The camera does a bunch of 360 shots that would make anyone dizzy, and a bunch of zooming in to the belts. At first, that zooming-in seems pointless, but it starts to make sense later on. Honestly, if you want to check it out, do so. It might entertain you, but it might just be a bunch of laughs and some generic plot points that you could only find in indie films like this one.
Miguel Colon
Love Comes to the Executioner Quotes
There are no approved quotes yet for this movie.
Discussion Forum
Discuss Love Comes to the Executioner on our Movie forum!