Love Crazy
(1941)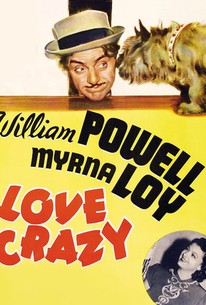 Movie Info
William Powell and Myrna Loy re-team for this (literally) crazy screwball comedy about a happily married couple who, thanks to a visit from mother, find their marriage on the rocks and the husband committed to a mental institution. Poised to celebrate their fourth wedding anniversary, Steven (William Powell) and Susan Ireland (Myrna Loy) find their domestic bliss shattered by a visit from Susan's mother (Florence Bates). Susan's mother sprains her ankle and extends her visit, just in time to draw the wrong conclusions when her son-in-law pays a friendly visit to his old girlfriend Isobel (Gail Patrick). Susan's mother eavesdrops and reports it all to Susan, who in a jealous rage tries to make Steven jealous. But she winds up being chased through the hallway of her apartment building by half-naked archery enthusiast Ward Willoughby (Jack Carson). The couple agree on a divorce, but Steven then has second thoughts. On the advice of his lawyer, George Renny (Sidney Blackmer), Steven pretends he is insane, since the law prohibits Susan from divorcing him if Steven is mentally ill. Unfortunately, Susan is wise to his charade and has him committed to an asylum.
Critic Reviews for Love Crazy
Audience Reviews for Love Crazy
Another fantastic movie teaming Powell and Loy. It's hilarious! A must see.
Utter nonsense put over by the stars.
½
Cute screwball comedy. William Powell and Myrna Loy made a great cinematic team, I can fully understand why they were/are so well loved. I do think however, that some scenes ran a little long. A little more editing would've gone a long way. Quite enjoyed seeing William Powell in drag!
Laura Cameron
Super Reviewer
Love Crazy Quotes
There are no approved quotes yet for this movie.
Discussion Forum
Discuss Love Crazy on our Movie forum!