Love for All Seasons
(2003)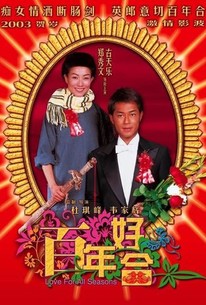 AUDIENCE SCORE
Critic Consensus: No consensus yet.
Movie Info
The romantic comedy adventure Love For All Seasons stars Louis Koo as a man who climbs a mountain in order to find a remedy for the illness from which he suffers. During his efforts he meets a woman played by Sammi Cheng who has the capablility to heal him, but has been very unlucky in love. The man must engage in some derring-do in order to win the woman's heart.
Critic Reviews for Love for All Seasons
There are no critic reviews yet for Love for All Seasons. Keep checking Rotten Tomatoes for updates!
Audience Reviews for Love for All Seasons
½
Typical modern Hong Kong work. Director Johnnie To reunites with his favourite muse, pop-singer/actress Sammi Cheng, for this bubbly romantic comedy for the fifth time! Previous comedies were real hits - funny and enjoyable, and with surprisingly affecting emotions beneath the mugging and pratfalls. Love For All Seasons stacks up pretty well when compared to the usual star-filled Lunar New Year nonsense, and is easily better than its direct competitor, My Lucky Star. But when compared to Needing You, Love on a Diet or even My Left Eye Sees Ghosts, this latest effort falls woefully short. Seems that both of them are getting tired! Louis Koo is the best part of the movie, acting as Tiger, Hong Kong's most notorious playboy which adventures caused many broken hearts (even the female police negotiator, officer-in-charge and the fire chief were not immune on his influence on women)... Fittingly, his activities have also left him with some serious health issues, which have left him plugged up in the restroom and generally grouchy, to boot. He ends up seeking help from the Omei Clan, an all-female martial arts school located in the Mainland. There, he meets May (Sammi Cheng), the temporary headmistress of the school, who sets about curing him through wacky Eastern medical means. She also spends a good deal of time doling out discomfort and sly payback for Tiger's womanizing ways. The Omei Clan may be a legitimate martial arts school, but apparently they aren't above a little mischief themselves. Omei Clan has its own share of problems, because their previous headmistress (Lee Bing-Bing) returns after being driven mad due to rejection by a male. She resolves to kill all of Omei and then herself unless May can best her in a one-on-one duel. To do so, May needs to learn the "Broken Heart" stance, which can only be obtained if May actually experiences a broken heart herself. She travels to Hong Kong and searches out Tiger, because he seems to be the only one that can help her. He resolves to do so because after all, May was his "saviour." I think I'll stop there... you can see the rest if you're interested! You can enjoy it if you're looking for cute couple with interesting views on love... which will make you laugh a lot! And it is a good example of a solidly made light hearted romantic comedy from this part of the world!
Love for All Seasons Quotes
There are no approved quotes yet for this movie.
Discussion Forum
Discuss Love for All Seasons on our Movie forum!