Love in a Puff (Chi ming yu chun giu)
(2010)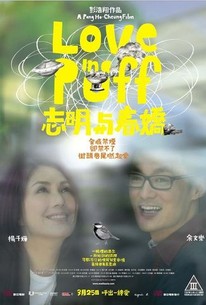 AUDIENCE SCORE
Critic Consensus: No consensus yet.
Movie Info
Nicotine fuels a romance between two Hong Kong office workers in this romantic comedy from writer and director Pang Ho-cheung. Smoking was banned in Hong Kong's public buildings in 2007, and since then most businesses have spawned what locals call "hot pot packs" -- groups of friends who head outside together at particular times during the day for a cigarette. Jimmy (Shawn Yue), nicknamed "Chimney" owing to his fondness for tobacco, works at an advertising agency and heads out for a smoke several times a day with his pals; he notices a pretty girl who works elsewhere in the office, Cherie (Miriam Yeung), who joins her own friends for a cigarette, and he tries to work up the nerve to say hello to her. One day, Jimmy finally talks to Cherie, and it goes well enough that she invites him to join her and her "hot pot pack" for an evening at the karaoke bar. Jimmy is crushed when Cherie brings her boyfriend along, but after a few conversations over a cigarette, Cherie wonders if Jimmy might be a better bet than her current beau. Chi Ming Yu Chun Giu (aka Love In A Puff) received its American premiere at the 2010 Seattle International Film Festival.
Rating:
NR
Genre:
, , ,
Directed By:
Written By:
In Theaters:
Runtime:
Studio:
Asian Crush
Critic Reviews for Love in a Puff (Chi ming yu chun giu)
All Critics (1) | Top Critics (1) | Fresh (1) | Rotten (0)
Writer-director Pang Ho-cheung ("Beyond Our Ken") keeps things moving despite his cigarette-paper-thin plot.
San Francisco Chronicle
Top Critic
Audience Reviews for Love in a Puff (Chi ming yu chun giu)
With a plot as hazy as the billows of cigarette smoke that shrouded this movie, we couldn't help feeling more than a little suffocated, though it did have one very funny bit in the middle to diffuse an otherwise tense and unclear relationship.
Aaron Chuah
½
A cute romantic comedy from Hong Kong, "Love in a Puff" depicts a blossoming romance between a Sephora salesgirl and an advertising exec who meet with other fellow smokers outside the office due to an anti-smoking ban. There are lots of nice comic scenes from the opening "ghost story" scene which sets up a joke later in the movie to a creative method of smoking in a slurpee cup. Haven't seen so much smoking in a film mixed with humor and drama since Wayne Wang's "Smoke" (1995).
Peter Lee
½
Who knew something as cancer causing as smoking could lead to something so sweet and charming. Love in a Puff is a Hong Kong film about a boy and girl starring Miriam Yeung Chin Wah as Cherrie and Shawn Yue as Jimmy. Jimmy is the young 20 something, nonchalant, advertise pushing boy while Cherrie is the older 20 something, Sephora make up selling girl full of sass. When Hong Kong starts to throw down the hammer on smoking, the areas in which people can smoke start to dwindle. Smoking areas become dens for these new outcasts as they huddle in cramped alley ways. With fire between their lips the smoking breaks offer an opportunity to swap ghost stories and catch up on the latest gossip. One day Cherrie mets Jimmy for the first time and as he lights her cigarette he the also lights the flame in her heart. Aggressively she gets Jimmy attention by her seductive pushing and pulling. Yes, I'm into you, oh maybe I'm not. Yes, no, Yes, no, and on and on it goes because you know you like it. The idea behind this film is extremely simple but it's the exquisite execution that's worth seeing. The director Ho-Cheung Pang masterfully directs his talented actors to show, not tell; to communicate through lies and body movement. It's not an easy thing to do to show the minute instances of attraction and jealously with just a way you say something. The cinematography is great at capturing intimate moments between the two. However the constant shallow focus gets a little out of hand at times leaving some of the action out of focus. The music is also a very nice touch having a sort of floating sensation above the characters just like the smoke they exhale. Love in a Puff is a well done romantic comedy, in the showing I was watching the audience was fully enchanted by the two love birds and laughed unreservedly at the jokes. It's definitely the perfect date movie for those wishing to inhale some laughs. Who this film is not for: -People who don't like subtitles -People who take love too seriously
Jordan Fong
Love in a Puff (Chi ming yu chun giu) Quotes
There are no approved quotes yet for this movie.
Discussion Forum
Discuss Love in a Puff (Chi ming yu chun giu) on our Movie forum!