Love Is the Drug (Addicted to Her Love)
(2006)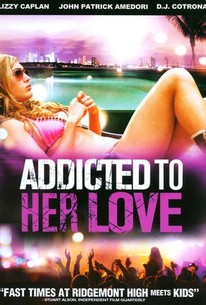 Love Is the Drug (Addicted to Her Love) Videos
Love Is the Drug (Addicted to Her Love) Photos
Movie Info
Un triángulo de amor entre jóvenes se convierte en un arma peligrosa. John Patrick Amedori, Daryl Hannah, Lizzy Caplan. Dirigida por Elliott Lester.
Rating:
R (for pervasive drug and alcohol abuse, language, sexual content and an act of violence--all involving teens)
Genre:
Directed By:
Written By:
In Theaters:
On DVD:
Runtime:
Studio:
E1 Entertainment
Critic Reviews for Love Is the Drug (Addicted to Her Love)
Audience Reviews for Love Is the Drug (Addicted to Her Love)
For the first half hour or so, this film is an interesting if banally written melodrama about how a loner, played by John Patrick Amedori, forces his way into the group of friends surrounding the girl with whom he is infatuated, played by the always delightful Lizzy Caplan. When the event that alters the course of the story occurs, things quickly become more interesting. The manner in which the characters deal with their grief is, for the most part, subtly handled, even if you get vague hints about what has transpired and what will transpire. Another character, portrayed acceptably by D.J. Cotorna, the person you should by all rights despise for his boorishness, sets about some very basic detective work born of both self-preservation and loyalty. This section continues to build up well while the protagonist continues to somewhat obsessively pursue his ultimate goal, and his nerdy gawkishness puts your distinctly on his side while instilling fear about what his intentions and his executions. When this element boils to the surface, there is a wonderful scene that transformers from tender to painful gracefully, and after that, your perspective on the characters in inexorably changed and you're left wondering where they have to go from there. Unfortunately, after this, the loner's descent is handled with unwieldy predictability. If you're aware of the emotions solicited by drug movies, you'll quickly see that there's only one place to go, and along the way, you're treated to an undoing that is as forced as it is rushed, destroying the tone created by the first two acts as you're left feeling betrayed by a character you never feel you understood in the first place. Whether this is the intended effect or not, you cannot come away with any other opinion other than the fact that it's poorly handled. Overall, it's an interesting take on two different forms of addiction that fails to fulfill its potential while remaining worth the time it takes to watch it.
Bryan Way
Jonah (John Patrick Amedori) is like a lot of kids out there. He's one of those kids that goes to a private school because his mom works here ass off so that he can get into a good school. He's not really an outcast, he's just not there. Once the school year has ended Jonah gets the nerve to go to an end of school party and actually talk to the girl he was quietly in love with throughout his time in school, Sara (Lizzy Caplan). Sara is part of a small clique with her boyfriend Troy (Jonathon Trent), the typical high school asshole Lucas (D.J. Cotrona), and her best friend Erin (Jenny Wade) where drinking and doping like a rock star is standard practice. They slowly allow Jonah to cling to their team after they find out about his job at a pharmacy. His status grows within the group as he supplies the party supplies and gets pulled into the excess of a teenager in Los Angeles. Things come crashing to the ground when Troy overdoses and the questions over Jonah's intentions toward Sara begin to fester. Initially the film starts as a basic kid fitting in film where Jonah uses his position to get in with the in-crowd. As the film passes it becomes something darker with characters that get creepier and creepier as the movie unfolds. It actually becomes an interesting movie, even though it does get a bit melodramatic at points. Some scenes are very good, meanwhile others are almost laughable from a dialogue standpoint. There are a few points that will leave you scratching your head, such as the what I can assume is a detective that Troy's parents hire to figure out who gave their son the drugs. This guy seems to have free reign throughout the film to stalk people and walk right into homes. For kids who are rebellious and such I would expect a big F-off to this guy, yet they cooperate more with him than with each other. Borrowing a name from a Roxy Music tune (I'm assuming that the film makers got sued because it has been re-titled as Addicted To Her Love) the film is interesting and develops quite well, yet there's a ton of little things that just drag it down. Once it starts getting real good, there's something ridiculous that pulls you right out of it again. The way we remake stuff, this would make good fodder in about a decade. It just needs a bit of polish.
Chris Garman
Super Reviewer
Even though the advertisement is totally misleading - there is no teenage menage-a-trois - this is still worth checking out. When a high-school nobody starts hanging out with rich kids just to get close to the pretty Sara, their drug-fueled nights take a turn for the worse. There are a couple of totally unexpected twists towards the end. Lizzy Caplan and D.J. Cotrona are very, very good.
Dave Grubka
Love Is the Drug (Addicted to Her Love) Quotes
There are no approved quotes yet for this movie.