Love Is the Drug (Addicted to Her Love)
(2006)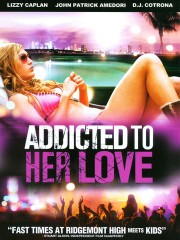 Love Is the Drug (Addicted to Her Love) Trailers & Photos
Movie Info
Un triángulo de amor entre jóvenes se convierte en un arma peligrosa. John Patrick Amedori, Daryl Hannah, Lizzy Caplan. Dirigida por Elliott Lester.
more
Cast
News & Interviews for Love Is the Drug (Addicted to Her Love)
Critic Reviews for Love Is the Drug (Addicted to Her Love)
Audience Reviews for Love Is the Drug (Addicted to Her Love)
For the first half hour or so, this film is an interesting if banally written melodrama about how a loner, played by John Patrick Amedori, forces his way into the group of friends surrounding the girl with whom he is infatuated, played by the always delightful Lizzy Caplan.

When the event that alters the course of the story occurs, things quickly become more interesting. The manner in which the characters deal with their grief is, for the most part, subtly handled, even if you get vague hints about what has transpired and what will transpire. Another character, portrayed acceptably by D.J. Cotorna, the person you should by all rights despise for his boorishness, sets about some very basic detective work born of both self-preservation and loyalty. This section continues to build up well while the protagonist continues to somewhat obsessively pursue his ultimate goal, and his nerdy gawkishness puts your distinctly on his side while instilling fear about what his intentions and his executions.

When this element boils to the surface, there is a wonderful scene that transformers from tender to painful gracefully, and after that, your perspective on the characters in inexorably changed and you're left wondering where they have to go from there.

Unfortunately, after this, the loner's descent is handled with unwieldy predictability. If you're aware of the emotions solicited by drug movies, you'll quickly see that there's only one place to go, and along the way, you're treated to an undoing that is as forced as it is rushed, destroying the tone created by the first two acts as you're left feeling betrayed by a character you never feel you understood in the first place. Whether this is the intended effect or not, you cannot come away with any other opinion other than the fact that it's poorly handled.

Overall, it's an interesting take on two different forms of addiction that fails to fulfill its potential while remaining worth the time it takes to watch it.
Even though the advertisement is totally misleading - there is no teenage menage-a-trois - this is still worth checking out. When a high-school nobody starts hanging out with rich kids just to get close to the pretty Sara, their drug-fueled nights take a turn for the worse. There are a couple of totally unexpected twists towards the end. Lizzy Caplan and D.J. Cotrona are very, very good.
Discussion Forum
Discuss Love Is the Drug (Addicted to Her Love) on our Movie forum!
News & Features