Love Me if You Dare
(2004)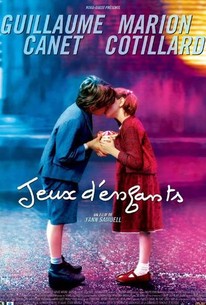 Love Me if You Dare Photos
Movie Info
Part romantic comedy and part black comedy, director Yann Samuell's 2003 feature film debut Jeux d'Enfants (Love Me if You Dare) follows the exploits of two young would-be lovers as they go from childhood to adulthood with themselves as the greatest hurdle to their own happiness. Julien and Sophie first meet at the age of eight when both are undergoing great trauma: Julien is watching his mother die and Sophie has become the focus of intense hazing at the hands of some fellow schoolmates. On one fateful day, Julien decides to stick up for Sophie and pulls a practical joke on her tormentors. Henceforth, the two embark on a close friendship that revolves around daring each other to pull increasingly audacious practical jokes, rather than on the seemingly obvious intimate relationship they seem dangerously close to discovering at any moment. Jeux d'Enfants was selected for inclusion into the 2003 Toronto International Film Festival as well as that same year's Telluride International Film Festival.
Critic Reviews for Love Me if You Dare
Audience Reviews for Love Me if You Dare
Artsy fartsy French film...never could get into this kind too much.
Cynthia S.
Super Reviewer
Not only is every scene between mother and son hideously corny and sentimental, but it is almost impossible to put up with two sociopaths so utterly immature, disgusting and loathsome amid conflicts that are all childish, irritating and artificial.
Carlos Magalhães
Super Reviewer
Juvenile and selfish, Love Me If You Dare dares to entertain in an appalling manner depicting an affair adulterated by irrationality, irresponsibility, and immaturity. Inspired by Amélie in cinematic behavior and approach, Love Me If You Dare is an intriguing confusion communicating offensive and embarrassing messages aggravated by improper humor.
Jan Marc Macababayao
Super Reviewer
Love Me if You Dare Quotes
| | |
| --- | --- |
| Julien: | Being an adult means to have a speedometer that marks 210 and not driving over 60. |
| | |
| --- | --- |
| Sophie: | Don't say a word. Let me talk. You missed me? Because I missed you. You're a real tyrant. It's so hard to be mad at you. But don't kid yourself, I still am. I want to talk and forget the game, just for once. Like my dress? I hesitated. Nabbed it off my sister. She has another red one, like a thermonuclear bombshell... That's the one I should've worn. I must've spent... three hours in front of the mirror. But I got there, see? I'm pretty. You better like it, or I'll kill you! |
| | |
| --- | --- |
| Sophie: | Tell me that you love me first because I'm afraid that if I tell you first you'll think that I'm playing the game. |
| | |
| --- | --- |
| Julien: | Friends are like specs. They make you look clever,but get scratched and you tire. |
Discussion Forum
Discuss Love Me if You Dare on our Movie forum!