Love Nest
(1951)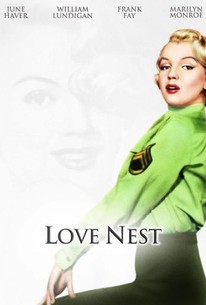 AUDIENCE SCORE
Critic Consensus: No consensus yet.
Movie Info
An aspiring writer becomes the landlord of an apartment building filled with eccentrics, and finds that he has little time to write in this comedy. Most of the time he is dealing with his off-center tenants, fixing up the building, and endeavoring to make the mortgage. His life takes an upward turn when one of the residents is jailed for being a gigolo.
Rating:
NR
Genre:
, , ,
Directed By:
Written By:
In Theaters:
On DVD:
Runtime:
Studio:
Twentieth Century Fox Home Entertainment
Audience Reviews for Love Nest
Nice older movie. I think I bought this one when I was going through a Marilyn Monroe phase (reading book about her life), but I never got around to watching it. Probably just as well - she is barely in it, and when she is, she is considerably overshadowed by June Haver. This is really just a nice little film. Kind of reminded me of a less extreme "The Moneypit" as the couple here have bought a boarding house and there is nothing but problems with it. Among their lodgers is an old romantic scammer and Marilyn Monroe who plays an old army friend. Light story, I enjoyed it a lot more than I thought I would.
Nicki Marie
Super Reviewer
The Hazards of Home Ownership Once again, this feels like a movie which came out about five years after the problems described had settled, at least for the most part. In fact, while two of the characters have just returned from Paris, I'm currently watching an episode of [i]M*A*S*H[/i] set the week after the release date on this movie, when Our Heroes were already firmly established in Ouijonbou. (I think that's how it's spelled. They've mentioned the name repeatedly, but I'm finding it impossible to look up.) Then again, I don't actually know how long the housing shortage after World War II lasted. I know my dad was stationed in Europe during his own Air Force service, and he didn't join until well after this movie was made. It's not something I've ever really looked into, I have to admit, and it's not as anachronistic in feel as various other movies I've seen. Jim Scott (William Lundigan) is home from Paris, where he was in the Army. While he was overseas, his wife, Connie (June Haver), bought an apartment building, which was apparently easier to do than actually rent an apartment. She sank their entire savings into it and mortgaged it to the hilt. And it should start paying off any day now! Meanwhile, Jim's old Army buddy, Bobbie (Marilyn Monroe), is looking for an apartment, and they have a place vacant. Only Jim never did mention that Bobbie was Roberta. What's more, Charley Patterson (Frank Fay), another new tenant, is now romancing Eadie Gaynor (Leatrice Joy), who shares an apartment with her daughter. There's something suspicious about Charley, though; a woman who looked at Bobbie's apartment before they rented it to her claims to have known Charley under another name in another city. An FBI agent comes looking for him but won't say why. Oh, and the building is falling apart. Really, the moral of the whole story is summed up in the phrase the building inspector says to Connie. [i]Caveat emptor[/i]. Let the buyer beware. Connie didn't have the building inspected before she bought it, and she got cheated. Pretty seriously, by the sound of it. Jim didn't think that his relationship with his wife would be affected by the fact that his good friend, who seems to have been his best friend in the Army, was a WAC. And without giving too much away, I can safely assure you that there are plenty of people who would have been wise to have given Charley a closer look. It's not a bad piece of advice all the way 'round--it's not a bad idea to get to know a person before you marry them. It's certainly not a bad idea to have a building inspected before you buy it. And so forth. Look out for yourself, because you can't be sure someone will be doing it for you. It's funny to think that, at the time, June Haver was a bigger name than Marilyn Monroe. The image various websites are showing me for this is Marilyn in her Army uniform, and you wouldn't necessarily know that she's only onscreen for maybe fifteen minutes. In fact, literally every publicity still IMDB has of the movie has Marilyn in it. June Haver was never that big a star, all things considered, but she was moderately successful at the time. Marilyn Monroe had only been in one role worth noting, in [i]All About Eve[/i], though she'd had plenty of minor roles. Actually, if you really look at her filmography, she didn't have all that much of a career as a star. Just a sexpot. Not that she was bad at that, of course, but it's made it kind of difficult for people selling Marilyn Monroe box sets to come up with a whole array of movies to put in them. This really feels more like it should have been a couple of episodes of a TV show about a young couple; none of the plot they put into the movie is enough to fill it by itself. It could have been a sitcom, though--we see the Scotts starting out. We meet their wacky tenants. There's the episode about his "old Army buddy." The episode about the tenant who's not quite what he claims to be. And so forth. And certainly Jim and Connie are likable enough to keep a TV show going, and certainly there would be TV shows about apartment buildings in the years to come. But the movie never quite comes together for me. There isn't enough development in any of the stories to be a movie plot, just three half-hour episodes woven into one another. The resolutions don't really make sense, either. They just suddenly end. I [i]think[/i] the implication is that the Marilyn Monroe character is going to marry Jim's lawyer buddy, who I think was Connie's ex-boyfriend, but I'm not even a hundred percent sure what his name was.
Edith Nelson
½
Minor but likable little comedy with an able cast. Marilyn, whose part is small acquits herself well and looks like a million bucks.
Love Nest Quotes
There are no approved quotes yet for this movie.