Love Story
(1970)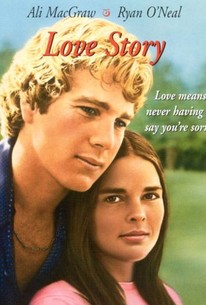 Movie Info
This distaff romantic tear jerker concerns a young couple who fall in love despite the objections of their families. Taken from Erich Segal's best selling novel, Jenny (Ali MacGraw) is the Radcliffe student of modest means who has worked hard to excel academically. Oliver Barrett IV (Ryan O'Neal) is the son of a wealthy but coldhearted father (Ray Milland). After graduating from law school, he takes a job at a prestigious law firm and moves in with Jenny. She tries to make a living as a vocal instructor as they both try to make it without outside economic help. Jenny soon is diagnosed with an incurable disease and inflicts the meaningless catch phrase from the film "Love means never having to say you're sorry" at least seven times. To date, no one has been able to fully explain the meaning behind this insipid statement that set an entire generation into denial and into therapy about feelings, wants and needs. The film was a box office smash that was nominated for seven Academy Awards, but only the music took home the coveted Oscar. Look for Tommy Lee Jones in an early role as one of Oliver's college chums. Love Story has endured as one of the top sob fest romantic tragedies of all time.
News & Interviews for Love Story
Critic Reviews for Love Story
Audience Reviews for Love Story
MAN! MAN! I didn't LOVE this movie, but I can certainly understand its cult status as the bitterest of the sweet, chocolate-shitting, daisy-vomiting doomed romances. I'm guessing it spawned other rich boy-poor girl-DEATH stories such as "A Walk to Remember," which is also schlocky but irresistible. The screenplay boasts some nice zingers (the couple's catty meet-cute and the bad-dad-retort, "I won't give you the time of day!" "Father, you don't HAVE the time of day!"), formulaic but emotionally effective flashback structure ("She loved Mozart, Bach, Beatles, and me"), and clever match-cut storytelling (tense dinner with parents told over car ride home). Francis Lai's haunting score and the impromptu snowmance sequence are lovely wordless portraits. One gripe I have is with Ali MacGraw. I find her portrayal of Jenny completely overdone. Many of her snarky lines would've been better deadpan or flippant. Instead, every sarcastic quip is bolded, underlined, and italicized. Jenny is a quirky character that I'm sure many young men of the 70s fell in love with, but she could have used a subtler actress. I read on IMDb that the director considered Ryan O'Neal a reactor, not an actor, and that is certainly true. All of MacGraw's overacting is tempered by O'Neal's natural movements, boyishly floppy hair, and teary baby blues that exemplify how every woman should be looked at by her man. *SPOILERS* My other gripe, of course, is with the famously contentious line, "Love means never having to say you're sorry," and its implication in the movie's unsatisfying dissolution. Firstly, semantics: does the line mean one should never do anything so hurtful that it warrants an apology? Or does the line mean one shouldn't have to apologize because your partner already knows you're sorry and will forgive you? I personally like the second interpretation, and it would have made a better ending. Oliver's father is clearly sorry for cutting Oliver off for marrying beneath him. He gives Oliver money no questions asked and calls around to find out it was for Jenny's treatment. He has taken steps toward reconciliation and should be forgiven. I expected Oliver to say the line, then hug his father - indicating that he understands and accepts his father's repentance.
Alice Shen
Super Reviewer
½
A preppie Harvard law student falls for a lower class music student. I don't know if "Love means never having to say you're sorry" was a cliche in 1970, but it certainly is now. It's also bullshit. So is this film. The class difference between the lovers is explored only in generalities and cliches and so are the "hard times" they experience when Oliver rejects his privilege for love. in the third act, the film doesn't reach Terms of Endearment-level maudlin, but it's close. Compelling performances by Ryan O'Neal and Ali MacGraw can't do anything to save the fact that the film says nothing new and can only serve as fodder for an evening filled with Haagan Daz and romantic reminiscences. Overall, I don't know if it's because my own love life is tattered, but I suspect that in any mental or emotional state I would find this film to be sanctimonious nonsense that couldn't charm me unless I was drunk, high, wasted, wired, slammed, smashed, hammered, tripping, and shitfaced.
Jim Hunter
Super Reviewer
½
The best romantic drama of the seventies! It's sweet, tragic, dramatic, intense, and very modern too. I loved it and if you like sad romantic dramas you will love it too. I especially loved O'Neal in this movie.
Love Story Quotes
| | |
| --- | --- |
| Jenny: | Love means never having to say you're sorry. |
| | |
| --- | --- |
| Oliver Barrett IV: | What can you say about a 25 year old girl who died? That she was beautiful. And brilliant. That she loved Mozart and Bach. And the Beatles. And me. |
| | |
| --- | --- |
| Jenny: | Love means never having to say your sorry. |