Love with the Proper Stranger
(1963)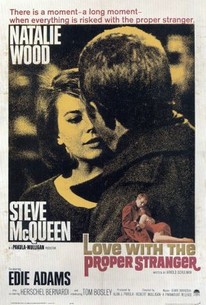 Love with the Proper Stranger Videos
Love with the Proper Stranger Photos
Movie Info
Taken for granted by her Italian family, New Yorker Natalie Wood seeks solace in the arms of irresponsible jazz musician Steve McQueen. She becomes pregnant, but doesn't expect McQueen to marry her; all she wants is enough money to pay for an illegal abortion (this is ten years before Roe v. Wade). Not surprisingly, McQueen is refused a loan by his girl friend Edie Adams; meanwhile, Wood is being pressured by her family to marry gormless Tom Bosley. As the abortion appointment approaches, McQueen begins to feel guilty, but still won't propose. Bosley finds out that Wood is pregnant, and is willing to make an honest woman of her. Wood finally makes up her mind what she's going to do and whom she's going to choose when she walks into the seedy abortion clinic. Though very dated, Love With the Proper Stranger is still dramatically viable, thanks to the on-screen rapport between Natalie Wood and Steve McQueen, and to the large and talented New York-based supporting cast.
Rating:
NR
Genre:
, ,
Directed By:
Written By:
In Theaters:
Runtime:
Studio:
Paramount Pictures
Critic Reviews for Love with the Proper Stranger
Audience Reviews for Love with the Proper Stranger
This movie is a real good story. The more you watch it the better it gets. I have seen this more than any other flic. I've watched it about 15 times. The acting is great especailly Edie Adams, The movie must have had a forestorm of criticism in 1963. The topics are casual sex, abortion, single woman living alone and making her own money and decisions. Tom Bosly is wonderful as the blubbery mommas boy who loves the heroine.
bill frred
½
★★★ (out of four) Natalie Wood received an Oscar nomination for Best Actress in this bold film that dared look at the issue of abortion. oday it seems rather tame, but I'm sure it caused quite a stir when it was released. Wood plays Angie Rossini, a young italian-american living with her family in New York City. She feels lost in the big family, so she starts seeing a Rocky (Steve McQueen) a local jazz musician. She becomes pregnant, but does want to get married. She only wants Rocky to give her enough money to pay for the abortion. He tries to help, but his other girlfriend intervenes. Wood can sometimes rub me the wrong way. Here she is quite good and McQueen shows much promise of things to come. The film, overall, is not a home run, but it is a pretty solid piece of filmmaking. [IMG]http://img.photobucket.com/albums/v48/Zeppo1/LoveWiththeProperStranger_zps0e734688.jpg[/IMG]
Steve Smith
Now this is a good bit of acting. The addressing of the abortion issue is very telling for its era. It is likely that this type of drama paved the way for film makers to take more chances and emerge from the rather grey 50s. Natalie Wood and McQueen are very solid.
John Ballantine
Super Reviewer
Love with the Proper Stranger Quotes
There are no approved quotes yet for this movie.