Lovelace
(2013)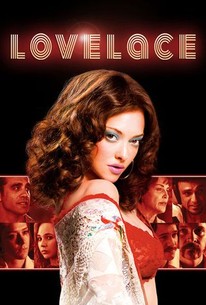 TOMATOMETER
AUDIENCE SCORE
Critic Consensus: Amanda Seyfried and Peter Sarsgaard do their best with the material, but Lovelace lacks enough depth and conviction to truly do its fascinating subject justice.
Movie Info
In 1972-before the internet, before the porn explosion-Deep Throat was a phenomenon: the first scripted pornographic theatrical feature film, featuring a story, some jokes, and an unknown and unlikely star, Linda Lovelace. Escaping a strict religious family, Linda discovered freedom and the highlife when she fell for and married charismatic hustler Chuck Traynor. As Linda Lovelace she became an international sensation-less centerfold fantasy than a charming girl-next-door with an impressive capacity for fellatio. Fully inhabiting her new identity, Linda became an enthusiastic spokesperson for sexual freedom and uninhibited hedonism. Six years later she presented another, utterly contradictory, narrative to the world-and herself as the survivor of a far darker story. (c) TWC-Radius
News & Interviews for Lovelace
Critic Reviews for Lovelace
Audience Reviews for Lovelace
½
The most interesting thing in this solid biopic is how it shows us one side of Linda Lovelace's life and then subverts it to reveal the real dark truth behind all that we are witnessing, becoming a touching drama about a terribly unlucky woman caught in a very sad life.
Carlos Magalhães
Super Reviewer
½
Linda Lovelace's special talent propels her to stardom as she hobnobs with high culture, but her abusive husband casts a pall on the seventies era fun. This film is structured oddly. During the first hour or so, it delights in all the sex, fashion, sex, riches, and sex, and while it isn't nearly as seductive as Boogie Nights or as a wild as The Wolf of Wall Street, Amanda Seyfried's doe eyes certainly make it attractive. The second hour is dedicated to making us feel guilty about having fun. As a result the film becomes a reproach of the porn industry. This is fine, but the structure of the film seems aggressive and didactic. Peter Sarsgaard is actually bad. It's shocking, but his Ike Turner impression is cliched and without depth. Amanda Seyfried is perfect for Lovelace, but the film doesn't give her much to play with. She is allowed to be sexy, and she is; she is allowed to be a victim, and she is; she is allowed to be triumphant, and she is. But the beats between these transitions aren't fully explored. Overall, this film had a lot of potential, but it doesn't live up to it.
Jim Hunter
Super Reviewer
½
This is one of the sadder and most tragic films I've seen in a while. but that's rather appropriate considering it's about one of the saddest and most tragic celeb stories (at least of the mid-late 20th Century). What we get here is a biopic of Linda Boreman, better known by her stage name Linda Lovelace-arguably one of the first legends from the Golden Age of Pornography. The film follows her from her humble beginnings growing up in a strict Catholic home, to her career making performance in the groundbreaking porno film Deep Throat, her eventual move out of the porn industry, and, most notably, her tumultuous relationship with abusive, controlling scumbag Chuck Traynor. This relationship actually coincides with all the other events of the story, well, save for the end which depicts Linda's campaigning against pornography and domestic abuse. What's notable about the film is its somewhat subversive narrative structure. We get a glossy, 'fun' version of the story: the typical rise, fall, recovery scenario, and then at the half way point, we revisit the majority of what we just saw, only the second time around, we get the 'real' version of events, showing what was actually going on, especially behind the scenes, and revealing just how bad Linda's life unfortunately was. That's not to say the first half is a cheat. It's gets dark at times, but it mostly shows how much of the world saw Linda and Chuck, and how they perceived things, whereas the second half shows just how unfortunate and mistreated and unlucky this seemingly lucky girl actually had it. To add insult to injury,people thought that when Linda published a tell-all book called Ordeal in 1980 that she was making it up. That's even more depressing. Here's the thing though: this film isn't actually all that uneven, and the shift between the halves, while a bit jarring, isn't quite as dramatic as it was in something like From Dusk Till Dawn. Yeah, the film does get pretty heavy and disturbing as it goes on, but I think it's earned. It's fun when it needs to be, and it does a decent job of juggling the perceptions with the reality. I do think that the film could have done a better job of addressing how Linda herself felt about her perception versus her reality. Also, while the film isn't hollow and shallow, I think it could have been a lot meatier and a little more in depth, especially on a psychological level. The film doesn't hits the heights that Boogie Nights did, but it makes for an interesting companion piece, and together, both films help paint an engaging portrait of the Golden Age of Porn. Despite the narrative technique, the film overall hits the conventions one expects of a typical biopic. Sure, that's a bit of a downer, but I do like that the filmmaker's didn't get too shy about showing the grittier stuff. Yeah, the truth about some of this is debatable, but one can't deny that CHuck was a supreme asshole, and that Linda definitely suffered at his hands. The real issue is o what degree it was all at. Amanda Seyfried, though not a dead ringer, is quite good as Lovelace, and this is easily one of her best performances. Peter Sarsgaard is also quite good as Traynor, though the film almost has it too easy when it comes to getting sympathy for Linda, because of course the audience will hate Chuck. Still, Sarsgaard doesn't simply phone it in. He really is great at being loathsome. As Linda's parents we get some fine supporting work from Sharon Stone and Robert Patrick, and then there's Hank Azaria and Bobby Cannavale in some scene stealing work as pornographers. Adam Brody appears as Harry Reems, and , while he's not quite hairy enough, he still does okay I suppose. There's also a quick cameo from James Franco as Hugh Hefner. Odd. But, Okay I suppose. The film does a great job with the music and the period details, and it's also fun seeing recreations of the making of Deep Throat. No one will ever truly know exactly what happened between Chuck and Linda, but I'm not sue if that matters. Bottom line: the woman just wanted to be special, and through bad luck and circumstance suffered through a hellacious period of several years before finally getting out and taking a stand, thus laying the ground work for future activism and awareness. This film ain't perfect, but it is quite engaging, informative, and has some fine performances, so yeah, give it a go.
Chris Weber
Super Reviewer
Lovelace Quotes
| | |
| --- | --- |
| Linda Boreman/Lovelace/Marchiano: | I had the misfortune of meeting Chuck Traynor. He started out as a nice person and then did a complete 180 and beat me up from that day forward, physically, mentally, and psychologically. The psychological damage will never go away. |
Discussion Forum
Discuss Lovelace on our Movie forum!