The Lovers of the Arctic Circle (Los Amantes del Círculo Polar) (The Lovers from the North Pole)
(1998)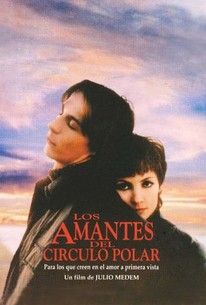 The Lovers of the Arctic Circle (Los Amantes del Círculo Polar) (The Lovers from the North Pole) Photos
Movie Info
Julio Medem directed this romantic Spanish drama with location scenes in Finland. School children Ana (Sara Valiente) and Otto (Peru Medem) are brought together when a paper airplane flown from a window by Otto unites Ana's mother Olga (Maru Valdiviesio) with Otto's father Alvaro (Nancho Novo). After this encounter, Olga and Alvaro fall in love -- with the result that Alvaro leaves Otto's German mother Ula (Beate Jensen). To be near Ana, Otto begins living with Alvaro and Olga. Ana believes that Otto harbors the soul of her dead father. As adolescents, Otto (Fele Martinez) and Ana (Najwa Nimri) share a kiss over a book opened to a passage about the Arctic Circle, and they often sleep together. Otto is grief-stricken by the death of his mother -- partially due to his leaving her for Ana. Shown at 1998 film festivals (Venice, Toronto).
Critic Reviews for The Lovers of the Arctic Circle (Los Amantes del Círculo Polar) (The Lovers from the North Pole)
Audience Reviews for The Lovers of the Arctic Circle (Los Amantes del Círculo Polar) (The Lovers from the North Pole)
½
I had never heard of this movie or of Julio Medem, the Spanish director. I went to watch the movie without having any idea of what I was about to see. As I watched the first few minutes of the movie I started to get into it. I adored the characters of Ana and Otto as children. Otto and Ana became brother and sister because Otto's father married Ana's mother. Soon Ana and Otto began to sleep with each other and they fell in love.Things changed for Otto when his mother died. He left everything and everyone behind. He became a pilot for a mailing service. Ana decided to leave also and she went to live in Lapland, Finland. Otto and Ana ended up meeting here.The movie was full of twists and turns. It portrayed the way Ana saw life and the way Otto did.To Ana, life was full of coincidences, while Otto saw life as running in a circle. Overall, it was an enjoyable movie,
Daisy Maduro
Super Reviewer
Freaking tantra.Ah yes,the herbs of amour and the joint of the sexes,mystical environments,Medem is a resident of mysterious communications.Ana-Otto,the train of one element.That of surreal expiation.
Dimitris Springer
Super Reviewer
½
Beautiful beautiful beautiful film!! A story about the circle of life, unfulfilled love, and longing.

I think the less you know about the plot, the better. I am already a little sorry that I'd read about it so much before watching it, but since a slight outline is necessary I'll put it like this: Otto and Ana's lives are doomed to follow a circle. Begin it and close it. Their love is so beautiful and perfect that it can't but follow the same scheme: begin with a casualty and end with one, begin with intensity and end with it.

The story is told from the points of view of both characters throughout their infancy, adolescence, and adulthood. Their communication is silent, they understand each other entirely, and they love each other in secret. Casualty dominates their fates, and so casualty after casualty leads them to find each other, grow apart, and find each other again, until it takes them to the Arctic Circle for the closing of their circle. It sounds a little cheesy, but it's nothing like that: the film is sublime, the romance is subtle and hushed. The intensity is in the longing, and how. Otto and Ana are lost without each other. They live in accordance to where their love takes them.

I think these days it's difficult to make a believable film about love, which doesn't mean that the events that constitute this story are entirely believable, but the love is. It's about surrender and companionship, not about crazy doomed mindless lust or sticky-sweet giggling sentimentalism. Which is what we usually get. The story has erotic moments, but it doesn't limit itself to that. Lovers of the Arctic Circle doesn't think we're so stupid we won't get it. It lets the audience get lost in it, and it works.

Julio Medem relies heavily on casualty to explain the events, which gives the film fairytale tones. Still, the mysticism doesn't obstruct the purity of the story. Also, the narrative structure is not lineal: we go from adulthood to childhood in seconds, one event is sometimes integrated into another. Medem blurs the lines between hope, dream, and reality, to a brilliant outcome.

Finally, all actors are simply excellent. All performances are without flaw. Fele Martinez and Nawja Nimri are simply perfect.

In short, the film is astonishing. The emotional involvement it brings (a few hours after I'd seen it, in my case) is without comparison. Even though it's rather cold, it's not antiseptic; we get the feeling we're being allowed to look through a hole in the wall, permission to take a peek into someone's own personal love story, which is why it seems isolated from us. Some things, thoughts, we're not allowed to know, but we can guess. And all of this happens to take place in a wonderful world in which fate and love dance together. It's a real accomplishment, one of the loveliest films I have ever seen.
The Lovers of the Arctic Circle (Los Amantes del Círculo Polar) (The Lovers from the North Pole) Quotes
There are no approved quotes yet for this movie.