Low & Clear
(2012)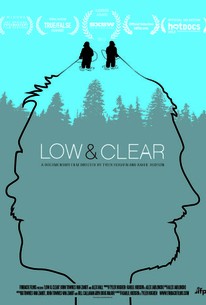 AUDIENCE SCORE
Critic Consensus: No consensus yet.
Movie Info
A meditation on friendship and life in the disappearing wilderness of the West, "Low & Clear" follows two formerly close friends who re-unite for one last fly fishing trip. Over the course of their time together they come to understand how much they have each changed and how these changes now threaten the friendship.
Rating:
NR
Genre:
,
Directed By:
Runtime:
Critic Reviews for Low & Clear
All Critics (1) | Fresh (1) | Rotten (0)
Gorgeous ... A terrific work, something I'd recommend if you like Sweetgrass, Old Joy and Be Here to Love Me.

Audience Reviews for Low & Clear
Low and Clear Review: A documentary about two distanced friends connected by fly fishing sounds incredibly ordinary on paper. But it is so much more than that. I am not one to fish. I remember going fishing with my family on a vacation in Indiana fifteen years ago and I wasn't that impressed by it. I don't even like seafood and I can't swim for nothing. I have had a preordained idea about fishing being boring or stupid. But after watching Low and Clear, I would soon find out that is an ignorant way of thinking. My perception of fishing was forever changed and shown in a new light. You don't have to be a fishing connesuier to appreciate the engaging story. I never thought I would see so much grace, beauty, and delicate care taken to fly fishing. If I was to see any documentary or movie about fishing, I am glad it was put in the careful, masterful hands of John Townes Van Zandt and Alex Hall. They are both true masters of the craft and it only enhances the meticulous preparation needed to get that one fish. When put in the hands of people who know what they're doing, it's so much more captivating. It almost feels like ballet seeing the line fly off the reel and onto the stream. Seeing it in slow motion only added to the graceful beauty of the action. Something's people get and something's people don't get. But by allowing an open mind, you can see the beauty in everything and anything in things you would never expect to see. Contrary to what people may think about fishing, fly fishing is an art and science that takes years of skill to master. It is more than just a simple hobby to be brushed off as non-important. Like anything else, it takes a deep love and driving passion to accomplish great things with it. I may not see the enjoyment in it or know what they are talking about parts of the time, but I can respect men like Van Zandt and Hall for what they do. It's so enthralling to see these guys in their elements pursuing their passions. But everyone has a passion. It's just a matter of finding time for it and using it in your life to the best of your abilities. But it is more than just about fishing. It's about life and finding that one thing that gets you going more than anything else in the world, the one thing you can't live without. Also about not giving up your passion no matter what may lie in your way and finding that person or group that shares that passion with you. But at its core it's a docu-buddy movie. Really sweet seeing two guys on opposite sides of the same coin share the same love. They bicker, complain, and get frustrated about their different styles of fishing, way of life, and one-upmanship. It is everything you expect to hear from best friends and it's almost as if you feel like you know them and seriously want the best for them. I loved seeing the contrasting personalities and methods that Van Zandt and Hall exhibit to achieve success with fly fishing. Van Zandt sees a more spiritual release, going with the motions and becoming one with nature while Hall goes for the rush with a more intense approach documenting whatever, whenever, wherever he has fished in his entire life. They disagree with their differing methods but ultimately respect them. Even if Low and Clear doesn't reveal hardly anything of their relationships, past, etc. which is a smart move as it should be about the fishing and the friends rather their own personal beliefs on anything else. It's as if JT Van Zandt and Alex Hall could not and would not be friends with anyone else in the world. They go together so perfectly and mesh to where one cannot live without the other. The imagery shown was beyond gorgeous. I loved seeing all the lush beautiful landscapes with different levels of sunlight and clouds. It could've paused on images for five minutes and I would not have minded. It was the pitch perfect backdrop for the graceful art of fly fishing. The camera work was excellent too. It captured the simple beauty of nature and all its creatures. It really takes you in and allows you to be in this world. It felt like a secret club and you had your hand stamped to go wherever you please. I don't know anyone who wouldn't be touched or affected by the innate allure of nature and wildlife. You just wish it would stay like that forever and makes it all the more sad that environments like this get damaged by pollution and renovation. I absolutely loved the soundtrack. The folk sound went perfectly with the quiet mood of fly fishing. It was the perfect accompaniment to the breathtaking imagery and sweeping camera work. And Van Zandt is also a very good musician who happened to be the son of folk legend Townes Van Zandt. I loved how the soulful music brung out the temperate quiet beauty of fly fishing. Low and Clear really surprised me with its deep emotional core, beautiful cinematography, and unbridled friendship between two interesting men. This is one of the great feel good movies I've seen in a long while with a buddy relationship rivaling and besting any great cinematic duo. I think it should speak to anyone who has a unique passion and longs to share it with someone else who loves it as much as you do. It can be very difficult to find a person or group to share and spread your love, passion and work. In a world where it can be hard to express one's self and find a group of level headed individuals who share your interests, I love that these two men are having their story told and seen by thousands, even if it should be seen by so much more. Low and Clear will open your eyes to something that may not have ever been interesting to you before. This will stay with you long after the last fish is caught and let go. Five fly fishing rods out of five.
Adlai Noonan
Low & Clear Quotes
There are no approved quotes yet for this movie.
Discussion Forum
Discuss Low & Clear on our Movie forum!