Lu ding ji (Royal Tramp)
(1992)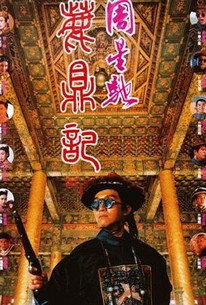 AUDIENCE SCORE
Critic Consensus: No consensus yet.
Movie Info
The story of Wilson Bond, a pimp who after saving Chan, the leader of the Heaven and Earth society, a revolutionary group, is made a member. After a botched first assignment for the group, he is made a servant to the Prince, the very person the Heaven and Earth society want to overthrow. What follows is plenty of mayhem and laughter.
Critic Reviews for Lu ding ji (Royal Tramp)
There are no critic reviews yet for Lu ding ji (Royal Tramp). Keep checking Rotten Tomatoes for updates!
Audience Reviews for Lu ding ji (Royal Tramp)
This mo lai tau of Louis Cha's final serial The Deer and the Cauldron (1969-1972) and a number of its subsequent television adaptations ("The Duke of Mount Deer") is almost exclusively Cantonese. Sixty percent of the film's humor is dialectical wordplay that was comedian Stephen Chow's namesake during this period. Even some of the seemingly dramatic sequences without him are potentially poking fun at something ("Royal Tramp" opens with a Heaven and Earth Society ambush that is in reality a spin on a popular Hong Kong cigarette commercial). The plot, somewhat faithful to the novels, is no less baroque than the punch lines: Chow is Wai Siu-bo a sardonic fabulist who spins yarns in his sister's brothel atop a crude throne adorned with a goofy tiger cap (yet another inside joke) and happens into the service of Ming rebels (the aforementioned Heaven and Earth Society). Sent to the Forbidden City to infiltrate the court and steal a fabled martial arts book that [could] help overthrow the tyrannical Ching Dynasty, Wai accidentally applies to become a eunuch, but is saved by another (frequent Chow collaborator Ng Man-tat) who in return wants Wai to gain the court's confidence so he too can make off with the MacGuffin. Once inside Wai genuinely befriends the emperor (Deric Wan) who then wants Wai to spy on the eunuch in addition to the court's general (Elvis Tsui Kam-kong). In the meantime, the emperor's trashy princess daughter (Category III starlet Chingmy Yau) wants Wai to infiltrate her! Decidedly, the only universal components in this esoteric nonsense comedy are unfortunately low brow huckster Wong Jing's predilection for puerile humor from opposite ends of the spectrum: it's all daffy reaction shots and penis jokes. If that passes your litmus test for good comedy and you are capable of processing and compartmentalizing data swiftly then "Royal Tramp" will likely tickle your funny bone (it, despite its language barrier, has a constituency of Western fans) but others might feel like Wong Jing assaulted their ulnar nerve. Domestically, "Royal Tramp" took in over HK$40 million and finished as one of 1992's largest grossing films proliferating a sequel and more recently a television series.
Adam Laidig
After witnessing the ninja attack/massacre at the beginning I thought to myself, "I'm getting close to 40 years old! How is it no one has told me about this!? How have I not seen this already!?". From there it becomes a fun Chow comedy. What I love about his humour is best given with an example of a common scene, but with that Chow touch. Chow's arms are hidden behind his back while 2 well hidden women pretend to be his arms when he is confronted. American audiences have seen this gag many times before, heck, Who's Line is it Anyway has a segment on the gag called Helping Hands. But what makes it hilarious when Chow does it (though I do confess I like the gag in almost all cases) is when the hands beat the shit out of him until he's vomiting blood. Now that's comedy gold. A funny comedy with some great martial arts scenes that's well worth seeing for fans of Chow's work.
Christopher Brown
Super Reviewer
This movie made me cried in tears twice because of its funniness. I couldn't stop laughing. There are times when it's even more funny because of some jokes that breaks the 4th wall. I dispise director Jing Wong for not keeping his director's pride by...(read more) accepting and directing pretty much any written material that's called "screenplay". He's pretty much sold his soul for b-movies and dumb scripts. But then, he's so talented that he can make any supposely a trashy movie into a somewhat decent film with some luck of good actors such as, Stephen Chow, Jet Li, Chingmy Yau, Andy Lau, etc.
Lu ding ji (Royal Tramp) Quotes
There are no approved quotes yet for this movie.
Discussion Forum
Discuss Lu ding ji (Royal Tramp) on our Movie forum!