Lucky: No Time for Love
(2005)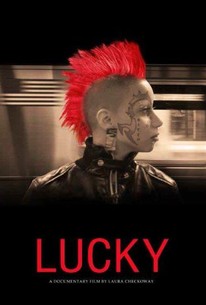 AUDIENCE SCORE
Critic Consensus: No consensus yet.
Movie Info
Living in an Eastern European country on the brink of a civil war, Lucky is a 17-year-old dreamer. One day on her way to school, she is caught in a wave of insurgency. Suddenly, the dreamer's world turns into a real nightmare. In her attempt to escape the rebels, she meets Aditya, the son of an Indian ambassador. With the help of a colonel, Lucky and Aditya will try to flee the country, embarking upon a dangerous journey. They have nothing in common except the desire to get home to India safely. As they travel through everything from ambushes to icy wilderness, they discover the limits of their endurance, but also that love can bloom in the strangest of places, even if there's no time for it.
Rating:
NR
Genre:
, ,
Directed By:
Written By:
In Theaters:
On DVD:
Runtime:
Studio:
Critic Reviews for Lucky: No Time for Love
All Critics (1) | Fresh (0) | Rotten (1) | DVD (3)
There's a fine line between obnoxious yet endearing and just obnoxious, and [the central character] remains firmly entrenched in the latter.

Audience Reviews for Lucky: No Time for Love
God this was bad. The script was loaded with what I call intellectual masturbation, where the narrator goes on and on about The Nature Of Things, none of which drives the plot and all of which sounds as if it came out a college freshman's essay book. Voice-over isn't always a bad thing, but this whole movie has voice-over from beginning to end, with hardly a break for the characters to speak (except the dog, of course). Oh, and the actor who plays the main character, and is onscreen 95% of the time, is really bad. He's about as stiff as the corpses he's planting in his back yard. The only redeeming quality is that there's some pretty kinky stuff in it, but not much, and what was kinky quickly degenerates into just plain sick sh*t. Avoid this at all costs.
Andy King
Ah, the talking animal movie. It's got a long history dating even before the likes of Francis the Talking Mule or Mr. Ed, and it continues on today with such works of art as [i]Racing Stripes[/i]. But all of them have one thing in common--they're all being vaguely referenced in this terrible opening paragraph to a review of a great little movie, [i]Lucky[/i]. [i]Lucky[/i] contains an animal that talks, or at least has thoughts that can be heard via a voice actor, in the titular character, a dog who seems to come back from the dead after being hit by a car driven by the lead character, cartoon writer Millard Mudd. Mudd's relationship with Lucky is less Wilbur and Ed than David Berkowitz and (does anyone know the name of Berkowitz's dog? Anyone?), and soon enough the duo leads to murder in one of the most original low-budget flicks of the past few years. At the beginning of the film, Mudd is depressed, alone, drinking heavily and struck with writer's block. Instead of working on the giant ant script he's supposed to be finishing, he's too busy wallowing in goofy narration and reminiscing about his former dates, including a stripper that talks about her ex with lines like "He used to beat me with razor wire. I love razor wire." There's also his transsexual (?) half-sister who gets the film's best line, "I wish someone would rape me. I think then I could feel like a real woman." Things get better when Mudd runs over Lucky on the road and, to his eyes, nurses him back to health. Lucky begins telekinetically talking to Mudd, instructing him on writing and taking control over his life--which Mudd is, at first, just fine with. Then the bodies start popping up.... Less a horror movie than a great black comedy with plenty of horrific moments that would seem completely repulsive if they weren't presented in souch a tongue-in-cheek fashion, Lucky ranges from overtly funny to some of the most impressively sick gallows humor I've seen in a while. The film is told from Mudd's point of view, and while it tends to be overnarrated, how can you not love a lead character that rambles on about fantasizing about being Marsha Brady or killing a door-to-door Jehovah's witness with dialogue like this: "Does anyone know you're here?" "God knows." "No, I mean anyone who exists." The relationship between Mudd and Lucky is great to watch as well--Mudd's pathetic fantasies collide head-on with Lucky's LL Cool J-esque voice and disrespectful tone, forcing him to write about a blind boy and his flying, crime-solving dog work will as two halves of one man's personailty. Mudd's schizophrenia is never spelled out, thankfully, placing the entire film deeply in the mind of the comically insane central character. Character actor Michael Emmanuel does such a great job as Mudd that it's easy to excuse some of the less-professional supporting cast--it's Emmanuel's show all the way. The film, while obviously shot on video, looks good and is paced well enough to never be dull. If any direct-to-video film in the past couple years deserves a cult reputation, it's [i]Lucky[/i]--twenty years ago, this could have been a [i]Basket Case[/i]-like sleeper, but now its audience is sadly relegated to the adverturous B-movie video seeker. Do yourself a favor and check it out--it's the best telekinetic dog serial killer comedy ever made.
Paul Freitag
½
so so movie ..yes the way salman spoke russian in this movie was cute ..i like all the songs in this movie
anam noor
Lucky: No Time for Love Quotes
There are no approved quotes yet for this movie.
Discussion Forum
Discuss Lucky: No Time for Love on our Movie forum!