Lucky Numbers
(2000)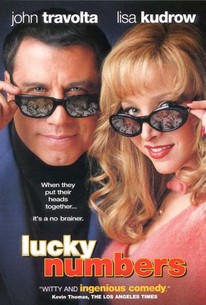 TOMATOMETER
AUDIENCE SCORE
Critic Consensus: Nora Ephron's attempt at dark comedy is an uneven product, both in terms of the direction and the acting. The characters are unlikable to the point where you don't care what happens to them, and Ephron condescends to the material.
Movie Info
While lots of people dream of winning the lottery, one man hatches a more ambitious plan than just buying a ticket and hoping for the best in this satiric comedy. Russ Richards (John Travolta), a weatherman on a local TV station in Harrisburg, Pennsylvania, sells snowmobiles on the side, but both careers are in a rut thanks to an unusually warm winter. Russ's girlfriend Crystal (Lisa Kudrow) appears on the State Lottery's weekly televised drawing, pulling the numbered balls out of the rotating bin. With the help of a few of his less scrupulous friends - among them sleazy strip joint proprietor Gig (Tim Roth), small time hood Dale The Thug (Michael Rappaport), and Crystal's sleazy cousin Walter (Michael Moore) - Russ figures out a way to rig the drawing and have Crystal pull numbers that they happen to own. However, Russ discovers that making the scheme work and keeping everyone quiet about it is more trouble than it's worth. The supporting cast includes Chris Kattan, Ed O'Neill, and Bill Pullman; Nora Ephron, who previously worked with Travolta on the comedy hit Michael, directed. ~ Mark Deming, Rovi
Critic Reviews for Lucky Numbers
Audience Reviews for Lucky Numbers
½
John Travolta and Lisa Kudrow star in the crime comedy film Lucky Numbers. Travolta is Russ Richards, a weatherman that is having financial trouble so he decides to try and fix the lottery with the lottery number caller girl (Kudrow). They involve Rapport, Roth and Moore among others to hatch the scheme and everything of course spirals out of control. Unlucky Numbers was a poor man's Fargo as far as crime comedies go, but was worth a couple chuckles along the way.
Raji Kosloske
½
Such a silly movie but really funny.
Sunil Jawahir
Super Reviewer
A movie that's so forgettable you may need to rewind it to remember what's going on. Still, it's as harmless as Goldilock's porridge.
Christopher Brown
Super Reviewer
Lucky Numbers Quotes
There are no approved quotes yet for this movie.
Discussion Forum
Discuss Lucky Numbers on our Movie forum!