Lured
(1947)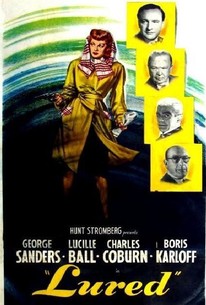 AUDIENCE SCORE
Critic Consensus: No consensus yet.
Movie Info
Lucille Ball is an American taxi-dancer living in London whose roommate has disappeared. The missing girl had left to answer a job offer in the "personal" column of the Times...just like several other women who've vanished without a trace. Scotland Yard detective George Zucco suggests that Ball answer the personals herself in hopes trapping the killer. She crosses the paths of several eccentrics, including deranged artist Boris Karloff, who for a brief time is the prime suspect. The actual culprit, a sex murderer, is the least likely and most helpful of Ball's contacts -- a fact that she learns almost too late.
Critic Reviews for Lured
All Critics (4) | Fresh (4) | Rotten (0)
The plot is wonderfully knotty, Lucille Ball is appropriately spunky, and there's a scene-stealing turn by horror heavy George Zucco, atypically cast as a crossword-loving cop.


Ozus' World Movie Reviews
Audience Reviews for Lured
Lucy gives a Juicy Lucy performance in Lured,who knew she could Rock the Dramatic Role with such Grace & Dignity? Lured is almost Hitchcockian in feel.Where else will you ever find a pairing of Lucille Ball & Boris Karloff in a Film? Delicious!!! Sandra's(Lucille Ball) roommate (named Lucy coincidentally)has disappeared with the same M.O. as many Dancers & Models before her. Sandra is Lured in by Scotland Yard to be a Decoy for this Jack the Ripper Style Serial Killer who sends Lovely Personalized Poetry Hints to the Detectives in honor of each girl.She is to answer unique want adds, as a result, she finds herself in some very suspenseful situations with some unsavory characters, most notably a Dress Designer/Artist(Boris Karloff) that is unhinged & deeply disturbed, you are on the edge of your seat during his performance.He is just the beginning of the wacko's she endures on the quest to find her roommate.As they say, the Plot Thickens,& there there are suspenseful surprises till the very end.Sandra (Lucy)also falls in love & gets engaged during all this.Lucille Ball as Sandra is just Great as Bait, but is it too late?
Marilee Aschwanden
A Low-Level Thriller With a Heck of a Cast I dispute those who classify this as noir. It really has very few of the markers thereof. Really, it's an old-fashioned mystery with a few modernized twists. There's really only one woman in it, and far from being untrustworthy, she's the main character, the perspective character. It isn't even gender-reversal noir; yes, there's something uncertain about the man in the case, but he doesn't get Our Heroine into trouble. She manages that all on her own before actually meeting the guy. The police are dependable, though they are baffled by the string of murders in the background of the movie. And they are very much in the background for a lot of it. There's fog, but it's London, after all, and we'd be surprised if there weren't. Most of it is set at night, but that alone doesn't prove noir. I think it's just a reflex reaction to label anything with a touch of thrill made in the late '40s as noir, and I think that's mostly done by people who don't understand the genre. Sandra Carpenter (Lucille Ball) is a taxi dancer. She's an American in London, it doesn't much matter why, and she hates her job. She gets offered a better one, an offer her best friend, Lucy Barnard (Tanis Chandler), declines to go along with her on because she's about to hook up with a man who will presumably Take Her Away From All This. Except Lucy's never heard from again. She is believed to be the eighth victim of the Poet Killer, a man who kills beautiful young women he meets through the personal ads and who sends poetry to the police to brag of his crimes. Sandra goes to the police with the information she has, and they recruit her to answer the personal ads, trying to find the killer. Along the way, she meets wealthy nightclub mogul Robert Fleming (George Sanders) and creepy ex-fashion designer Charles van Druten (Boris Karloff). She's plucky, though, and we know she'll get what she wants and evade the killer while she's at it. Boris Karloff seems to be in the movie because, hey, Boris Karloff. He's a suspect in the killings, using the personals to find young women to model the fashions he designed decades ago. (Looking at the dress in question, it must have been a lot of decades.) He has her pose as the princess for whom she designed the dress, and he presents her as such for an imagined--or hallucinated--audience of the elite, addressing his dog as "Your Majesty." When the record playing his presentation music skips, he freaks out, locking his housekeeper (I'm not sure who plays her) in a closet and seems ready to kill Lucille Ball. It's all very exciting, but it isn't relevant to the story. We're just supposed to believe Boris Karloff has killed a whole string of young women. On the other hand, we only believe it because it's Boris Karloff. There's a whole list of reasons he can't be the killer, not least that the housekeeper is still working for him and hasn't run to the police. But look! Boris Karloff! It must at this point be said that I don't love Lucy. I find the show sexist, racist, and irritating. The show repeatedly goes for cheap laughs. It manages to take an intelligent, independent woman and make her the butt of the joke and an example of what happens when women try to be intelligent and independent--it all goes wrong. Ricky is a crude ethnic stereotype who's doing the right thing by putting his wife in her place, which is in the home. And Lucille Ball was pretty awful to Vivian Vance. Though not as bad as William Frawley was, of course. However, I am increasingly fond of her older movies. I still think she'd have been a dreadful Scarlett O'Hara--and possibly an even worse Belle Watling, the role she was offered instead--but I think she could have been a better actress had she never become an icon. Her earlier roles were wittier, and often more challenging, than the role which made her really famous. It's not a bad little movie, but I think what fame it has--and this was a Kino release, so that clearly isn't much--comes from what its star did after and what one of its minor characters had done before. And yet again, it makes me feel sorry for Boris Karloff. He was apparently a very nice, very popular guy, and he was trapped in the kind of role he played here, which again felt like a role created for the express purpose of cashing in on his fame. Lucille Ball wasn't quite a nobody when the movie came out, but she was awfully close. She was really just a pretty face--and she was pretty when she was young. She was, in this movie, pretty and feisty and clever. Why is she recruited as a detective? Does Scotland Yard not have young, pretty women working there? (Actually, that's not totally impossible, but it's improbable.) But the plot chugs along merrily under that improbability, and we let it. High art? No. It's probably not the best work of anyone involved, though I'm not a huge Douglas Sirk fan, either. There are worse ways to spend a morning, though.
Edith Nelson
½
Having been a huge fan of I Love Lucy, it was intrigue that led me to watch her play a sexy, sassy dancer; which she played quite well. In a not so orginal plot of a serial killer in Scotland Yard, this film was dark, sophisticated, and well-acted. Ball is lured into helping the police find the poet serial killer, who has supposedly been killing off attractive dancers. She meets many strange characters in her journey to find the real killer, such as Karloff, who has a way too short role as a crazy former dress designer. George Sanders was superb as the sophisticated playboy, who must have been the model for the rich, yuppie snobs in later films. Ball falls in love with Sanders, but is he the killer? Great who-done-it that leaves you guessing until the last 15 minutes or so.
nefnie lee
Super Reviewer
Lured Quotes
There are no approved quotes yet for this movie.
Discussion Forum
Discuss Lured on our Movie forum!