LUV
(2013)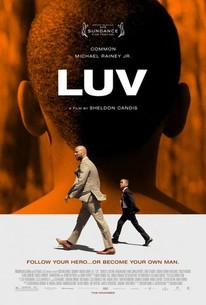 LUV Videos
LUV Photos
Movie Info
An 11-year-old boy gets a crash course in what it means to be a man when he spends a day with the uncle he idolizes in LUV, a poignant and gritty coming-of-age story featuring standout performances by Common, Danny Glover, Dennis Haysbert, Charles S. Dutton and newcomer Michael Rainey Jr. (c) Indomina
Rating:
R (for vioence, language, child endangerment and some drug content)
Genre:
Directed By:
Written By:
In Theaters:
On DVD:
Runtime:
Studio:
Cast
News & Interviews for LUV
Critic Reviews for LUV
Audience Reviews for LUV
I'm going to cut straight to the chase on this one. This is just really bleak. And sad. Bleak and sad. Throw in some poignancy. But that's about it. Common is really impressive as the Uncle. It's a really complex and fascinating character. You could really see both sides. The side that his nephew, Woody, idolizes, and the part that landed him in jail. Michael Rainey Jr. is also really good as Woody. He's got a good career ahead of him if he keeps it up. But this is an interesting movie, although quite sad.
Jillian Leff
Fresh out of jail, Vincent(Common) visits his nephew Woody(Michael Rainey Jr.) who is staying with his grandmother(Lonette McKee). That is followed by Vincent driving his nephew to school. Except he takes him to a tailor instead. That is to make a good impression when Victor goes to the bank to get a loan for his proposed restaurant. And then is stunned when he learns that his collateral is about to be foreclosed, requiring about $25,000 by Monday. That leads Vincent to reconnect with Arthur(Danny Glover), followed by a meeting with Mr. Fish(Dennis Haysbert). With its exemplary cast that also includes Charles S. Dutton, Michael Kenneth Williams and Russell Hornsby, "Luv" takes the old story of an ex-con trying to go straight and turns it partially on its head. Whereas some cultural commentators complain about the absence of African American men from their children's lives(usually said comments come from outside the community), the movie takes a different angle by saying how in some cases it might not be such a bad idea if the man of the house is not present, considering how toxic his presence might possibly be. And Vincent may think he is doing good by Woody, but his actions speak otherwise. However, in the end, the wildly improbable ending undoes a lot of the realities of what came before in its lyrical pretentiousness.
Sons & Soldiers... Before a boy becomes a man, he has to be a child. As a man, he is obligated to create a child and raise him, bestowing the knowledge he's gained since childhood upon him. To the extent that there are good and bad men, one could argue that they have correlation with good and bad fathering. Bad (also absent or incompetent) men are often not equipped to properly raise a child; they teach their children how to be lesser men and raise significantly damaged sons. In Sheldon Candis' film "LUV," we see the dangers of bad fathering, and the implications it could have on future generations. Though "LUV" sports a predominantly African-American cast, it has a universal message that everyone can adhere to. It asks what it takes to be a man, raise a man, and protect him from the pratfalls and dangers of a society run on corruption. The father figure in the film is played by the rapper/actor Common, who is the makeshift father and uncle of a boy whose mother is in rehab. The boy is raised by his Uncle, who is freshly out of prison, and his loving grandmother who can barely afford to take care of him. The boy misses his mother and isn't told the truth about her affliction or location. He dreams about her frequently and we quickly come to realize that the boy is lost in his sense of self. He is also brave, smart, and headstrong, but lonely and highly impressionable. One morning, instead of being dropped off at school, his Uncle decides to give the boy a crash course in becoming a man. The boy is scolded by him immediately as he chickens out of talking to a school crush who is waving to him from afar. Here, we get our first hint that the Uncle is not only a lackluster parental figure, but a mean and forceful man. The Uncle then takes the boy to a bank where he is taught how to act like a man in front of other men-you know: dress in a suit, look'em in the eye, walk with a purpose, and don't kick your feet when you're sitting in a chair. The Uncle again shows an ulterior motive when we find out that he is at the bank only to get a loan approved. He is looking to start a new life as an owner of a crab n' claw restaurant and bar. He does not get his loan approved and blames takes his frustration out on the boy. He promises the bank to resolves his debts by the next morning, which means grabbing $22,000 dollars in cash by the weekend. The Uncle enlists the help of his brothers and a local slum lord who can help him come up with the quick money. There is one condition however; the Uncle has to push narcotics in a tumultuous Baltimore ghetto. With a plot that is ripped straight from "Training Day," the Uncle decides to use his nephew for his own selfish vices, even if it means getting the boy into a mess of trouble that may cost him his life. He proceeds to teach his nephew how to drive, shoot a pistol, and act "hard" at all times. When the two are faced with the presence of death on four occasions, we see that the boy is still a child no matter what he has learned or how far he's matured; the Uncle, however, can't understand why his nephew can't become a man at a snap of his finger-I mean he's twelve isn't he? Throughout the film, we witness other children who are being groomed into becoming child soldiers. We also find out that the Uncle was one himself, and that in many impoverished areas throughout America there is a never ending cycle of bad men teaching their children the wrong things. As those children grow up, they too are in danger of teaching their kids the wrong things. The Uncle knows how to be a man or at least act like one, but he doesn't realize how tainted his experiences have been through his life. When he teaches his nephew how to be a man, he does not realize that his nephew must first be a child and grow over time to become a man. If you raise him too quickly while he's learning the wrong things, there is no way he can grow to be a proper man. By this film's conclusion, we hope the child has learned that, however, his fate ultimately becomes open to interpretation. "LUV" does an excellent job at bringing challenging philosophical issues to the forefront and tells a convincing story despite its many moments of implausibility. Rapper/actor Common proves yet again that he is one of the most underrated actors in Hollywood with yet another solid performance. There is a great cast here too with a lot of familiar faces (Danny Glover, Megan Goode, and Dennis Haysbert) who all provide solid performances. The film runs into a few problems with an occasionally muddled plot and some scenes that are too self-conscious with style and flair. However, the film proves to be one of the great achievements of black-cinema: one that sets standards while others lower the bar. Grade: B-
Christopher Powell
Discussion Forum
Discuss LUV on our Movie forum!
News & Features