M
(1951)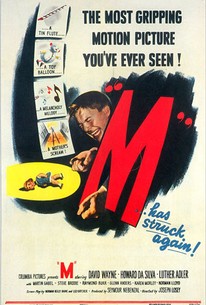 AUDIENCE SCORE
Critic Consensus: No consensus yet.
Movie Info
It took nerve for director Joseph Losey to attempt a remake of Fritz Lang's classic chiller M, but by and large Losey was up to the challenge. David Wayne steps into the old Peter Lorre role as the compulsive child-murderer who is tracked down and then placed on trial by the criminal underworld. Whereas the original was set in Berlin, the remake takes place in Los Angeles. Syndicate chieftain Marshall (Martin Gabel) organizes his fellow crooks in order to bring "M" to justice, thereby keeping the police off their own backs. Found guilty by his "peers" and sentenced to death, "M" makes an impassioned plea for his life, explaining that he is unable to stop himself from committing his unspeakable crimes. Filmed just before Joseph Losey was banned from Hollywood in the wake of the communist witch-hunt, M features such fellow blacklist victims as Howard da Silva, Luther Adler and Karen Morley.
Rating:
NR
Genre:
, ,
Directed By:
Written By:
In Theaters:
Runtime:
Studio:
Columbia Pictures
Critic Reviews for M
All Critics (3) | Top Critics (1) | Fresh (2) | Rotten (1)
Sticking closely to the plot of the original, Losey turns the story into pungent Americana through his attention to alluringly grubby Los Angeles locations.
A society of persecution laid jaggedly bare, from one poet of paranoia to another
Unnecessary remake that pales in comparison with the Fritz Lang classic.

Audience Reviews for M
A pale comparison to the original, but if that original had never been made then this would be remembered a a decent flick which didn't quite cross over into the film-noir category. Some good shots of Los Angeles during the post-war construction boom. Fun to see Jim Backus and Raymond Burr! Burr would have made as good a mob godfather as Brando.
Christopher Bergan
The 1951 Joseph Losey remake. I probably wouldn't have bothered with this if it wasn't on the "Quinessential Noirs" list. It's actually not so bad, although it doesn't live up to Lang's original. The one area of improvement is the pacing. A full half-hour shorter, it's relatively short on "dead space" by comparison. Most of the other changes, however, are either dumbing it down or unnecessary. I won't bother listing all the similarities and differences, but here are a few examples. In terms of details, the distinctive balloon is exactly the same... but gone is "Hall of the Mountain King", replaced by some generic, forgettable tune. Some shots are near exact duplications, others start out the same but morph into something different (usually not for the better, although the photography is still quite good). The film is loaded with quite a bit more Freudian psychology, which doesn't help and arguably hurts. The "trial" scene is recontextualized in a way that's a somewhat interesting switch, but ultimately not as effective. And finally, because we're dealing with the production code, the big mob boss has to get what's coming to him. Groan. Some of the characters are pretty silly, and David Wayne is far less compelling than Peter Lorre. Still, the tighter pacing and overall atmosphere makes it not a complete waste of time.
Martin Teller
M Quotes
There are no approved quotes yet for this movie.
Discussion Forum
Discuss M on our Movie forum!