Maboroshi no hikari (Maborosi) (Illusion)
(1995)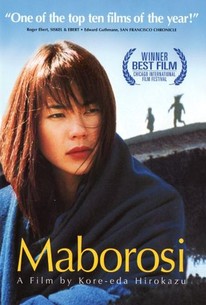 Maboroshi no hikari (Maborosi) (Illusion) Photos
Movie Info
In Japan, the Maborosi refers to a mysterious beautiful light that lures sailors to their deaths far out at sea. This poetic, exquisitely photographed drama tells the story of Yumiko, a young woman trying to make sense of her first husband's mysterious death. She is no stranger to mysterious loss. When she was 12, Yumiko was in charge of taking care of her senile grandmother. The old woman wandered away one day and was never seen again, leaving the girl haunted by deep feelings of remorse and guilt. As a young woman she marries Ikuo and bears him a son. The couple are very happy and spend all their free time together. The happiness is shattered when one night a policeman appears to tell her that Ikuo had deliberately walked in front of an oncoming train and was killed. Years later, after she remarries, Yumiko begins investigating her first husband's death and learns disturbing things from the bartender he had seen just before death. This leaves her wondering what happened and why.
Critic Reviews for Maboroshi no hikari (Maborosi) (Illusion)
Audience Reviews for Maboroshi no hikari (Maborosi) (Illusion)
I knew nothing about this film before I watched it (rare in itself) and not a whole heap more after it had finished. I don't speak Japanese, so even the title gave nothing away. It's a slow film, a mood piece I guess about the aftermath of a young woman and her child's lives after her partner commits suicide.. Not a lot happens but its very lovely to look at and watchable in a subtle kind of way.
Maboroshi no hikari (Maborosi) (Illusion) Quotes
There are no approved quotes yet for this movie.