Maboroshi no hikari (Maborosi) (Illusion)
(1995)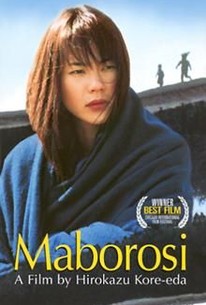 Maboroshi no hikari (Maborosi) (Illusion) Photos
Movie Info
In Japan, the Maborosi refers to a mysterious beautiful light that lures sailors to their deaths far out at sea. This poetic, exquisitely photographed drama tells the story of Yumiko, a young woman trying to make sense of her first husband's mysterious death. She is no stranger to mysterious loss. When she was 12, Yumiko was in charge of taking care of her senile grandmother. The old woman wandered away one day and was never seen again, leaving the girl haunted by deep feelings of remorse and guilt. As a young woman she marries Ikuo and bears him a son. The couple are very happy and spend all their free time together. The happiness is shattered when one night a policeman appears to tell her that Ikuo had deliberately walked in front of an oncoming train and was killed. Years later, after she remarries, Yumiko begins investigating her first husband's death and learns disturbing things from the bartender he had seen just before death. This leaves her wondering what happened and why.
Rating:
NR
Genre:
, ,
Directed By:
Written By:
In Theaters:
On DVD:
Runtime:
Studio:
TV Man Union
Critic Reviews for Maboroshi no hikari (Maborosi) (Illusion)
Audience Reviews for Maboroshi no hikari (Maborosi) (Illusion)
Even on his earliest work, Hirokazu Kore-eda showed his talent for combining beautiful camerawork and music with an emotionally resonant story.
Jon Jonson
I knew nothing about this film before I watched it (rare in itself) and not a whole heap more after it had finished. I don't speak Japanese, so even the title gave nothing away. It's a slow film, a mood piece I guess about the aftermath of a young woman and her child's lives after her partner commits suicide.. Not a lot happens but its very lovely to look at and watchable in a subtle kind of way.
It's interesting to compare Hirokazu's first feature with his latest, both of which are concerned with how people mourn and reconcile with the death of family. Still Walking is shot mostly in static medium shots and closeups and relies heavily on dialogue while Maborosi features a great deal of long shots and its power derives from its gorgeous visuals. I heard that the style of this film was influenced by Hou, and clearly enough there is a similar shot sequence pattern, repetition of shots, and framing. Actually the empty shots sequences are like a synthesis of Ozu's pillow shots plus Hou's formal repitition. The dream prologue seems to be a homage to A Time to Live and a Time to Die. The cinematography starts out fairly ordinary and gets much better, the landscape shots are truly beautiful, and the scenes shot during dusk are eye-popping in their use of shadows.
X. T. C.
Maboroshi no hikari (Maborosi) (Illusion) Quotes
There are no approved quotes yet for this movie.
Discussion Forum
Discuss Maboroshi no hikari (Maborosi) (Illusion) on our Movie forum!