A Performance of Macbeth
(1978)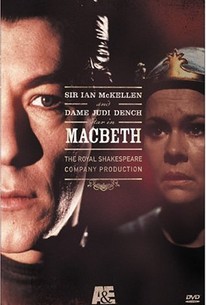 AUDIENCE SCORE
Critic Consensus: No consensus yet.
A Performance of Macbeth Videos
A Performance of Macbeth Photos
Movie Info
This 1976 Royal Shakespeare Company production of Macbeth was originally broadcast on Thames Television in 1978. The company's artistic director Trevor Dunn directs the cast on a small bare stage with mostly black costumes and minimal props. After the witches (Susan Dury, Judith Harte, Marie Kean) announce the prophecy that Macbeth (Ian McKellen) will be the next king, the elderly King Duncan (Griffith Jones) proclaims that his son, Malcolm (Roger Rees), will be heir to the throne. Lady Macbeth (Judi Dench) learns about the witches' prophecy in a letter, prompting he to ask the gods to remove her femininity so she can make her weak husband kill the king. When Duncan comes to visit Macbeth's castle, he is murdered in his sleep. Macbeth kills the guards, claiming they were the murderers. In fear of their own lives, Duncan's sons flee the country and Macbeth is crowned King of Scotland. Riddled with guilt, Macbeth goes mad and sees horrible visions while the witches announce the prophecy of his downfall. Also starring John Woodvine as Banquo, Ian McDiarmid as the porter, and Bob Peck as Macduff. ~ Andrea LeVasseur, Rovi
Rating:
NR
Genre:
,
Directed By:
Written By:
On DVD:
Runtime:
Studio:
A & E
Critic Reviews for A Performance of Macbeth
All Critics (1) | Fresh (0) | Rotten (1) | DVD (1)
Little has been added for a TV audience that wouldn't have been present in the original stage version, which begs the question, why bother?
Audience Reviews for A Performance of Macbeth
Macbeth(Ian McKellen) and Banquo(John Woodvine) are on their way back from a victory when they encounter three odd women(Marie Kean, Judith Harte & Susan Dury) in the forest who inform them that even bigger things are in store for them and their offspring, like Macbeth becoming king and the same for Banquo's lineage. They laugh this off until they find out that one of the predictions has come true in their absence. When Macbeth tells his wife(Judi Dench) about this, she responds that there is no time like the present, what with good King Duncan(Griffith Jones) coming to visit. Yes, this is little more than a filmed performance of the Scottish Play, handicapped by the primitive effects of the time. But even then, this staging makes very good work out of its minimalism to give an eerie and expressionistic look to the proceedings that with one exception are decidedly monochromatic. With close-ups endemic to television, this forces the viewer in a position not to be spared from the carnage. And embodying that madness are the great Ian McKellen and Judi Dench at the top of their game.
½
Last semester, I had an assignment to watch this production of Macbeth directed by Trevor Nunn and review it. That review has since been lost due to a lost thumb drive, but I have never forgotten what I called Dame Judy Dench's Lady Macbeth: The Puligny-Montrachet of Lady Macbeths, referring to the Chardonnay that every other Chardonnay in the world is trying to (and should) be. Her Lady Macbeth captures the guilt, restlessness, chaos and the aftermath of Duncan's murder, and immortalizes them in the look on Lady Macbeth's face and the inhuman moan of agony she exhales during her hand-washing scene. It is a sound that dishonors our ears and never seems to end. This Macbeth, while stylized and can be seen as dated to many, honors William Shakespeare and his Scottish play, which has been accused of being cursed for so many decades. Though it does drag a little, you're watching masters at their best performing the work of a master at his best. Macbeth is about ambition, guilt, and fate, and it's about a good man who corrupts himself.
Gregory Gold
Sound and Fury To be honest, I watched this a couple of days ago and am just getting around to writing about it now. I've been trying to build up backlog, since we're going on vacation, and I will invariably reach a point where I just can't face writing about any more movies. I don't have enough reviews for the two weeks we're going to be gone, either, but since Graham's vacation time isn't getting approved (gosh, and they wonder why someone at ACS might disagree with company policy), the amount of time I have to do this in keeps increasing. So that's something. But anyway, this is not the only version of [i]Macbeth[/i] we're going to have. Technically, it isn't now, but I supposed that depends on whether you count [i]Slings & Arrows[/i] or not. There will doubtless be a lot of opinion-crossover among the three versions, since so much of what's presented depends on the words written so many long centuries ago. At the beginning, Macbeth (Sir Ian McKellen) is just a Scottish lord. He and his best friend, Banquo (John Woodvine), are returning from battle. They have helped defeat forces invading Scotland. They encounter three witches (Marie Kean, Judith Harte, and Susan Dury) on the heath, and they greet Macbeth as Thane of Cawdor and future King of Scotland. Banquo will not be king, but he will be father of kings. And so it begins; it turns out the Thane of Cawdor had been a traitor, and Macbeth the military hero is given his title. Macbeth, kinsman to King Duncan (Griffith Jones). He tells his lady wife (Dame Judi Dench) of the witches' greeting, and they agree to kill Duncan and frame others so that Macbeth will be king as the Weird Sisters told him. It is a bloody deed, and blood will be the theme for the rest of the story. It's a tragedy, which means bodies strewn across the stage. It's Shakespeare, which means words everyone knows spoken, often as people kill or are killed. And in this particular production, there's not much to discuss other than the words. There is no scenery; there are really no props. The costumes totaled less money than the cost for a single costume in a different production. (In one of the special features, Sir Ian tells us that he has his coat draped over his shoulders at the beginning because it was too small.) There aren't really lights, either; the question of scenery is moot most of the time, as only faces are in the light. The performance this is based on was done in the round, with a circle on the floor representing the stage and the actors just kind of gathered outside it until it was time for them to perform. It is spare. Stark. I've little doubt the original production was more elaborate, and productions at the time weren't, particularly, unless they were performed at court. Often not even then. This production has distilled the play into just the characters who drive it, leaving Sir Ian and Dame Judi facing one another across the darkness. It is a very dark play. The choice here is not to have Banquo's ghost physically appear at the banquet. This makes Macbeth look mad, not necessarily haunted. Dame Judi at one point lets out a positively chilling screech, one which almost makes you forgive her for her dark and bloody deeds. The pair of them together are examples of the many characters in Shakespeare who acted without considering the consequences. They appear in both comedy and tragedy, and often, which one it is depends on them. Oh, this would never have been a comedy. For one, it isn't as funny as various of the others. The comic doorkeeper here (Ian McDiarmid!) isn't a patch on the comic gravedigger in [i]Hamlet[/i]. I think possibly the main difference, though, is one of personality. Had the line of Danish succession gone peacefully from Hamlet the elder to Hamlet the younger, Hamlet the younger would have been a king, no better or worse than any other king, and there would have been no story. The Macbeths, though, were dark people destined for dark deeds. The one professional review Rotten Tomatoes offers for this production says she cannot see the point in a filmed version of the play, something this assuredly is. Why bother? But that is easily answered to me. For one thing, I did not, for some reason, have the chance to see Sir Ian and Dame Judi at odds with one another on the stage in 1976, the production on which this is based. For another, [i]Macbeth[/i] doesn't need pageantry the way various of the other plays do. The scene where the Weird Sisters deliver their prophecies is not made better by careful stagecraft the way the battles of the histories are. [i]A Midsummer Night's Dream[/i] is improved with improved makeup and costuming; Dame Judi's wail of terror doesn't have more impact if she's wearing velvet than it does while she wears grey cotton. The two leads may even be better served by the blackness around them. There is nothing to distract from the blackness within them.
Edith Nelson
A Performance of Macbeth Quotes
There are no approved quotes yet for this movie.